Fortnite Chapter 2 had a cosmic start, to put it mildly. After two years of weapon balancing and visual map changes, Fortnite's map was sucked into a big ol' black hole. While Epic Games completed background maintenance, most of us pondered what was going to happen next.
Epic Games took the chance to clear the slate and start with a streamlined set of weapons and a new map. Typically, Fortnite's map gives Epic space to do some environmental story-telling, with various events happening from season-to-season like meteorite crashes and forced winters. With a new map, there's even more room for things such as these. Weapon balancing is also an ongoing conversation with various players preferring different metas, so the opportunity to take stock of it all also feels wise.
While a clean slate makes things easier to keep on top of, it's still easy to lose track if you're not careful. As such, we're collecting everything that's happening in Fortnite Chapter 2 right here so you can have an accessible resource to back on if you want to know what's changed.
here's what's happening in Fortnite chapter 2:
Fortnite chapter 2 price
Don't worry, Fortnite Chapter 2 is free, much like how Fortnite has always been. While the battle royale got a big update, Fortnite Chapter 2 comes with a new Fortnite Battle Pass each season. That, alongside the Fortnite store, is how Epic usually makes its money, so there was likely no need to charge people for Fortnite Chapter 2.
Fortnite Chapter 2 map
The Fortnite Chapter 2 map isn't a mere evolution of what came before it. It's an entirely new slate. Apart from the differences in terrain, the most apparent change is the new named locations. The Fortnite Chapter 2 map has 13 designated locations in total, and ten of them are new, while three will be familiar. The new areas are called Sweaty Sands, Holly Hedges, Weeping Woods, Slurpy Swamp, Craggy Cliffs, Frenzy Farm, Steamy Stacks, Dirty Docks, Lazy Lake, and Misty Meadows. The more frequent additions to the Fortnite Chapter 2 map are Salty Springs, Pleasant Park, and Retail Row.
The Fortnite Chapter 2 Season 3 map introduces, well, a whole lot of water. All 13 locations are still tact, but the areas in between them are looking a tad damp, to say the least.
Fortnite Chapter 2 Season 3
The new Fortnite season adds water and lots of it. It also brings new enemies to deal with, such as sharks and marauders. The former is less formidable and can be ridden if you snag them with your fishing line. The latter is, er, probably one you'd rather avoid than try to reel in.
While the map is currently flooded, the water will eventually recede over time. As this happens, you'll discover more roads which can drive on with new cars. You can also build and upgrade an umbrella if that's what you're into.
There are also heaps of new Battle Pass items and skins to hunt for. One of the more notable ones is Jason Momoa's Aquaman, which is replacing Deadpool this season.
We're rounding up the Fortnite challenges every week this season, so do check in you're curious what's going on.
When does Fortnite Chapter 2 Season 3 end?
Fortnite Chapter 2 Season 3 ends on August 27, 2020. That comes from another leak from Fortnite Battle on Twitter. It is, of course, subject to delays – so keep that in mind.
Fortnite Chapter 2 Season 2
This season was all about spies, covert ops, and a frighteningly muscular cat. There are two spy factions and they're called Ghost and Shadow. They appear in the game through skins, challenges, and in-game bases.
Each faction has a cast of characters you can either fight in-game as a mini-boss, or become by getting their skin. If you manage to find and beat them in-game, you'll get an ID card to a vault filled with top-tier loot, which includes a gold weapon specific to the mini-boss you beat.
There are five new Fortnite Chapter 2 Season 2 locations you can visit, each of them being a base for one of the factions. One is a rig in the middle of the sea, while another is an island-base called The Shark.
Fortnite Chapter 2 Season 2 also saw a crossover event with Marvel hero Deadpool, and a selection of new weapons.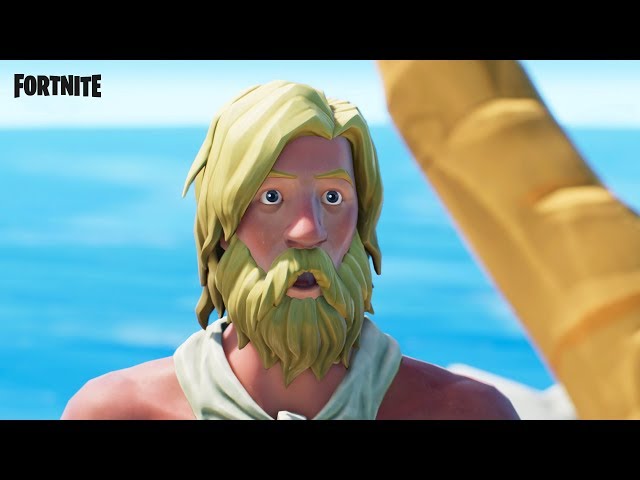 Fortnite Chapter 2 Season 1
A visual overhaul wasn't the only thing we got with Fortnite Chapter 2 Season 1. Epic streamlined the Battle Pass to make grinding less of a chore with new medals and other ways to earn experience.
We also got more water-based gameplay, such as the ability to swim, fish, and ride motorboats – all useful things when it comes to basic survival.
There's also new ways to help your injured buddies on the battlefield. You can fire a Bandage Bazooka at 'em to heal them up, or carry them when they're down to safety to revive them.
If you're feeling sneaky, you can also hide in haystacks and dumpsters to pounce on unsuspecting foes.
When does fortnite Chapter 2 end?
We don't have an official start date for Fortnite Chapter 3 just yet, i'm afraid. That said, Fortnite Chapter 1 had ten seasons, so we could eight more seasons in Fortnite Chapter 2 before Epic hits the reset button.
The first chapter of Fortnite lasted for just over two years, so, theoretically, we could say that Fortnite Chapter 2 will end in late 2021. That is, of course, if Epic decides on to go along with a similar time frame.
Read more: the best iOS games on mobile
And there you have it, everything in Fortnite Chapter 2 so far. Epic's popular battle royale is an ever evolving thing, but we'll keep this guide up to date to reflect everything that's happening – so check back if you need a swift catch up.
If you're looking for more Fortnite related help then we have a Fortnite Android guide to equip you with the know-how on how to download the battle royale and play with your friends. We also have something on how to set up a Fortnite login. If you need a break from the fighting, we also have a Fortnite Creative guide. If you're looking to download Fortnite on iOS, then simply follow the link.