When it comes to personality, the Genshin Impact characters have it in heaps. And, of course, one such explosive personality is Genshin Impact's Klee. She's super sweet. She's super fiery. She's a bomb-toting pyromaniac with a cute bunny keyring and an angel's face. What's not to love?
Well, now you can carry a piece of this adorable little firecracker with you wherever you go, with the Genshin Impact Redmi Airdots 3 Pro. These special edition earbuds come tied up in a gorgeous, detailed package that perfectly represents our favourite Spark Knight from the Knights of Favonius (just don't tell Jean). And, if you're wondering where to buy them and how many mora these beauties will set you back, you're in the right place.
For more Genshin Impact goodies, check out our piece on the Genshin Impact Funko Pops, and our guide to all the latest Genshin Impact codes. We also have a Genshin Impact tier list to help you on your journey around Teyvat.
What's the Genshin Impact Redmi Airdots 3 Pro release date?
Currently, the Genshin Impact Redmi Airdots 3 Pro are open for pre-orders, and are set to ship on March 31.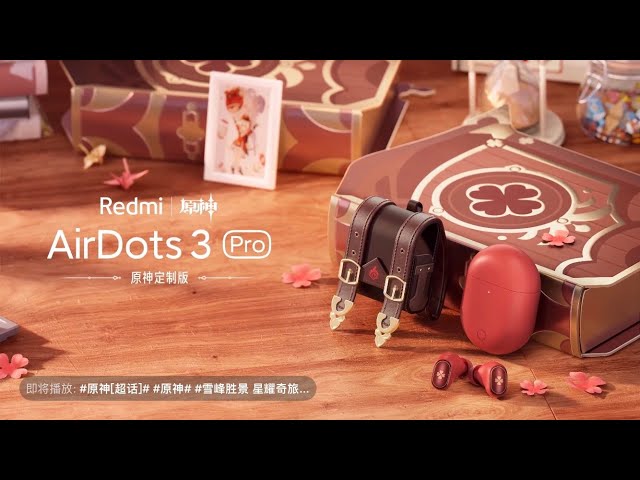 They sport a vibrant red colour with an iridescent sheen, along with the golden, four-leaf clover motif from Klee's clothes. They come nestled in a sturdy red and gold pod, slipped inside an adorable miniature copy of Klee's backpack, and, to sweeten the deal even further, they come packaged in a box styled like Klee's signature weapon, Dodoco Tales.
But don't you fear, Traveler – this lovely little item isn't all style over substance. Previous versions of the Redmi Airdots 3 Pro have very favourable reviews, with a short charge time, long battery life, and impressive sound quality, all for a reasonable price.
Where can I buy the Genshin Impact Redmi Airdots 3 Pro?
You can pre-order the Genshin Impact Redmi Airdots 3 Pro from Giztop. The price is currently set at $99.99/£72.85, but keep in mind that you'll need to import them if you live anywhere outside of China, and therefore could face some import taxes or high shipping fees.
That's everything we know about the Genshin Impact Redmi Airdots 3 Pro right now. Honestly, we're finding these gorgeous little earbuds pretty hard to resist! For more awesome adventures on the go, check out our list of the best games like Genshin Impact to find something fresh to play.