Klee is Genshin Impact's resident explosive expert. She's a young, outgoing girl, and enjoys spending time with her fellow knights, especially Albedo, as he teaches her lots of new things. Unfortunately for Klee, she often gets sent to time out for blowing things up, during this confinement she likes to develop even more bombs.
With help from our Genshin Impact Klee guide, you'll soon learn how to master this adorable, five-star, pyro character. We'll run you through all of her active and passive skills, make sure you know exactly what it costs to ascend her, and let you know which weapons and artifacts to use.
Take a look at our Genshin Impact tier list to find out where each character ranks, then head on over to our Genshin Impact codes list for some free stuff. We can also help you out with other popular characters, check out our Genshin Impact Ganyu and Genshin Impact Albedo guides.
Genshin Impact's Klee
When is the next Genshin Impact Klee banner?
Thanks to the recent Genshin Impact 2.8 livestream, we know that Klee will appear during phase one of the next update in the Sparkling Steps banner, alongside Genshin Impact's Heizou. Take a look at our Genshin Impact next banner guide for more info.
The best Genshin Impact Klee build
Klee is a bit of an odd one in that she was super popular during her first banner but has since dropped off a little, especially in late game content. As more characters have come out, she's been benched more often than not due to her skill-based gameplay and difficult controls.
However, she's still a great backbone for many teams and capable of blasting her way through the Sprial Abyss, and her gameplay is very unique, meaning skilled players or those familiar with her kit can really help her shine.
Klee makes for a great DPS or sub-DPS, especially in a mono pyro team – which also happens to be the easiest team comp to play her with. She has plenty of mobility and animation cancels to reap, and her charged attacks have the potential to deal heaps of damage and stunlock or juggle targets. Additionally, stunlocked enemies can't fight back – meaning you don't necessarily need a shield in a Klee team. Her elemental skill can also be used for off-field damage.
When it comes to building teams, Klee also has high synergy with most of the game's popular supports, especially Genshin Impact's Bennett. Her fourth ascension talent allows her to generate a bunch of energy regeneration for her team, and she's capable of grouping enemies and dishing out AoE damage which is an asset to most teams.
Klee's shortcomings mostly lie with her tricky gameplay, which is even more prominent for mobile players, and that her kit was really designed to excel in co-op over everything else. Additionally, Klee is not a typical 'hypercarry' DPS, meaning you need to invest in her whole team to get the most out of her.
In other words, Klee is an amazing unit when in capable hands and the right team, but she can certainly take some getting used to, and may at times be outshined by other pyro characters.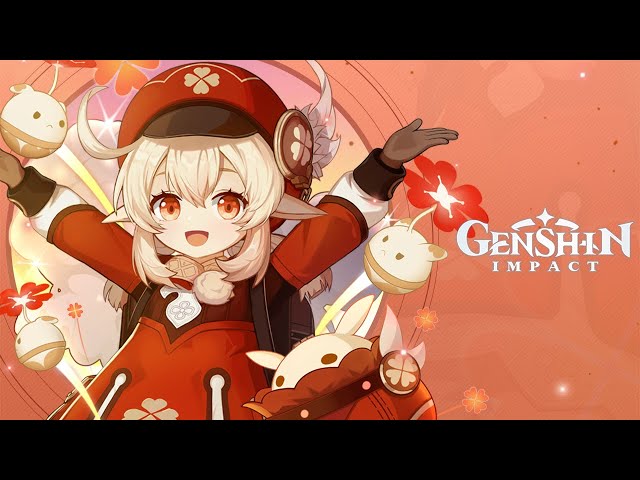 What's the best Genshin Impact Klee weapon?
Surprisingly, when it comes to picking weapons for Klee, the top spots go to four-stars.
The Widsith is easily the best choice of the four star weapons, and the best overall pick if you've got it at refinement rank five. While its downtime may look a little intimidating, due to the fact that Klee's burst snapshots and she front-loads her Jumpty Dumpties, and that her optimal playstyle only really requires her to be in-field for about ten seconds at a time, the Widsith gives her a huge buff, with R5 giving her an approximate 10% increase in total damage.
The second place goes to Dodoco Tales, a weapon obtained for free in version 1.6. It's weaker than the Widsith and currently unobtainable, but is still an extremely viable option (if you've got one sitting around) due to its significant boost to Klee's charged attacks.
Solar Pearl, obtained through battle pass, is another great four-star choice, due to its high damage, crit rate boost, and synergy with her ascension four passive. The main drawback with Solar Pearl is that it buffs everything but her charged attacks, which are an important part of her kit.
We've left most five-star options off the list because they're difficult to obtain and refine, and they honestly don't hold a candle to the Widsith, especially at R5. Kagura's Verity is a decent choice for those of you who don't want to rely on the RNG of the Widsith, but with its main power coming from exploiting a bug, we don't find it to be a viable option for most players.
Weapon
Effect
How to obtain

The Widsith

Bonus effect: crit damage +12%
Skill: when a character takes to the field, they gain a random theme song for ten seconds. This can only occur once every 30 seconds. Here are the different songs:
Recitative – increases attack by 60%
Aria – increases elemental damage by 48%
Interlude – increases elemental mastery by 240
Gacha

Dodoco Tales

Bonus effect: attack +12%
Skill: Klee's normal attack hits on opponents increase her charged attack damage by 16% for six seconds. Charged attack hits on opponents increase attack by 8% for six seconds
Midsummer Island Adventure reward

Solar Pearl

Bonus effect: crit rate +6%
Skill: normal attacks increase elemental skill and elemental burst damage by 20% for six seconds. Elemental skill or elemental burst attacks increase normal attack damage by 20% for six seconds

Battle Pass reward
What are the best Genshin Impact Klee artifacts?
The best universal artifact set for Klee is a combination of two Crimson Witch of Flames with two 18% attack pieces. For the attack pieces, you can either go with Gladiator's Finale or Shimenawa's Reminiscence, which allows you to pick the two with the best stats and sub-stats while also providing her with both attack and pyro damage bonuses.
On the other hand, if you want to use Klee as an enabler that constantly applies pyro onto the enemies and leaves them with the pyro aura, Lavawalker is surprisingly your best bet. It gives a 35% damage bonus to all attacks, and, when combined with strong substats, can be the best option in these team comps.
Crimson Witch of Flames is also a great choice, especially for reaction builds, as its pyro damage boost really helps her bring the pain when combined with her Jumpty Dumpty charges. Of course, this set can be quite tricky to get good stats and substats on, though, so you might need a lick of luck from the RNG archons.
Artifact set
Effect
Where to get

Crimson Witch of Flames

Two equipped: 15% pyro damage bonus
Four equipped:

Increases overloaded and burning damage by 40% and vaporize and melt damage by 15%. Using an elemental skill increases the two-piece set effect by 50% for ten seconds (maximum of three stacks)

Hidden Palace of Zhou Formula domain on Bashui Plain, Wuwang Hill

Gladiator's Finale

Two equipped: at

tack increases by 18%

World and weekly bosses, Gladiator's Finale artifact strongboxes, and Adventure rank up and journal rewards

Shimenawa's Reminiscence

Two equipped: attack increases by 18%
Momiji-Dyed Court domain on Yashiori Island in Inazuma

Lavawalker

Two pieces equipped: pyro resistance +40%
Four pieces equipped: increases damage against enemies affected by pyro by 35%
Hidden Palace of Zhou Formula domain on Bashui Plain, Wuwang Hill
Alternate artifact set
If you're struggling to get the above artifacts, you can equip her with Resolution of the Sojourner in the meantime.
Artitfact set
Effect
Resolution of Sojourner
Two equipped: increases attack by 18%
Four equipped: increases charged attack critical rate by 30%
Stat priorities
Regardless of what set you go with, we recommend the following stats and sub-stats.
Main stats:
Sands of Eon – attack%
Goblet of Eonothem – pyro damage%
Circlet of logos – crit rate/crit damage (try to maintain a 1:2 ratio)
Sub-stats:
Energy recharge (not as important if she's teamed up with another pyro, but about 140% is needed if she's the only pyro)
Crit rate/crit damage
Attack%
Attack
What are Genshin Impact Klee's skills?
Active skills:
| | |
| --- | --- |
| Skill | Effect |
| Kaboom! | Performs up to three attacks, dealing AoE pyro damage |
| Kaboom! (charged) | Deals AoE Pyo damage |
| Kaboom! (plunging) | Deals AoE pyro damage upon impact with the ground |
| Jumpy Dumpty | Jumpy Dumpty bounces around, dealing AoE Pyro damage, and exploding into mines on the third bounce |
| Sparks 'n' Splash | Continuously summons Sparks 'n' Splash to deal AoE Pyro damage |
Passive skills:
| | |
| --- | --- |
| Skill | Effect |
| Pounding Surprise (unlocked at ascension one) | Jumpy Dumpty and normal attacks have a 50% chance to obtain an explosive spark, which deals 50% increased damage |
| Sparkling Burst (unlocked at ascension four) | When a charged attack critically hits, party members gain two elemental energy |
| All Of My Treasures! (unlocked automatically) | Displays the location of nearby Monstadt resources on the mini-map |
What are Genshin Impact Klee's constellations?
Each of Klee's constellations boosts the power of her moves. You can level these up each time you receive Klee as a duplicate when making a wish.
| | |
| --- | --- |
| Constellation | Effect |
| Chained Reaction | Attacks and skills have a chance to summon a spark that deals damage equal to 120% of Sparks 'n' Splash's damage |
| Explosive Frags | Being hit by Jumpy Dumpty's mines decreases defence by 23% for ten seconds |
| Exquisite Compound | Increases the level of Jumpy Dumpty by three |
| Sparkly Explosion | If Klee leaves the field during Sparks 'n' Splash, an explosion is triggered that deals 555% of her attack as AoE pyro damage |
| Nova Burst | Increases the level of Sparks 'n' Splash by three |
| Blazing Delight | While under the effects of Sparks 'n' Splash, other party members will continuously regenerate energy. When Sparks 'n' Splash is used, the party gains a 10% pyro damage bonus for 25 seconds |
What are Genshin Impact Klee's ascension materials?
Ascension can be expensive, so we're here to make sure you keep hold of the items needed to ascend Klee as soon as possible.
| | | |
| --- | --- | --- |
| Required level | Mora | Materials |
| 20 | 20,000 | One Agnidus Agate Sliver, three Philanemo Mushroom, three Divining Scroll |
| 40 | 40,000 | Three Agnidus Agate Fragment, two Everflame Seed, ten Philanemo Mushroom, 15 Divining Scroll |
| 50 | 60,000 | Six Agnidus Agate Fragment, four Everflame Seed, 20 Philanemo Mushroom, 12 Sealed Scroll |
| 60 | 80,000 | Three Agnidus Agate Chunk, eight Everflame Seed, 30 Philanemo Mushroom, 18 Sealed Scroll |
| 70 | 100,000 | Six Agnidus Agate Chunk, 12 Everflame Seed, 45 Philanemo Mushroom, 12 Forbidden Curse Scroll |
| 80 | 120,000 | Six Agnidus Agate Gemstone, 20 Everflame Seed, 60 Philanemo Mushroom, 24 Forbidden Curse Scroll |
That's all you need to know in order to master Klee! If you're on the lookout for something new to play, take a look at our list of the best mobile RPGs.