With the Sumeru desert finally accessible, Genshin Impact scarabs have become a pretty hot topic. See, it's funny because the word 'hot' both applies to the popularity of the topic, and to their natural habitat, the Sumeru desert, which has an extremely 'hot' climate – sorry, channelling my inner Cyno there. The main reason that scarabs are so popular isn't that we're all planning to take a scarab to an onikabuto fight (Itto would be appalled). Nope, it's because we're all super pumped to get building the long-awaited, wise-cracking general Cyno himself. And in all our benevolence, we've decided to take a leaf out of Tighnari's book and bring you this guide detailing all the Genshin Impact scarab locations, and tips on how to snag them. You see, it's funny because Tighnari is a forest watcher, so 'leaf' – okay, I'll stop.
For more handy farming tips, check out our Genshin Impact map, Genshin Impact Starlight Coalescence, and Genshin Impact dandelion seeds guides. Or, if you need a couple of extra primos to snag that five-star you've been jonesing for, check out our list of all working Genshin Impact codes.
Genshin Impact scarab locations
Genshin Impact scarabs only spawn in the desert area of Sumeru, so looking anywhere else is pretty pointless. Check out the map below to see all the rough areas where scarabs spawn.
Keep in mind that they move around, but should be close to the points marked on said map. You can also head over to the Interactive Map of Teyvat and filter the pins to only show scarabs, and you can even hide the pins once you've collected them.
A Traveler on Youtube called KyoStinV has also made a super handy Genshin Impact scarab farming route video for those of you struggling to spot all the bugs. Using this video and a sprinkle of patience, you can get 51 scarabs in one run!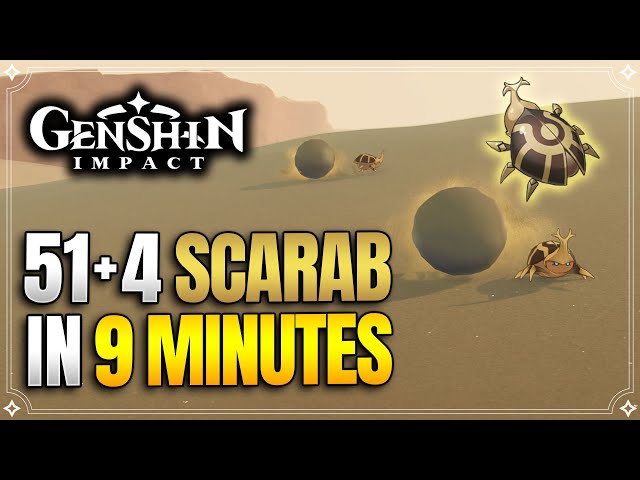 Genshin Impact scarab farming tips
When hunting for scarabs there are a few things to keep in mind.
Look out for rolling balls of dirt – scarabs are usually rolling, so don't be hating when you see a ball of dirt making its way across the desert plain. There be beetles there!
Bring Tighnari – if you're lucky enough to have Genshin Impact's Tighnari, you can make use of his passive that shows you where local specialties are on the mini-map. Just keep an eye out for the hand icon
Draw distance sucks – no, seriously. I've been farming these little suckers for days, and despite the desert being full of wide open plains, you have to get pretty close before you see those bugs, so sticking to a farming route like that shown in the video above is very handy
Complete the Golden Slumber questline – the Golden Slumber world quest is long, but unlocks an area with a bunch more bugs. It makes all the difference
Mark the scarabs on your map – this may seem obvious but, even when using a video guide, I find marking each bug I collect on my map using pins helps a lot next time I go in
Unlock all the waypoints – you can't control what waypoints and Statues of the Seven are unlocked in other players' worlds, but unlocking every one you pass in your own desert makes your job a whole lot easier
Head to other worlds – a lot of Reddit users have been recommending changing your name to 'Need Scarabs' on your Traveler card, then asking to join other players' worlds. Not everyone is farming for Cyno, and as he's the only one using these little blighters right now
Eat stamina buff foods – consuming a food that buffs your climbing and gliding stamina consumption really helps when wandering the desert in search of bugs
Edit: I previously said you need to bop the bugs to collect them. You don't. I was smacking those scarabs for no reason, and I'm very mad at myself about it.
How many scarabs does Cyno need?
You may be asking yourself this a lot as you go around chasing balls of dirt and swatting bugs all day, but we promise there's an end to it. Here's how many scarabs Cyno needs for each ascension level.
Level 20+ – three scarabs
Level 40+ – ten scarabs
Level 50+ – 20 scarabs
Level 60+ – 30 scarabs
Level 70+ – 45 scarabs
Level 80+ – 60 scarabs
That's a total of 168 scarabs to grab. Good luck beetle buddies!
That's everything you need to know about Genshin Impact scarab locations and farming for now. If you're already rubbing shoulders with the General Muhamatra and are looking for a new adventure to embark on, check out our list of the best games like Genshin Impact.