For the last couple of years, the Roblox player count has been something other developers look upon jealously while the numbers continue to skyrocket, with reports from the company of over half of US kids and teens using the platform. However, it's starting to look like we may have already passed peak Roblox, with numbers for this year not continuing the pattern.
Thanks to the stats site activeplayer.io, we know that while in October 2021 there were just slightly under 224 million average monthly users, the number for this year is closer to 205 million. That means something like 19 million Roblox players have left the platform in the last twelve months, with the once ever-expanding player base seemingly at its limit.
There are lots of possible reasons for the drop off in players, from the West dropping COVID restrictions allowing more kids to get out of their rooms, to fifth-generation consoles being more readily available now, it could be any or a combination of factors. Still, there's every possibility this could change, especially when Roblox eventually relaunches in China, with Chinese players currently locked out of the game.
How many people play Roblox?
Despite the losses, 205 million people playing Roblox is still a pretty staggering figure and gives the developer more than enough ground to try and convince some missing players to return. The daily numbers are still incredibly impressive, with around 20 million of you booting up the 'blox at least once every 24 hours.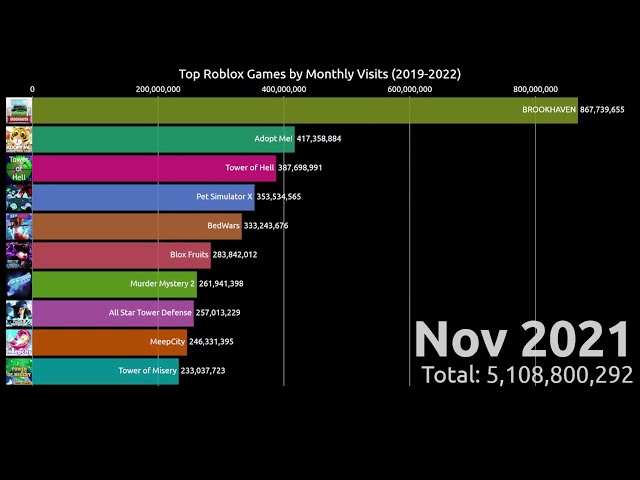 Roblox game stats
Despite the numbers changing on a larger scale, many of Roblox's most popular games continue to succeed, with some new titles not feeling the effect of the player count drop-off.
The most popular genres continue to be anime-inspired RPGs, pet, simulation, and horror games, with titles like Rainbow Friends bolstering the Roblox roster with horror experiences, and titles like Blox Fruits and Adopt Me! continue to pull in thousands of daily players (we've got a full list of Adopt Me pets and Blox Fruits codes, if you're interested).
There are plenty of other big hitters despite the Roblox player count stalling a little, with Tower of Hell, Meepcity, and Brookhaven all amassing over 10 billion visits. The hit of the year might have to be Evade though, with over half a billion visits since its release in June and a rapidly expanding player base.
There you have it, all the juicy details on the declining Roblox player count. For some free goodies in a popular Roblox game, see our Ro Fruit codes and Pop It Trading codes.