There are plenty of powerful factions in Bethesda's iconic action RPG, but few are as shrouded in mystery as the Skyrim dark brotherhood. This band of not-so-merry men is made up of the region's finest assassins, with an invite-only process when it comes to hiring new members. If you're here, maybe you've had the invite, or perhaps you want it, and we're here to let you know what you're in for.
For more help guiding the Dragonborn through their adventure, check out our Skyrim houses, Skyrim map, Skyrim marriage, and Skyrim cure vampirism guides. Or, if you're looking for the lighter side of this game-changing RPG, see our favourite Skyrim memes.
Here's everything in our Skyrim dark brotherhood guide:
What is the Skyrim dark brotherhood?
As we mentioned in the intro, Skyrim's Dark Brotherhood is a collection of elite assassins brought together by a ritual known as the Black Sacrament. This dark magic uses the power of the Night Mother – the Dark Brotherhood's god of choice – to answer the call of those looking to hire one of the group's many killers.
How do you join Skyrim's Dark Brotherhood?
To join the Dark Brotherhood, you must first complete the Innocence Lost quest. To pick this mission up, you can either wait to hear a rumour from any of Skyrim's innkeepers, or you can head straight to the Aretino residence in Windhelm and let yourself in with your lockpick skills. When you're in the big house, you need to find young Aventus Aretino and listen to his plight from the Honorhall orphanage, with the child requesting you murder its patron Grelod the Kind.
Skyrim Dark Brotherhood armor
As you may or may not know, there's a special armor set you can only pick up through completing the "Locate the Assasin of Old" Dark Brotherhood quest, with the caveat that you also need to have met the extra requirement of the "Breaching Security" quest. The set in question, officially known as the ancient shrouded armor, is visually identical to the regular shrouded armor affiliated with the Dark Brotherhood, but with an extra boon. You can find the effects of each individual piece of protection below.
Ancient shrouded armor – Increase poison resistance by 100%
Ancient shrouded boots – Move silently
Ancient shrouded cowl – Increase bow damage by 35%
Ancient shrouded gloves – Double one-handed sneak attack damage
As you can tell from that list, the Skyrim Dark Brotherhood armor is ridiculously useful, especially for those who play stealthy – I'm looking at you, Khajit friends. To find the armor, you need to get to the room behind the throne at Hag's End, and this will be accessible after completing the "Locate the Assasin of Old" quest we mentioned earlier.
Skyrim Dark Brotherhood quests
With a bulk of the Skyrim Dark Brotherhood quests either straight-up assassinations or fetch quests, there's little point putting a walkthrough together, as there's little we can tell you that the quest itinerary on your main menu can't. Still, we've listed all the quests for you completionists out there so you can cross them off as you go.
Bound Until Death
Breaching Security
Contract: Kill Anoriath
Contract: Kill Agnis
Contract: Kill Beitild
Contract: Kill Deekus
Contract: Kill Ennodius Papius
Contract: Kill Hern
Contract: Kill Helvard
Contract: Kill Lurbuk
Contract: Kill Maluril
Contract: Kill Ma'randru-jo
Contract: Kill Narfi
Contract: Kill Safia
Death Incarnate
Delayed Burial
Hail Sithis!
Honor Thy Family
Innocence Lost
Mourning Never Comes
Sanctuary
Recipe for Disaster
The Cure for Madness
The Dark Brotherhood Forever
The Silence Has Been Broken
To Kill an Empire
Where You Hang Your Enemy's Head
Whispers in the Dark
With Friends Like These…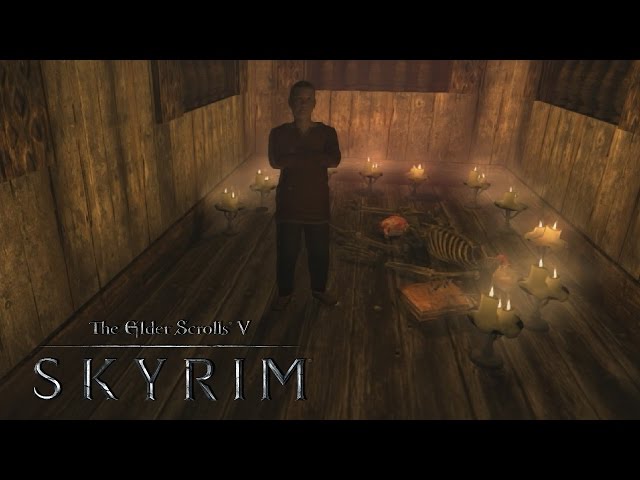 Skyrim Dark Brotherhood mods
If you just can't get enough of the in-game content for the Skyrim Dark Brotherhood, then why not add some more? We've picked out three killer mods – geddit? – for you to continue your path with the region's greatest assassins. You can check them out below.
Your Choices Matter – A Dark Brotherhood Expansion
The one problem many Skyrim players have with the Dark Brotherhood quests is that, for the seemingly important nature of the events that take place, your actions do little to change the story or ending of the game. In Your Choices Matter, as you can probably guess, things are a little different, and the fate of the assassin's guild is in line with the fate of Skyrim as a whole. It certainly adds an extra sense of tension to these murderous missions, and is well worth trying out for any Skyrim superfan.
Save the Dark Brotherhood
This mod turns one of the biggest Dark Brotherhood quests, Death Incarnate, on its head by allowing you to save your fellow assassins from Margo's agents. Better still, after the crux of the Save the Dark Brotherhood experience, all those who you save are happy to either follow you, or marry you, as a way of showing appreciation for saving their lives.
The Brotherhood of Old
If you're hungry for more after completing all the Dark Brotherhood quests, there's an extra 24 on offer thanks to The Brotherhood of Old mod. This imaginative creation picks up where Bethesda left off with the assassins of Skyrim, treating you to even more dangerous missions, bigger battles, and a storyline that you wouldn't believe wasn't written by the original developer.
There you have it, all you could ever need to know about the Skyrim Dark Brotherhood. To find some killer jams to help you on your assassin quest, check out our YouTube Music download and Spotify download guides.