Just when you think it's time for a break from all the courtroom drama, you discover that the Tears of Themis Secrets of the Tomb event is round the corner. However, this promises to be a fun event that every attorney should participate in, with plenty of goodies to grab, a story to unravel, and, of course, some quality time with your virtual beau.
In the Tears of Themis Secrets of the Tomb event, you get to explore the mysterious ruins of Khaimit with your significant other, and it might just surprise you at how close this draws you and your husbando together. Furthermore, there's the main story, Shadows of Resurrection, for you to work through – it also has a bunch of side tasks for you to complete so that you can make the most of this excursion. Let's just hope you don't wake up an angry mummy.
Naturally, as with any Tears of Themis event, there are various goodies for you to grab, including the roaring sands commemorative badge, the desert road limited invitation, and R cards for Luke, Artem, Vyn, and Marius. Furthermore, Secrets of the Tomb gives you the chance to grab rare limited edition cards such as SSR Luke overflowing thoughts, SSR Artem echoes ablaze, SSR Vyn flickering moonlight, and SSR Marius dimly lit.
When is the Tears of Themis Secrets of the Tomb event?
Tears of Themis Secrets of the Tomb begins on April 29, but we don't know when it ends. For the duration of the event, you can visit the cosmetics shop to grab some sandstorm-themed outfits for the four male leads, as well as the desert oasis and Khaimit palace backgrounds.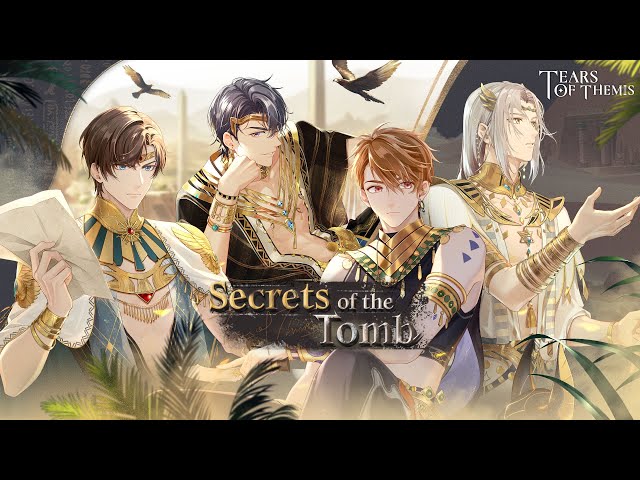 For more information on the virtual bachelors, make sure you visit our Tears of Themis characters list. We also have a Tears of Themis cards guide, so if you're new to the game, you can familiarise yourself with the gameplay mechanics.
Alternatively, if you're after that special someone, but don't want to deal with courtroom drama, head over to our lists of the best dating games and best otome games to see who else is out there.