If you want to fight the good fight in Needs Games' demon-bashing hack and slash, then you're going to have to pick a powerful Undecember build. Whether you prefer all-out attack, stealth and agility, or the might of magic, there's a playstyle for all, and with the fate of the world at stake, you need to find yours quickly.
That's where we come in with our Undecember builds guide. For all you beginners out there, we've got you covered with an early-game build made especially to help you power through the hectic early dungeons without soaking up too much damage. Don't worry if you're a veteran though, as we've also got individual strength, agility and intelligence builds that might offer you a little help putting your ideal set-up together.
For more help in Needs Games' Doom-like, be sure to see what the best equipable power-ups are in our Undecember runes guide. Or, for free items in some more gothic adventures, see our Attack on Titan Evolution codes, Reaper 2 codes, Project Slayers codes, and Backroom Race Clicker codes.
The best Undecember builds
To make it easier for you to find the Undecember build that suits you, we've split the options into four segments with a beginner section, as well as recommendations for attack, agility, and intelligence players. Of course, it's worth trying out a few early in the game to find what suits you, but if you find it a little tricky traipsing through the first few dungeons, there's no shame in accepting a helping hand.
Beginner Undecember build
Across the board, the best option for an early game build seems to be prioritising attack and movement skills with agility-based runes. With the build below, you can use skills like spread shot or rapid shot to stay away from enemies while providing consistent blistering damage, and finish off any stragglers with rain of arrows. When it comes to equipment, you want to balance speed-enhancing items with those that boost damage, and the same goes for when choosing your level-up path. Just remember, early on in the game, dexterity is your best friend.
Skill runes: Spread shot, rapid shot, rain of arrows
Link runes: Multishot
Strength Undecember build
If you want to go down the route of raw strength, there's plenty of options available to you. In terms of equipment, you need to prioritise items equipped with strength-enhancing enchantments to add further devastation to your attacks. The skills you use are really up to you, with no defined S-tier option at the time of writing, but you can't go wrong with illusion axe, illusion hook, and whirlwind for some high damage and battlefield control. With so many skill runes available, all we can advise is choosing those that further boost damage potential, or those with elemental powers for dealing with specific enemies.
Skill runes: Ilusion axe, whirlwind, illusion hook
Link runes: Any strength or attack damage boosting link runes
Agility Undecember build
The ideal agility Undecember build is just a slight upgrade on our beginner build, with more emphasis on dealing with opponents with high levels of HP. Spread shot and rapid shot are both must-haves, but you can swap out rain of arrows for something like vital blow, which dramatically increases critical rate, or sentence of avoidance if you'd rather have the confidence of knowing you can dodge a few heavy attacks from a boss or potent opponent. Just like with our beginner build, multishot is a good call for dealing with multiple enemies in a dungeon, but it's worth also picking something up that
Skill runes: Spread shot, rapid shot, vital blow, sentence of avoidance
Link runes: Multishot and any dexterity or movement speed-boosting link runes
Intelligence Undecember build
If you want to make like a mage and get wizardy with it, then you want to put together an intelligence-based Undecember build. With different elements available through skill runes, you can either specialise in a specific type – a fire wizard, for instance – or make the most of the diverse pool of skills to become something of an all-rounder. We tend to opt for the ladder, equipping fireball and snowstorm, as well as summon bursting rune night to provide a battlefield distraction for enemies. Multishot is another reliable link rune here, especially for packed early-game dungeons, but by the late-game challenges, you need to go for dexterity and intelligence-boosting link rune options.
Skill runes: Fireball, snowstorm, lightning typhoon, summon bursting rune knight
Link runes: Multishot and any dexterity or intelligence-boosting link runes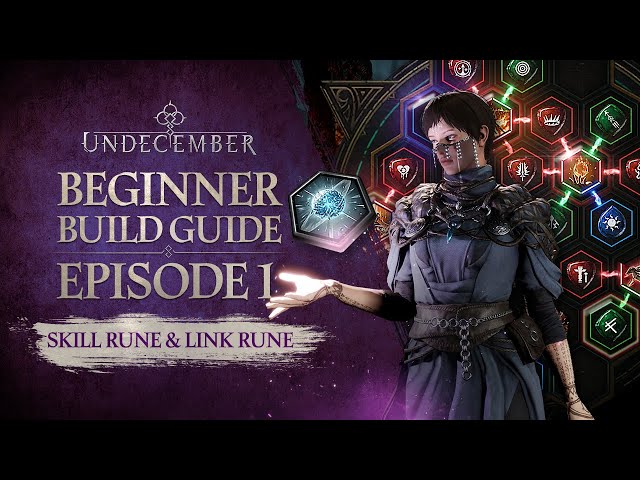 There you have it, our recommendations when it comes to beginner, strength, agility, and intelligence Undecember builds. For more useful tips, see our Zoom download, WhatsApp download, and Instagram download guides.