September 18, 2023: We checked for new Project Slayers codes for our list
Curious about Project Slayers codes? Well, let's start at the beginning. Roblox is a wondrous place, especially if you happen to enjoy an assortment of anime and manga, as you can come across games inspired by the likes of My Hero Academia, One Piece, Sword Art Online, Dragon Ball Z, Demon Slayer, and Tokyo Ghoul. Project Slayers, as the name implies, takes influence from Demon Slayer, which means you can expect plenty of action.
Should you be after even more freebies, you should check out our Anime Adventures codes, Motorcycle Mayhem codes, Project Mugetsu codes, Fruit Warriors codes, One Shot codes, Punch Wall Simulator codes, Anime Story codes, Anime Fighting Simulator X codes, Anime Lost Simulator codes, Free Fire codes, A One Piece Game codes, Dead by Daylight codes, and Anime Artifacts Simulator 2 codes guides. Or, to see what else the games platform has to offer, take a look at our best Roblox games list.
Here are all of the new Project Slayers codes:
There are currently no active Project Slayers codes, but we'll update this guide as soon as more become available.
How do I redeem Project Slayers codes?
To redeem Project Slayers codes, follow these steps:
Open Roblox
Launch Project Slayers
Open the menu
Hit the book icon
Enter your code in the box
Hit redeem
Enjoy your freebies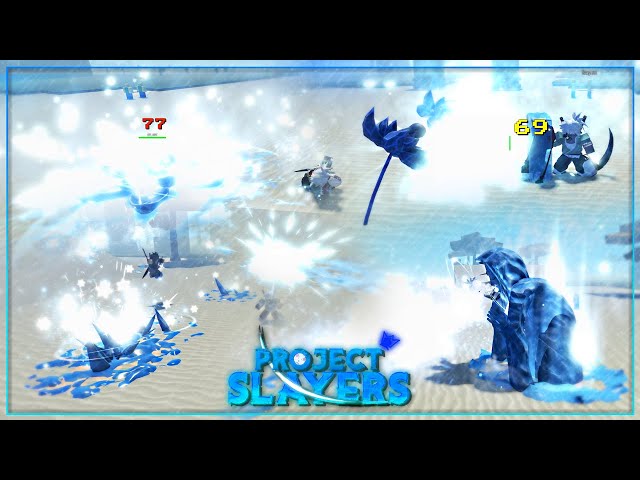 Expired codes:
ThanksFor400MVisits
ThanksFor650KVotes
Update309ArtSpins –
Update309RaceReset
Update309BreathingReset
3AsTeRRaceReset
H@pPy3AsTeR
ThanksFor200MilVisitsBreathingReset
Roblox@ItAgain
ProjectShutdown
ProjectShutdownRace
Roblox@ItAgainRaceReset
Roblox@ItAgainBreathingReset
New500kLikesCode!
New500kLikesCode!
ThanksFor200milVisitsRaceReset!
ProjectShutdownBreathing
ThanksFor500kVotes
Miniupdate1.5
SorryForIssuesToday
SorryForDataIssues
Update1.5Spins
Update1.5BreathReset
Update1.5RaceReset
NewAntiExploit
Upd295MiniCode
!ThanksFor250MVisits
!500kLikeCode!
ThanksFor350MVisits
ThanksFor350MVisits2
ThanksForLikes600K
ThanksForLikes600K2
Thx4300MNOuwohanaIsBack
Thx4300MNOuwohanaIsBackBreathReset
Thx4300MNOuwohanaIsBackRaceReset
ThanksFor200milVisitsRaceReset!
ThanksFor200milVisitsRace
HappyNewYears!
2023BreathingReset
HappyUpdateYears!
MerryChristmas2022
MerryChristmas2022RaceReset
MerryChristmas2022BreathingReset
Upd@ate1B1gCodE
IncreasedDropsBreathReset
IncreasedDropRaceReset
400Klikes
400Klikesracreset
400Klikesbreathingreset
Miniupdate3
MiniUpdate3racereset
Miniupdate3breathingreset
350Kupvotes!
350Kupvotes!Breathing
lastcode?lol
anotherdayanothershutdown
300klikes!
shutdownnumb2
shutdown!
miniupdate
miniupdatedaily
soryagainguys:V
200K+upvotestysm
sorryforanothershutdown
100K+likesiglol
werebackup
Gettingthere!
Sorryforshutdowns!
FINALLYRELEASETIME!
What are Project Slayers codes?
Project Slayers codes provide you with valuable in-game goodies courtesy of the developer, Project Slayers, who tend to add new ones for each milestone hit, so bookmark his page to stay up to date with the latest goodies.
How do I get more Project Slayers codes?
If you want to keep on top of all the latest Project Slayers codes as they drop, you should bookmark this page and check back often as we update it regularly. Aside from that, you can join the Project Slayers Discord and keep an eye out for any new Project Slayers freebies straight from the source.
Is there a Project Slayers Trello?
Like most popular Roblox experiences, there is indeed a Project Slayers Trello and you can find it right here. The Trello contains all sorts of useful stuff, including update information, NPC locations, gameplay tips, and even extra codes – so go check it out!
There you have it, all of the current Project Slayers codes. If you want to enjoy this game further, make sure you check out our Project Slayers private server codes and Project Slayers breathing guide. For more anime Roblox, check our guide to Roblox Project New World codes, or for some less blocky action, head over to our best anime games list.