The five elemental guardians are on a journey to restore harmony to Esperia's elemental powers, and they're accompanied by a mysterious historian called Maetria. Why has AFK Arena's Maetria joined them on their quest, and what does she have to do with the AFK Arena Last Obsidian Finch?
We've got plenty of AFK Arena guides to help you on your journey. We've got AFK Arena codes for when your supplies need a little top-up, plus guides to AFK Arena's Mine Mayhem and AFK Arena's Cycle of Sorrow. If you're wondering who to use in your formation, check out our AFK Arena tier list to see who's the best of the best.
Who is AFK Arena's Maetria?
Duskfeather Maetria, otherwise known as Awakened Maetria, is a new Awakened hero in AFK Arena. She is a Hypogean intelligence-based mage and plays the role of a continuous damage dealer in combat. Maetria first appears in the most recent edition of the AFK Arena manga, The Last Obsidian Finch.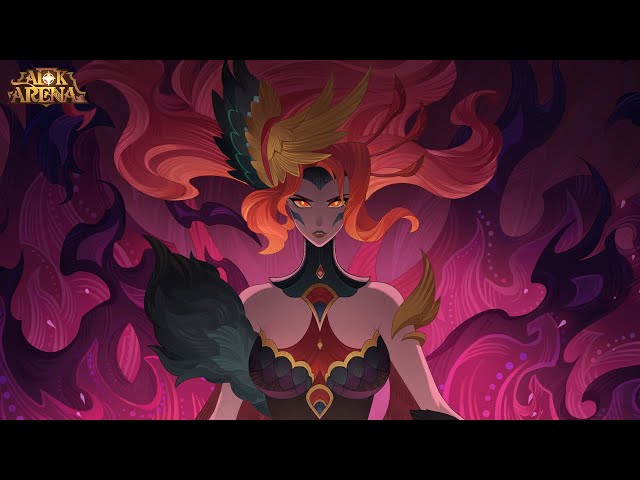 What is AFK Arena Maetria's story?
Maetria led the Obsidian Finches to save the world in the past without realising that this would cause them all to die. Now, only a few Obsidian Finches remain alive, one of which is Talene.
The unfairness of her and her people's role in saving the world got to Maetria, so she accepted power from the dark forces to find a way for the Obsidian Finches to rise again.
What are AFK Maetria's skills?
Here are all of Maetria's skills at her base level:
Skill
Effect

Crash and Burn – Ultimate

Maetria deals damage equal to 320% of her attack rating to all enemies. If a hit enemy is being burned by a Cataclysmic Flame or Apocalyptic Flame, any shields they receive over the next seven seconds will be destroyed after one second. When an enemy's shield is destroyed, they will take damage equal to the shield's remaining value. This effect cannot stack and can only be triggered once every three seconds. This damage cannot exceed 400% of Maetria's attack rating. If an enemy being burned by an Apocalyptic Flame is hit by Maetria's Ultimate skill, it will also terrify them for three seconds.

Immortal Blaze

Maetria deals damage equal to 280% of her attack rating to enemies in front and hurls a Cataclysmic Flame at the enemy in range with the highest attack rating. Burning an enemy with a Cataclysmic Flame makes them lose 2% of their max health per second (up to 200% of Maetria's attack rating). Cataclysmic Flames cannot be dispelled. If an enemy that is already being burned by a Cataclysmic Flame is hit by another Cataclysmic Flame, they will lose 600 energy and the flame will turn into an Apocalyptic Flame, while the health the enemy loses per second increases by 50%. The Apocalyptic Flame will revert to a Cataclysmic Flame after four seconds. The effects of Apocalyptic Flames are not stackable, but their duration can be extended.

From the Ashes – Passive

Every time Maetria dies, she transforms into a fireball. While in fireball mode, she is not considered a living hero, cannot be targeted, and will resurrect after her allies have used their active skills 18 times, or all allied heroes have died. Before she resurrects, the damage dealt by her Cataclysmic Flames is reduced by 40%. When she resurrects, Maetria damages nearby enemies for equal to 150% of her attack rating and terrifies them for two seconds. Maetria can resurrect up to two times. This skill

cannot

be used while you have Talene in your formation.

Smoldering Flame – Passive

Whenever a hero's health falls below 15%, they become fuel for the Solaran Furnace and a seven second countdown begins. The hero dies when the countdown ends. This effect can only be triggered once for each hero. During the countdown, Maetria absorbs 50 points of the hero's energy. After the affected hero dies, they leave behind a Smoldering Flame that deals damage equal to 50% of Maetria's attack rating to nearby heroes every second. When this skill is used against a boss, it will deal one-off damage to the boss equal to 600% of Maetria's attack rating.

Fallen Flame – Passive

Allied heroes that are not Dimensionals or Celestials will be regarded by Maetria as Hypogeans and receive Hypogean factional bonuses as in-combat buffs. These in-combat buffs will not affect any factional bonuses in effect at the start of battle. The affected heroes will also gain a 25% damage bonus against Celestials and ten proficiency points in this battle.
That's everything you need to know about AFK Arena's Maetria. If you're after more in-depth character guides like this, check out our guides to Genshin Impact's Yoimiya, Honkai Star Rail's Bailu, and FNAF's Chica.