To help you learn more about Genshin Impact's, we've compiled all the important information that you need to know about her. As she excels in a main DPS role, our guide will focus on giving the highest damage output possible.
This addition to the game is a five-star pyro character, who wields a bow and hails from the gorgeous new Inazuma region. Read on to learn more about Genshin Impact's Yoimiya build, skills, ascension materials, and constellations.
To stay up to date with all of the upcoming characters, make sure you take a look at our Genshin Impact Sayu, Genshin Impact La Signora, Genshin Impact Yae Miko, and Genshin Impact Gorou guides. Then for some extra primogems, I recommend checking out our Genshin Impact codes list.
The best Genshin Impact Yoimiya build
Yoimiya excels in a main DPS role thanks to her powerful elemental burst that deals AoE pyro damage. We recommend you use her in a team with Genshin Impact's Sayu as support and Genshin Impact's Mona as sub DPS.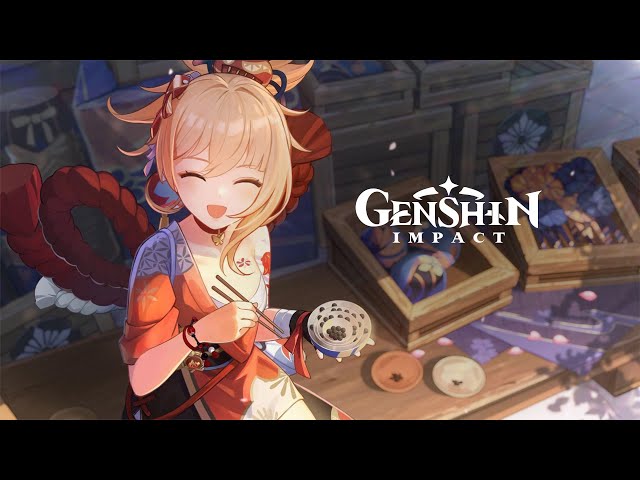 Which weapon should you use?
The best weapon for Yoimiya is the Thundering Pulse bow. If you haven't managed to get your hands on it just yet, Rust is a suitable replacement weapon.
Weapon
Effect
Thundering Pulse
Increases attack by 20% and grants a thunder emblem. At stacks one, two, and three, normal attack damage is further increased by 12, 24, and 40% respectively. Each stack has an individual duration and is achieved by performing:
• Normal attacks with elemental damage (duration five seconds)
• Casting an elemental skill (duration ten seconds)
• Having less than 100% energy (disappears at full energy)
Rust
Increases normal attack damage by 40% but decreases aimed shot damage by 10%
Which artifact set should you use?
A full set of Shimenawa's Reminiscence or a full set of Crimson Witch of Flames works great with Yoimiya.
Artifact set
Effect
Shimenawa's Reminiscence
Two equipped: increases attack by 18%
Four equipped: when you cast an elemental skill, if Yoimiya has 15 or more energy, they lose 15 energy and normal, charged, and plunging attack damage is increased by 50% for ten seconds
Crimson Witch of Flames
Two equipped: increases pyro damage by 15%
Four equipped: increases overloaded and burning damage by 40%. Increases vaporize and melt damage by 15%. When you use an elemental skill the two-piece set effects are increased by 50% for ten seconds
What are Yoimiya's skills?
Active skills:
Skill
Effect
Firework Flare-Up
Fire five consecutive shots with your bow
Firework Flare-Up (charged)
Charge up to perform a stronger, more precise shot. The effect changes the longer you charge:
One charge: the arrow deals pyro damage
Two charges: generate three kindling arrows that hit nearby enemies and deal pyro damage
Niwabi Fire-Dance
Wave a sparkler to create a ring of saltpeter. During this time, any arrow you fire will become a blazing arrow, and it will dish out increased pyro damage. However, your charged normal attack will not produce kindling arrows
Ryuukin Saxifrage
You launch rockets toward the enemy and deal AoE pyro damage. All normal, charged, and plunging attacks, as well as elemental bursts and skills dealt by party members other than Yoimiya, will mark the enemy with an Aurous Blaze. The blaze triggers an explosion that causes AoE pyro damage
Passive skills:
| | |
| --- | --- |
| Skill | Effect |
| Tricks of the Trouble-Maker | During Niwabi Fire-Dance, shots from Yoimiya's normal attack increase her pyro damage by 2% on hit. This lasts for three seconds and can have a maximum of ten stacks |
| Summer-Night's Dawn | Using Ryuukin Saxifrage causes nearby party members to gain a 10% attack increase for 15 seconds. Additionally, a further attack bonus is added based on the number of 'Tricks of the Trouble-Maker' stacks when using Ryuukin Saxifrage. Each stack increases this bonus by 1% |
| Blazing Match | When Yoimiya crafts decorations, ornaments, or landscape-type furnishings, she has a 100% chance to refund a portion of the materials |
What are Yoimiya's constellations?
Learn more about Yoimiya's constellations below.
| | |
| --- | --- |
| Constellation | Effect |
| Agate Ryuukin | The Aurous Blaze lasts for an extra four seconds. Additionally, when an opponent affected by Aurous Blaze is defeated, Yoimiya's attack is increased by 20% for 20 seconds |
| A Procession of Bonfires | When Yoimiya's scores a critical hit with pyro damage, she will gain a 25% pyro damage bonus for six seconds. This can be triggered even when Yoimiya is not active |
| Trickster's Flare | Increases the level of Niwabi Fire-Dance by three |
| Pyrotechnic Professional | When Aurous Blaze triggers an explosion, Niwabi Fire-Dance's cooldown is decreased by 1.2 seconds |
| A Summer Festival's Eve | Increases the level of Ryuukin Saxifrage by three |
| Naganohara Meteor Swarm | During Niwabi Fire-Dance, Yoimiya's normal attacks have a 50% chance of firing an extra Kindling Arrow that deals 60% of its original damage. This is considered normal attack damage |
What does it cost to ascend Yoimiya?
Don't waste any of your naku weed, you're going to need a lot in order to fully ascend Yoimiya.
| | | |
| --- | --- | --- |
| Required level | Mora | Materials |
| 20 | 20,000 | One agnidus agate sliver, three naku weed, three divining scroll |
| 40 | 40,000 | Three agnidus agate fragment, two smoldering pearl, ten naku weed, 15 divining scroll |
| 50 | 60,000 | Six agnidus agate fragment, four smoldering pearl, 20 naku weed, 12 sealed scroll |
| 60 | 80,000 | Three agnidus agate chunk, eight smoldering pearl, 30 naku weed, 18 sealed scroll |
| 70 | 100,000 | Six agnidus agate chunk, 12 smoldering pearl, 45 naku weed, 12 forbidden curse scroll |
| 80 | 120,000 | Six agnidus agate gemstone, 20 smoldering pearl, 60 naku weed, 24 forbidden curse scroll |
If you need some help creating a team, head on over to our Genshin Impact tier list to find out who the best DPS and support characters are.