If you're looking to play FIFA 23 crossplay, it's all about the console you want to kick off on. To make it easier for you to figure out where to go, we've put together this FIFA 23 crossplay guide. Of course, we're talking strictly about FIFA 23 here, so if you're looking for last year's primo football simulator, or for a future edition of EA's game, you're best to look elsewhere.
For more help getting your feet off the ground in the footballing world, see our FIFA 23 career mode guide to load your squad with wonderkids, or check out our FIFA 23 ratings to see which players top the tables for defence, midfield, and up front. Or, if you're looking for a different sport to engage with, see our picks for the best golf games, cricket games, rugby games, pool games, and basketball games on Switch and mobile.
Is FIFA 23 crossplay?
The answer as to whether you can play FIFA 23 crossplay is entirely dependent on what console you're playing on. As far as FIFA goes, crossplay is generational, so as it stands, PS4 players can play crossplay with friends and random players on Xbox One consoles, while PC, PS5, and Xbox Series S/X can all play together.
You might have noticed that Nintendo Switch is missing there. Unfortunately, there's still no way to play against other consoles on your Switch as there are in games like Rocket League. However, EA is looking to re-invent its soccer series next year away from the FIFA branding, so it's possible a new high-end Switch version may arrive for the 2024 edition.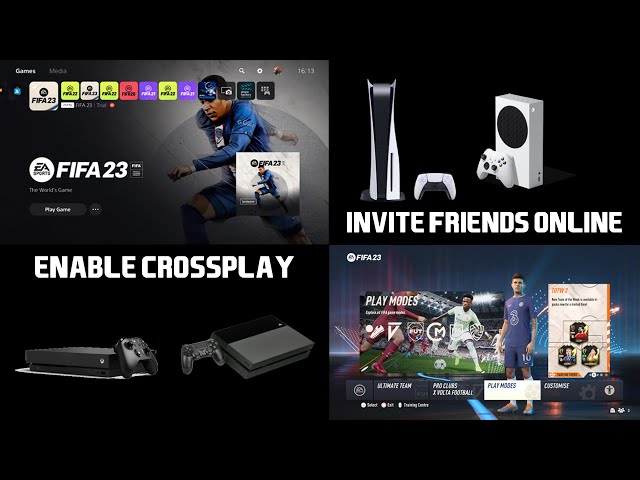 Is the FIFA 23 FUT transfer market crossplay?
Unlike the FIFA 23 crossplay for matchmaking, the FUT transfer market is available to players on PlayStation and Xbox consoles. Weirdly enough, PC is left out of this option, but it's no surprise to see the Switch not make the list again.
There you have it, all you need to know about the FIFA 23 crossplay features. Check out our FIFA 23 Ultimate Team, FIFA 23 Switch, or FIFA 23 World Cup guides for more. Or, for a crazy soccer crossover, check out the latest of Neymar JR joining Mech Arena.