Adding to Genshin Impact's slate of summer anime convention appearances, Hoyoverse has announced the Genshin Impact Summer Festival. The event is a gathering for fans taking place in three major cities around the globe, featuring some of your favorite Genshin Impact characters.
The Summer Festival event is Genshin's first official fan gathering and it's visiting the scenic metropolises of Paris, France, Berlin, Germany, and New York, United States. Hoyoverse describes the event as a "unique playground for players to have fun, share their feelings, and express their emotions." The experience brings together cosplay, fan art, music, gaming, and a range of other aspects of Genshin's diverse global community.
Each two-day event will be unique to the host city too – Paris' event is held in collaboration with Yamaha Europe Music, bringing live performances of the game's soundtrack from professional musicians, and Berlin boasts an evening firework display to rival Yoimiya's greatest spectacles. Hoyoverse is working with local artists and talent at each location to add even more surprises.
If you're anything like us, you're probably interested in the exclusive merchandise on offer at each event. Summer Festival attendees can get their hands on exclusive character postcards featuring Genshin Impact's Klee, Genshin Impact's Qiqi, and Genshin Impact's Yoimiya, as well as unique keychains, badges, and a Klee-themed tumbler for your favorite summer drink.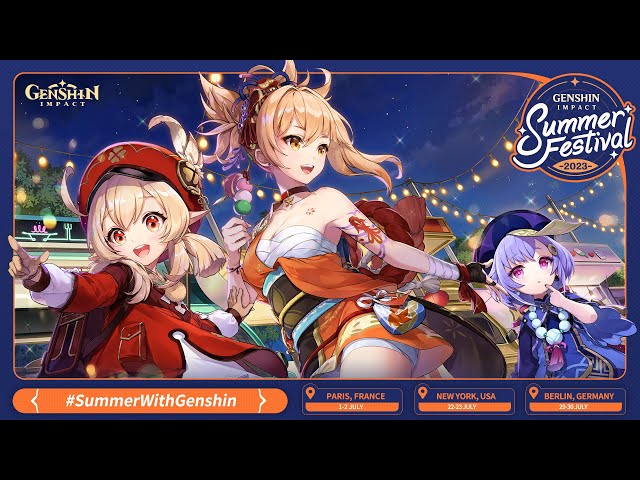 How do I attend the Genshin Impact Summer Festival?
You can sign up for free pre-registration for each of the events on the official event website. The three event details are as follows:
July 1 – 2 in Paris at Esplanade de la Bibliothèque François-Mitterrand, Quai François Mauriac, 75706 Paris

July 22 – 23 in New York

July 29 – 30 in Berlin at Revier Südost Schnellerstraße 137, 12439 Berlin
If you can't make it to the in-person event, don't worry! You can still take part in the Summer With Genshin event online or at conventions like Japan Expo. If you're artistically inclined, you can enter the Joyous Summer fan art contest on Twitter, Instagram, Facebook, and HoyoLab.
That's everything you need to know about the Genshin Impact Summer Festival. If you need a helping hand on your journey across Teyvat, check out our Genshin Impact next banner and Genshin Impact codes guides.