If you want to wind up your fellow players in a tense battle, there's nothing better than Overwatch 2 emotes. These mini-in-game animations change from character to character, but one thing that carries across all the emote movements is how much you don't want to see them when you're struggling, and how much fun it is to show off with one when you've got a killer lead.
So, we've put together this Overwatch 2 emotes guide, highlighting all the emotes you can currently access in Blizzard's shooter sequel. From D.Va's gaming stance sitting waiting around for the action to Junker Queen sharpening her trusty knife, there's a tonne of emotes out there, so you're guaranteed to find one that suits your favourite fighter.
For more help getting to the top of the leaderboard, check out our Overwatch 2 tier list, as well as our guides for Overwatch 2 characters, Overwatch 2 battle pass, Overwatch 2 skins, and Overwatch 2 maps. Or, if you're looking for something a little different, see our picks for the best mobile shooters.
What are Overwatch 2 emotes?
As we briefly explained in the intro, Overwatch 2 emotes are in-game animations you can use for, well, no reason at all really besides showing off. Rather than leave the celebrations to tea-bagging like the glorious days of Halo 3, Overwatch 2 emotes make it so you can customise your victory dance.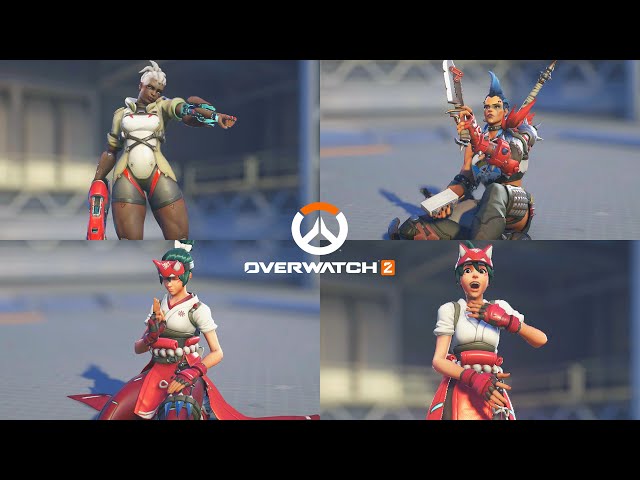 Overwatch 2 battle pass emotes
To unlock new emotes in Overwatch 2 without spending your own money on individual items, you need to engage in the battle pass mechanic. However, to get everything on offer you will need the premium battle pass, which costs around 1,000 Overwatch coins (roughly $10/£7). For those who don't want to part with their cash, there are still a few emotes you can pick up, but you will miss out on some of the more primo moves.
| | | |
| --- | --- | --- |
| Battle pass tier | Free or premium | Overwatch 2 emote |
| 5 | Premium | Cookies |
| 26 | Premium | Raboday |
| 46 | Free | Sipping |
| 64 | Premium | Itadakimasu |
Of course, we'll keep an eye on future updates for more Overwatch 2 emotes, but for now, those on our table are all you need to worry about picking up before the end of the season. For more helpful tips, check out our Overwatch 2 weapons guide.