There's nothing like adding a touch of your personality to a game you're making, and with Roblox decals, you can do just that. Not only do decals add depth to the world of the game you're making, but they also help you make it quicker, with landscapes and buildings made easier to design with templates ready to go. If you don't want to spend time making your own designs, don't worry, we've also got information on how to find some decals you can use for free.
For more tips and tricks for this popular blocky platform, check out our guides to the Roblox age rating, free Roblox hair, Roblox bacon, Roblox password reset, and Roblox cake. Or, for some in-game goodies, see our Roblox promo codes and Roblox game codes.
What are Roblox decals?
Roblox decals are essentially images that you can overlay on in-game objects. Think of them as world-building tools, turning a plain white object into a wall, a bin, or a poster. Once you have a decal you like, you can use it as your calling card throughout your games or just to make creating a new environment easier. Decals are perfect for patterns, like brickwork or wallpaper, saving you time creating the same thing over and over again.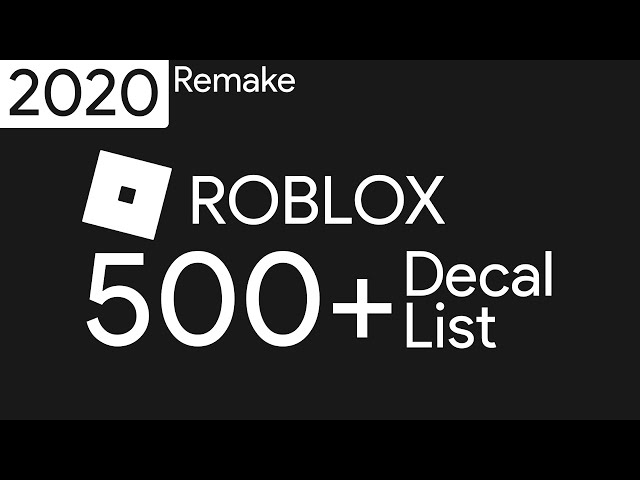 How do I create Roblox decals?
To create Roblox decals, you first need to find an image you want to use and save it. It may need some editing before you upload it to the Roblox Studio platform, especially if it's over roughly 1000×1000 pixels. Any images that large are likely to blur due to Roblox's limitations, so keep that in mind when creating images for decals. Once you have your image, check out the next section below.
How do I upload Roblox decals?
If you have an idea for a Roblox decal, you can follow these simple steps to upload it for use in creating new games.
Create the image you want in-game
Save the image somewhere you can find it
Hit the 'create' option on the Roblox home page
Head to the Roblox Creator dashboard
Select the 'creations' option on the left-hand tab
Tab over to 'development items' and then the 'decals' subsection
Browse your device for the decal you want to use and select it
Type a name for the decal into the text box
Select the 'upload' option
Wait for moderation
As there's a lot of creative freedom with this process, all potential decals first need approval from Roblox's team of moderators. Providing your decal isn't offensive or inappropriate, you should have no problem with the approval process. If you need a reminder of what's allowed, check out the Roblox community guidelines.
Roblox decal library
If you're looking for decals from others to save you time creating new designs, there's a Roblox decal library to take advantage of. Now known as the Creator Marketplace, this collection of all the public domain and shared decals in Roblox can save you plenty of time creating a new world. To find decals, just select the images option. Better still, you can also pick up some fabulous models, fonts, and sounds for your future creations.
There you have it, all you need to know about Roblox decals to make some of your own. While you're here, grab some Roblox freebies with our World Zero codes, Shindo Life codes, and Pop It Trading codes.