June 13, 2023: We checked for new Tapping Masters codes
If you like pets and tapping things, you're bound to love our Tapping Masters codes list, a place in which you can find all sorts of in-game freebies to help you out as you explore vast worlds. Such goodies include various boosts that allow you to get more eggs for pets, currency, and a whole host of handy virtual things.
Should you want even more freebies, you can check out our Anime Adventures codes, Project Slayers codes, A One Piece Game codes, Dead by Daylight codes, Anime Lost Simulator codes, Fruit Warriors codes, Roblox game codes, and Roblox promo codes guides.
Tapping Masters codes
Active codes:
GALAXY – boosts
SorryShutdown – boosts
200KGroup – boosts
Emerald – boosts
2M – boosts
SPOOKY – boosts
Heaven – boosts
Season 1 – boosts
Jurassic – boosts
SPRING – boosts
SorryForShutdown – boosts
1M – boosts
Easter – boosts
Relics – boosts
100K – boosts
1kLikes – boosts
Magic – boosts
HYPE – boosts
RELEASE – boosts
Expired codes:
There are no expired Tapping Masters codes.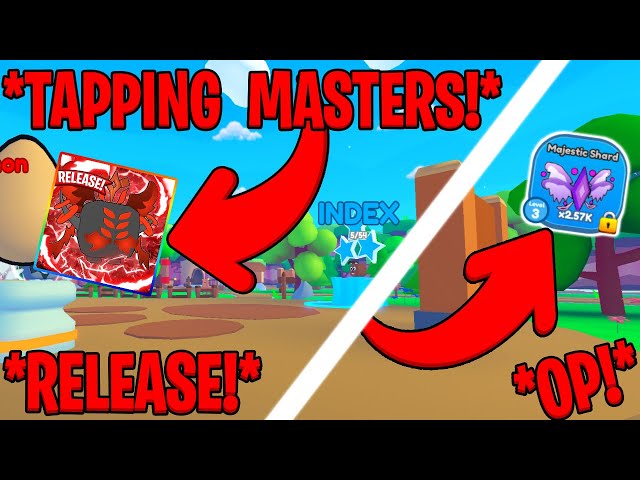 What are Tapping Masters codes?
Tapping Masters codes provide you with plenty of boosts to speed along your gameplay courtesy of the developer, Bitmath Club, who tends to add new ones for each milestone hit, so if you want to stay up to date with the latest freebies, you'd best bookmark this page.
How do I redeem Tapping Masters codes?
To redeem Tapping Masters codes, you need to:
Launch Roblox
Load up Tapping Masters
Tap the Twitter button
Enter your code
Hit redeem
Enjoy your freebie!
There you have it, all of the current Tapping Masters codes. For some less blocky and more spooky fun, check out our picks for the best horror games on Nintendo Switch and mobile.