Whatever your reason for loving The Witcher may be – story, combat, the world, monster-slaying, Geralt, beautiful sorceresses (we're team Triss in this house) – you probably want some titles that offer a similar experience. Therefore, we took it upon ourselves to search far and wide, beyond the lands of The Continent, to bring you the best games like The Witcher 3 on Switch and mobile. This is a brilliant list, and is an absolute treat for anyone in need of fantasy RPG action.
However, there are many role-playing games out there, too many to put them all on a list like this. Therefore, you should look at our picks for the best Pokémon games, best Final Fantasy games, best mobile RPGs, and best Switch RPGs to see what other adventures await you across an incredible number of worlds.
Now, let's get into our list of best games like The Witcher 3 on Switch and mobile.
Skyrim
Yes, we're starting it like this. Don't look at me like that. As soon as you saw the headline, you knew that Skyrim would be on this list. If you're after a game similar to The Witcher, Bethesda's fantasy RPG is an obvious choice. Much like CD Projekt Red's universe, Skyrim is set in an open world that spans across many locations and environments, all of which are full of monsters, quests, and people.
If you want more suggestions on great games to play, our list of the best games like Skyrim has plenty to choose from.
The Legend of Zelda: Breath of the Wild
If you like gorgeous landscapes, a world full of content, and saving the same princess over and over again (no, this isn't Mario), you should play Breath of the Wild. Nintendo's game is heralded as one of the best games on Switch. Despite the fact that it launched in 2017, few titles can match its greatness. Yet, there's a good reason for this, the majority of the game is incredible. Combat is satisfying, and the story is as fantastic as ever.
Furthermore, did you know that Breath of the Wild inspired The Witcher? Despite coming out two years after it. How incredible is that? There are many games in this franchise, so we took it upon ourselves to dive into the best Zelda games, so you can prioritise which ones to try.
Dark Souls
The Witcher has dragons. Do you know what other game has dragons? Dark Souls. However, The Witcher also has Geralt, while Dark Souls has a chosen undead that looks like beef jerky. Still, this isn't about finding a husband. It's about being in a fantasy world where everything wants to kill you. Both of these games are rich in RPG mechanics, and offer a great challenge when it comes to gameplay.
Plus, the world of Lordran is just as stunning to explore as The Continent, albeit, its beauty isn't as conventional. Rather, you wander lands ravaged by time, poor decisions, and the age of fire. However, Anor Londo is awe-inducing. If gruelling, punishing, and masochistic experiences are your thing, our list of the best games like Dark Souls is the place to be. We also have a Dark Souls bosses guide to help you overcome those that wait for you in Lordran.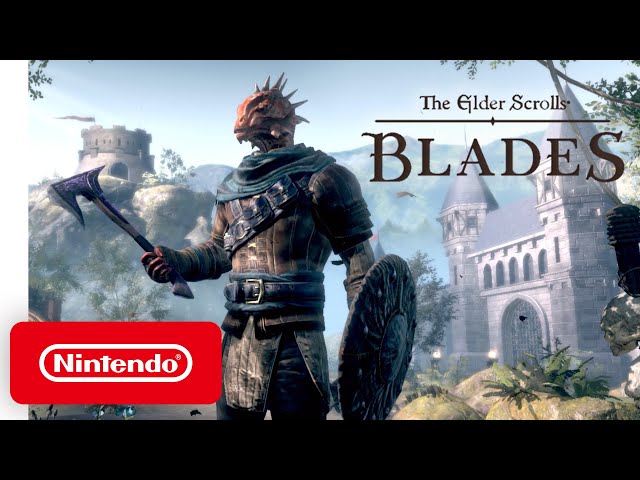 The Elder Scrolls: Blades
Android / iOS / Nintendo Switch
Think Skyrim, but on mobile. Granted, it's not as in-depth as its genre-defining best-selling big brother, but The Elder Scrolls: Blades is a great mobile game, one that you should look into if you're after Witcher-like experiences on mobile (or Switch). The fact it's on mobile means it's always with you, kind of like that friend that follows you around like a lost puppy. Still, you love them anyway.

Monster Hunter Rise
What do The Witcher and Monster Hunter have in common? Slaying an untold number of beasts, of course. However, this action role-playing game is pretty unique, and it's fair to say very few games match Monster Hunter in its gameplay and design, which is exactly why if you're a fan of The Witcher, you should play it.
There are many beasts for you to hunt, and plenty of weapons, tools, and environmental features for you to use to your advantage. Also, the fact that you can have a dog-like companion in this game is the cherry on top. If you enjoy Monster Hunter games, we have a whole list of titles similar to them that you might enjoy. We also have a Monster Hunter Rise review if you want to know more about this game.
Kingdoms of Amalur: Re-Reckoning
If you're after another rich world with a fantasy setting, you need to look no further than Kingdoms of Amalur: Re-Reckoning. However, the story on offer in Kingdoms of Amalur doesn't quite reach the heights of The Witcher 3, and by that, we mean they're in totally different leagues. Furthermore, the personality of your character is lacking. Geralt is undoubtedly the more charismatic option.
That said, the amount of freedom you have in Kingdoms of Amalur: Re-Reckoning is fantastic, and you do create your own character, which enables you to forge their story. You could also argue that your decisions play a more vital role in this title than in Wild Hunt.
Gwent: The Witcher Card Game
Is this similar to The Witcher 3? Not really, but it's based entirely upon the Gwent card game you can play in The Witcher 3: Wild Hunt, and I refuse to believe that you didn't find yourself addicted to it, forcing you to travel all over the bloody place to get rare cards. Therefore, it gets a spot on this list.
It's exactly like Gwent in Wild Hunt. You must build a deck full of cards from a single faction. However, there are more factions to choose from in the mobile game, and hundreds of individual cards to collect. Still, you can use old favourites like Ciri, Geralt, Triss, Yen, and more. Should you find yourself enjoying this deck builder, you should head over to our list of the best mobile card games to see what else is out there.
The Witcher 3: Wild Hunt
You know what they say, why have a burger when you can have steak? Well, The Witcher 3: Wild Hunt is my steak, rare, and juicy. It's my go-to game when I have a bad day, or when I simply want to roam the lands with my beloved horse, Roach. The only mare I've ever trusted.
So, why is The Witcher 3: Wild Hunt a must play if you enjoy RPGs? Well, for starters, it has some of the most stunning locations of any open-world game. Toussaint, the area from the Blood and Wine expansion, is sublime. It also just might be the best piece of DLC ever made. Yes, I said it, and I stand by that statement. However, you know what I really like, the fact that you could be walking down the road, then bam, a gryphon appears. The Continent is full of beasts. You're not short of things to do.
Then, of course, there's Geralt himself. He's one of the best protagonists out there, and following his story is nothing short of a pleasure. Oh, and we can't forget about Ciri, Triss, and Yennefer. All three play a crucial role in Geralt's life, and it's certainly entertaining to watch two beautiful sorceresses argue over him.
I could gush even more about this, and go into detail about the story, combat, and RPG mechanics, but I think you should play it and discover these things for yourself.
There you have it, the best and most accurate list of games like The Witcher 3. Now, get out there and slay some horrifying monsters. Or, if you're after horrors of a different kind, check out our list of the best Resident Evil games on Nintendo Switch. No, there's no 9ft vampire mummy, I'm afraid.