Genshin Impact's Chasm is an expansion that Mihoyo has hinted at since way back before Inazuma arrived. Like Dragonspine is to Mondstadt, and Enkanomiya is to Inazuma, the Chasm expands the territories of Liyue, potentially bridging the gap to the new region of Genshin Impact's Sumeru.
But what exactly is the Genshin Impact Chasm? And when will it arrive? Well, while rumours have circulated even before the age-old days of update 1.4, the Chasm is finally here, and it brings a heap of new areas to explore, and plenty of fresh baddies to test your skills. We're still checking out the Chasm for ourselves, but here's everything we know about it so far.
If you want to keep up to date with everything happening in Teyvat, be sure to check out our Genshin Impact events and Genshin Impact update guides. We also have a super handy Genshin Impact character guide and a Genshin Impact codes list to help you along the way.
Here's everything we know about the Genshin Impact Chasm so far.
When is the Genshin Impact Chasm release date?
The Genshin Impact Chasm is available now, as a part of the 2.6 update. To get exploring this exciting new area, start the 'Requiem of the Echoing Depths' Archon Quest by talking to Katheryne in Liyue. Looks like there's a minor at the Chasm who has posted a commission – better go check it out! You might just see a familiar face (hint, it's the ever-popular and eternally mysterious Genshin Impact's Dainsleif) along the way.
While you're at it, be sure to pick up the Chasm Delvers world quest from Lan next to Liyue's Adventurer's Guild. Muning owes her some money for drinks, after all, and Chasm or not, you can't run from debt.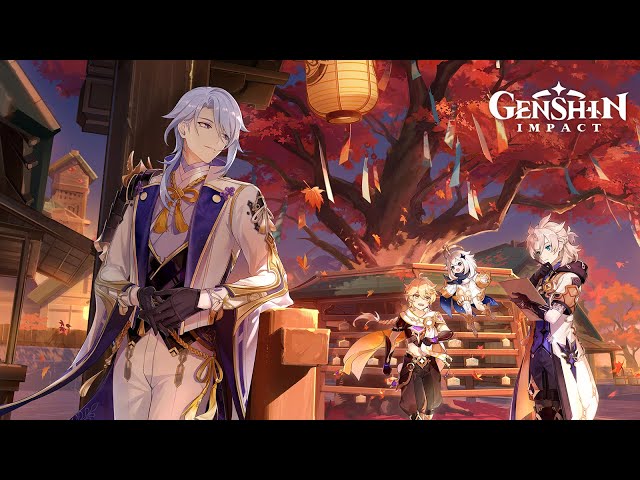 What enemies are in the Genshin Impact Chasm?
As The Chasm is a new area with ties to the Abyss, you can guarantee there's some tough new fights for you to sink your teeth into.
First, there are moldbeasts (seen above) – deceptively adorable floating critters that seem to be a combination of spectres and slimes, and are able to launch bubbles – which they often get trapped in.
There's also a new enemy called Serpent Knight: Windcutter, which looks similar to the rough and tough shadowy husks and lectors we've been going toe to toe with, boasting some pretty intimidating armour. The Serpent Knight: Windercutter was once a trusted guard, apparently of high standing somewhere. They wield the power of the winds, dealing anemo damage, and when their attacks hit shielded characters, they become stronger and faster – so us Genshin Impact Zhongli mains may need to switch up our strategy a bit!
Of course, to top it all off, we've got the brand new boss, the Ruin Serpent. We got our first peek at this big baddie in the 2.5 update livestream. Described as a 'bizarrely-shaped machine that prowls the underground of The Chasm', the Ruin Serpent is a huge, mechanical snake, made of wood, metal, and stone, with an intimidating gear in front of it that 'can cut through rock as if it were butter'.
According to beta testers, like the Golden Wolflord, the Ruin Serpent both deals physical and corrosive damage, and can create a sandstorm that pulls you in. It also shoots out purple goo, which we believe is similar to the dark mud found around The Chasm, and creates Oozing Gulches from which it draws power in order to unleash devastating attacks. You can see just how big this beast is in comparison to our characters here.
2.6 Bluethundermarten video via Byakk0h from Genshin_Impact_Leaks
And the biggest, most important boss of all, is most definitely the Blue Thundermarten. Okay, that's a bit of a white lie – they're definitely not bosses in the literal sense. But they're already the bosses of my heart, and I can't wait to fill my teapot with them.
What is the Genshin Impact Chasm?
The Chasm is an area marked out on the map, to the west of Lisha in Liyue. It's said to be an area rich in ore, and was previously the primary source of these materials in Liyue. However, a series of mysterious accidents lead to the miners abandoning the area, which has now become overrun with monsters and treasure hoarders.
Esther from Dragonspine claims that the Chasm has a different climate from the rest of Liyue, but doesn't elaborate any further. This leads us to believe that spending time within will likely cause status effects like Dragonspine's sheer cold, or Balethunder in Inazuma. Due to the molten rock within, we presume you will be afflicted with sheer heat, a climate condition you experience in some domains and parts of the Spiral Abyss.
If you scout around and read the texts littered around Liyue, you find legends that state the Chasm is the result of a fallen star that came down around 6,000 years ago. It was so upset with the constant strife caused by the Archon War, that it returned to the skies, leaving the Chasm behind – with a fragment of it also forming the Dunyu ruins.
The Chasm is tied into Genshin Impact Zhongli's story quests, as you follow miners to the base of the mountain. From there, you find that Azhdaha, the geo dragon, resided in the mountain, but was angered when miners disturbed the elemental flow of the ley lines within. Zhongli, along with other adepti, had to battle him deep into the cavern to seal him within. This allowed the miners to return, while also creating a rare ore known as 'Dragonfall'.
However, in more recent times, the Chasm has shown links to the abyss, and due to the odd string of accidents that have occurred within, the miners were forced to evacuate. This has left the Chasm open to many hostile enemies, making it a dangerous place to explore.
That's all we know about Genshin Impact's Chasm for now – we'll be sure to update this guide as we get more information. In the meantime, check out our list of the best games like Genshin Impact to find something new to play today.