Are you having trouble keeping up to date with the frequent Genshin Impact updates? Well, sit back, relax, and let us fill you in on everything you need to know. Mihoyo generally drops an update for the popular title every six weeks, meaning you never have long to wait for some fresh content.
The most recent Genshin Impact update is version 1.5, which introduced the Serenitea Pot, Yanfei, Eula, much more. If you're looking forward to Genshin Impact 1.6 next month, read on below for full details including more information on the new characters, events, challenges, and enemies.
If you can't get enough of one of the best gacha games mobile has to offer, we've got plenty of other content just like this. Take a look at our Genshin Impact tier list to see where your favourite character ranks, or check out our Genshin Impact Yanfei guide to discover what the brand new character is all about.
When is the Genshin Impact 1.6 livestreaM?
The English Genshin Impact livestream has now ended. If you missed it, you can find the full video below.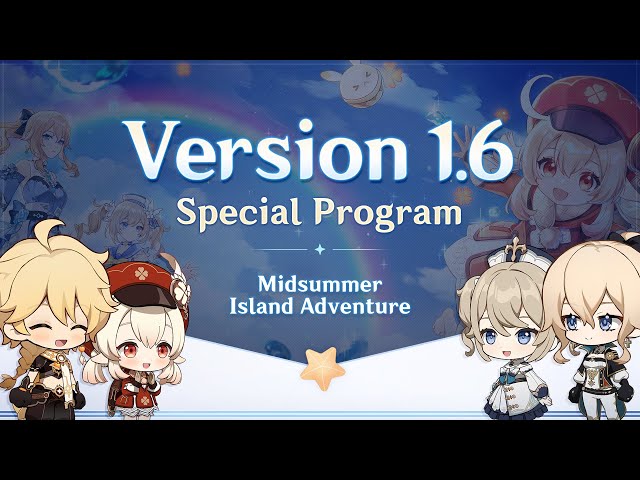 What is the Genshin Impact 1.6 release date?
Mihoyo has revealed Genshin Impact update 1.6 will launch on June 9!
What are the Genshin Impact 1.6 new characters?
You can pick up Genshin Impact's Kazuha when the update releases. He will be part of Klee's rerun banner. We believe Genshin Impact's Yoimiya may also show up at some point during 1.6.
Who will feature in the GENSHIN IMPACT 1.6 banner?
Mihoyo has announced the banner that will accompany update 1.6 includes both Klee and Kazuha.
You can keep up to date with the next Genshin Impact banner right here on Pocket Tactics.
What are the Genshin Impact 1.6 events?
Midsummer Island Adventure
You can now set sail on a cute little boat called Waverider and explore an archipelago in a remote area to search for Dodoland. During the event, you must engage in battle with the mysterious and powerful Maguu Kenki. This new opponent can summon phantoms to deal anemo and cryo damage, and can only be defeated in close-range combat.
When you complete these challenges, you will obtain event currency to purchase items such as the brand-new four-star catalyst Dodoco Tales.
Echoing Tales
We don't know too much about the Echoing Tales event just yet, but we do know you can pick a brand new Genshin Impact skin for Barbara by taking part.
Will we get access to Inazuma?
During the Genshin Impact 1.6 special programme, Mihoyo showed off more about the brand new area, Inazuma. The concept art provides a glimpse of Inazuma City and even some stunning landmarks in the surrounding area.
Unfortunately, it looks like Inazuma will still be closed off during update 1.6.
If you're thinking about trying a new game before the next Genshin Impact update, take a look at our list of the best mobile RPGs on iOS and Android.