It's the most spooky time of the year, and we've admittedly been waiting with bated breath to see if Mob Entertainment would grace us with some Poppy Playtime news. Well, two new Poppy Playtime Chapter 3 images give us a look at just how terrifying the next installment looks to be.
Considering it's one of the best horror games out there, we're not too surprised that Poppy Playtime Chapter 3 appears to be of high quality, but the two pictures doing the rounds are still intriguing. The first of the pictures shared by DJAlphaOmega on Twitter (X) shows a dark, red, and disheveled room, and while we take notice of what appears to be blue playmates/ obstacles, we can't help but spot the gas canister in the front center of the room and the small cloud of gas emitting from the back of the room.
There are some crucial details to uncover in this picture, and our gut instinct is that this was once a play area in which Playtime Co. unleashed sleeping gas on the unfortunate children. One look at our Poppy Playtime chapter 3 theories article dives into why gas might be so significant in Deep Sleep, and one look at this room strengthens our belief.
As for the second image, it appears to show a longish hallway (nothing new to Poppy Playtime fans at this point), but there's something about this image that gives us chills. Is it the dim lighting, the strewn cardboard, the creepy pipes, or what appears to be a trap that can squash you? Okay, the idea of a big cylinder dropping on us is getting to us here.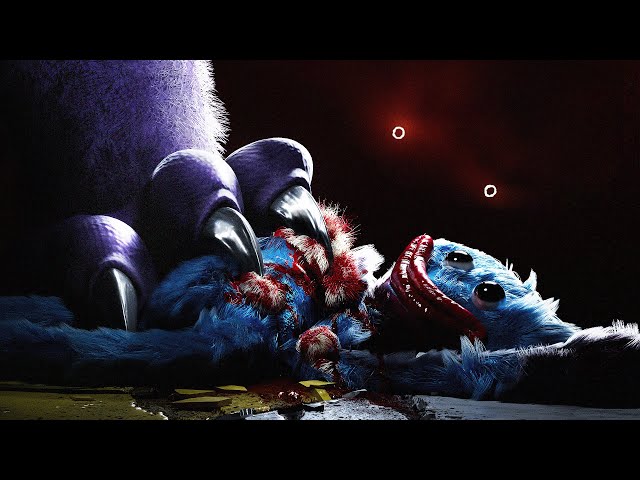 Though we still don't have a Poppy Playtime Chapter 3 release date, these teaser images give us hope that an announcement regarding its launch is on the horizon. Spooky season is the perfect time to reveal a release date for a horror game, after all.
While waiting for more news, you can take this time to learn more about some of the Poppy Playtime characters. We have articles for Poppy Playtime's Mommy Long Legs, Poppy Playtime's Poppy, Poppy Playtime's Huggy Wuggy, and more.