Apple Arcade is a subscription-based service that allows you to access over 200 games for a low monthly fee. In a market dominated by free-to-play games stuffed with microtransactions, advertisements, energy timers, and plenty of other nasty free-to-play, pay-to-win shenanigans, the ever-expanding catalogue of Apple Arcade games offers a breath of fresh air to pocket gamers everywhere.
As the list of new and upcoming Apple Arcade games promises new titles almost every week, subscribers are becoming totally spoilt for choice. Though not entirely a bad thing, we're here to help you cut down the masses, with a selection of our top picks for the best Apple Arcade games and all the fresh games on the horizon. We'll update this regularly as new releases drop, so pop it in your bookmarks so you can refer back with ease.
If you find this useful and want more lists to explore, you should check out our articles on the best Android games and the best iOS games.
The best Apple Arcade games 2022
With all of these games, it can be tough to pick out which ones to download and play first, right? Well we've got you covered. We've picked out our top ten best Apple Arcade Games for 2022 so far, with a range of genres – so there's something for everyone.
Fantasian
RPG
A beautiful, exciting RPG brought to you by the creator of Final Fantasy, Fantasian takes you on a breath-taking adventure through nearly 160 hand-drawn dioramas populated by unique 3D characters. Harnessing the spirit of classic turn-based RPGs like Final Fantasy 6, this game offers plenty of stunning scenes and tough battles for you to explore. Check out our Fantasian review here to find out more.
Oceanhorn 2
RPG
Oceanhorn 2, set a thousand years before the first chapter, leads you on a magical adventure across the mystical world of Gaia, packed with deep mythology and lore. It's easy to see some Breath of the Wild inspiration in the artstyle, and runs well on Apple products. With over 20 hours of gameplay, huge boss fights, plenty of side quests, and a heap of puzzles, there's more than enough to keep you busy.
Sayonara Wild Hearts
Action
This thrumming music-based action game is certainly hypnotic; serving up pop beats and neon visuals as you dodge and skid through a surreal landscape following a tale of heartbreak. This is definitely an experience worth your time, though you may want to hook up a controller as touch-screen controls are not the most responsive.
Chuchu Rocket! Universe
Puzzle
Sequel to the beloved Dreamcast classic ChuChu Rocket, ChuChu Rocket! Universe is a vivid stylised Sega title that has you navigating exciting space-themed puzzles. Your main mission? Save the sweet little mice and avoid the scary space cats at all costs!
Assemble With Care
Puzzle
This neat little puzzle game combines a cool, muted colour palette with the therapeutic art of fixing up retro tech. Take the role of a globe-trotting antique restorer, intent on helping her town's inhabitants save their most beloved possessions. Each piece is a beautiful metaphor for the fragility of emotions and memories, and the soothing, serene experience of twisting cogs and replacing screws is wonderful for those looking to relax.
Little Orpheus
Platformer
Winner of the 2021 Apple Design Award, this stunning, side-scrolling platformer has you hop, skip, and jump across an alien landscape as you explore lost civilizations, undersea kingdoms, prehistoric jungles, and more. Combining the nostalgia of old-school family blockbusters with a fresh and unique setting, Little Orpheus offers up a brilliant little pocket-epic.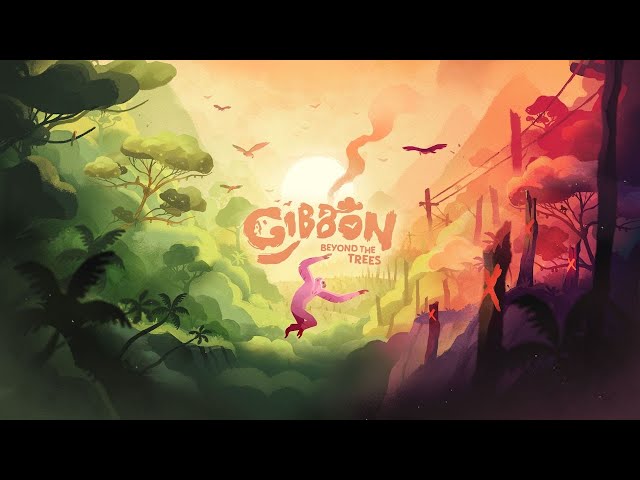 GIBBON: BEYOND THE TREES
Adventure/platformer
With stunning, hand-drawn graphics and a story that highlights the real-world ecological threats that gibbons face, Gibbon: Beyond the Trees is a gorgeous ecological adventure with a vibrant soul. Felix Bohatsch, CEO of Gibbon: Beyond the Trees developer Broken Rules, said they 'began this project fascinated by the way apes move through the jungle', but 'as [they] researched gibbons and their existence in the world today, we realized there was a deeper story to tell.'
Check out our Gibbon: Beyond the Trees review to find out more.
What the Golf?
Sport… Sort of?
If you are a fan of madcap, chaotic fun found in titles like Goat Simulator and I Am Bread, What the Golf? is a great choice for you. As an inventive little game that radiates an aura of anti-golf and goofiness, it will have you swinging and putting around courses with the aid of office chairs, a horse, cannons, and more. As you can see in the picture above, you're not stuck with just gold clubs and balls, either – moving house has never been so fun!
Mutazione
Adventure/narrative
Mutazione is a hard one to describe, but it calls itself an adventure exploration game and a… Mutant soap opera? That's pretty accurate, actually. Get involved in a tantalizing tale where small-town gossip meets the supernatural, as you tend to magical gardens, meet new friends, and uncover secrets. Featuring a rich story, lush, hand-illustrated graphics, and an ensemble of loveable mutant characters, Mutazione is a wonderful way to spend an afternoon.
Monument Valley
Puzzle
From the same creators that brought you Assemble With Care, Monument Valley is a surreal exploration through fantastical architecture and impossible geometry. You are tasked with guiding the silent princess Ida through mysterious monuments as you uncover hidden paths, unfold optical illusions, and outsmart the enigmatic Crow People. The scenes are completely stunning, each being fit to hang on the wall of an art gallery. Reminiscent of M.C. Escher's painting 'Relativity', levels consist of overlapping staircases, geometric shapes, and twisting pillars that are both intriguing and breath-taking, and fit perfectly with the simple character designs. Monument Valley is certainly a spectacle to behold.
Butter Royale
Battle Royale
Taking the ever-growing phenomenon of Battle Royale in a fresh, delicious direction, Butter Royale has you engaging in the food fight of your life. Play solo or in squads against 21 others in snappy, fast-paced, five-minute food-fights. With a huge range of unique themed weapons, plenty of power-ups, and over 80 characters to pick from, this is a great little game to dive in and out of when you want a bit of light-hearted, tasty fun.
What is Apple Arcade?
Apple Arcade is a Netflix-style games subscription service that provides you with over a hundred Apple Arcade games that you can play, without limits, for as long as you subscribe to the service. Each game contains none of the trappings of free-to-play, including advertisements, microtransactions, and energy timers.
How much does Apple Arcade cost?
Apple Arcade costs £4.99/$4.99 per month, or £49.99/$49.99 per year.
Is Apple Arcade worth it?
As with all subscription services, this answer is entirely up to you and how you like to spend your time. But with such a huge catalogue of titles and new releases coming every month, we definitely feel it is worth the low monthly low monthly price. There is such a huge range of games on offer, spanning across so many genres and styles, that there is bound to be something that peaks the interest of any iOS player. Plus, with no cancellation fee, you can dive in and out on a monthly basis – no strings attached.
What happens if I cancel my Apple Arcade subscription?
You can still continue to play all Apple Arcade games from the moment you cancel your subscription until it expires.
And there we have it – everything you need to know about Apple Arcade games. We'll continue to update this list over time, as new Apple Arcade games become available, so make sure to bookmark it so you can refer back. In the meantime, why not check out our genre-specific lists, including the best mobile RPGs and the best mobile multiplayer games, for more stuff to play outside of the big apple?