Hoyoverse celebrated the launch of its newest title today with the Honkai Star Rail Departure Festival livestream and it was quite the party. The showcase took us on an interstellar journey through the game's soundtrack with performances from live musicians in a variety of awesome locations.
The long awaited turn-based RPG from the creators of Genshin Impact has been making waves in the mobile game industry as it hit 20 million downloads in a single day according to Forbes. The quantity of downloads was so large that the Chinese Anti-Fraud Center mistook the game for a scam.
The hype around this game is visible in the real world too, as fans have been gathering at the various stops on the Astral Express Global Tour kitted out in Genshin Impact and Honkai Star Rail cosplays and merch. There's a range of different events and offers at each stop on the tour, so be sure to take part if you're in the area.
As well as providing us with nearly 30 minutes of absolute bangers in the Departure Festival, Hoyoverse has gave out a special gift. After April 30, 5AM PST / 8AM EST / 1PM BST, all Trailblazers who reach Trailblaze level ten can claim ten Honkai Star Rail Special Passes from their in-game mailbox. These passes are hard to come by and you need them to wish on the limited Honkai Star Rail banner, so grab them fast as they expire on June 6, 2023.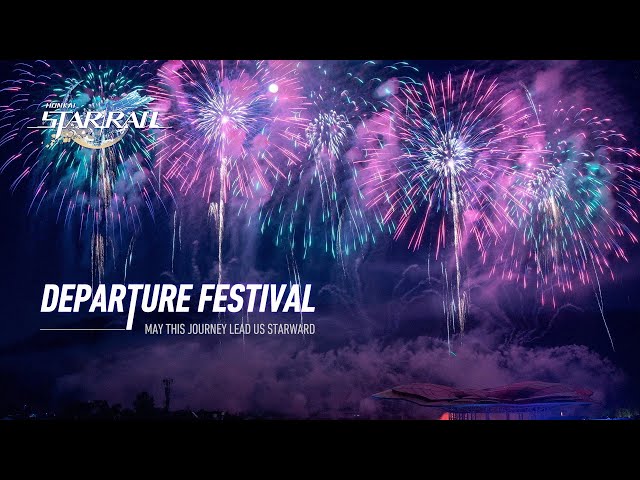 If you're after some more materials to help you on your Trailblazing journey, we've got a Honkai Star Rail codes guide to fill your pockets with Star Rail passes, stellar jade, and credits.
That's everything we've got on the Honkai Star Rail Departure Festival. If you're as obsessed with this game as we are, we've got some great guides to help you progress. Check out our Honkai Star Rail tier list to see which characters are packing a punch, and check out our build guides for characters like Honkai Star Rail's Clara, Honkai Star Rail's Bronya, and Honkai Star Rail's Seele.