Happy birthday to you, happy birthday to you, happy birthday, dear Huggy, happy birthday to you. It's Poppy Playtime Chapter 1's anniversary, and celebrations are in full swing as Mob entertainment regales us all with interesting behind-the-scenes stories about the popular horror game. It's okay, Huggy, we don't need a hug, but we can give you a high-five from a distance with our grabpack.
Taking Twitter throughout the day on October 12, Mob Entertainment shared a few clips of development footage to celebrate one of the best horror games on mobile, one of which shows the team toying with the grabpack, maneuvering around obstacles, slapping boxes, and stretching the arms all while Poppy wanders around a car park. It's interesting to see the team test this piece of kit, especially since it quite literally saves your life in Poppy Playtime.
Following that, Mob gave us a look at Poppy's room before the team "came up with the goal of 'finding the flower,' which means it's in a very different location in the video, far from the pit in which Poppy Playtime's Huggy Wuggy falls to his supposed doom. In the clip, you see a plain white room before the player proceeds through a hidden bookcase door to a doorway. The door closes, and then you hear some aggressive knocking on the door before the player goes down the stairs, through a hallway, and into Poppy's room.
We can't help but wonder who that knocking belonged to, but if we had to hazard a guess, we'd wager it's Poppy Playtime's prototype – knock knock run (ding dong dash) seems like his thing. Okay, so we all know how the game starts, right? Well, it turns out Mob initially wanted us to pull up outside the Poppy Playtime factory in our car, but "the scope was too large for such a brief segment, so it was cut from the game."
As haunting as it appears, walking through the deserted car park, we understand why such a small thing doesn't matter in the grand scheme of things. With that, we have just one more behind-the-scenes clip to look at, and this one shows Huggy Wuggy glitching so badly it looks like he's dancing to A-ha's Take On Me as he chases the player through the conveyor belt vents.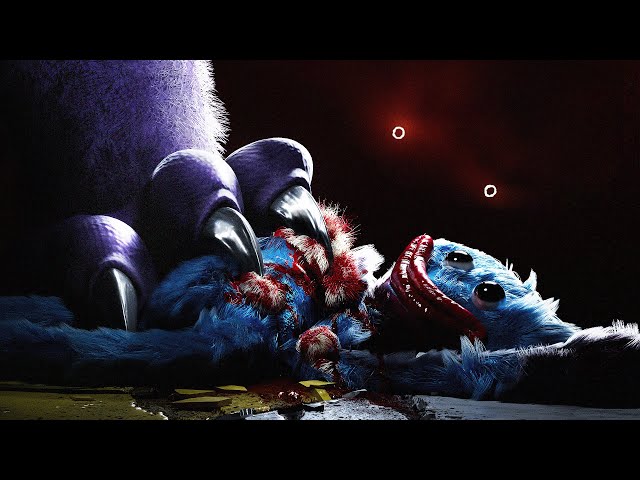 If he did this to us, we honestly would find the entire chase sequence less scary and more funny. Good 'ol Huggy. No, Wuggy, we still need you to keep your distance – how about another high-five?
Don't worry if you're more interested in the future of the franchise rather than the past, as Mob Entertainment showed off not one but two new teaser images for Poppy Playtime Chapter 3, just a couple of days after the last two Poppy Playtime Chapter 3 teaser images. The first appears to be in a boiler room of some sort with a pink grabpack hand symbol on the floor, while the second depicts a poignant image of what looks to be a deceased toy with the words 'this is what he does to heretics' above its head.
Clearly, in the words of Poppy Playtime's Poppy herself, "terrible things are going to happen," and if any of our Poppy Playtime Chapter 3 theories are correct, we're in for some serious nightmares when Deep Sleep arrives.