There have been a lot of Barbie games over the years. The iconic fashionista has tried her hand at pretty much everything you can imagine, having taken on over 70 jobs in her time. From a cheerleader to the President of the US (and yes, even a game developer, at one point), she's got one impressive resume. Sadly, a lot of the best Barbie games of years gone by have slid into obscurity over time, no longer available on the eShop or mobile devices. But there are still a couple of great titles featuring our favourite blonde bombshell in this list, and if you're still looking for some fashionable fun after you've played those, we've also added some of the best games like Barbie for your perusal.
If you're looking for more fresh titles to explore, check out our lists of the best decorating games, best cooking games, and best games like the Sims on Switch and mobile. No matter what your dream job is, there's probably a game that lets you try it out.
Mobile Barbie games
Here's a list of all the Barbie games for girls, boys, and everyone else to enjoy on mobile today. The best thing is, you can play all of these Barbie games for free – though they feature some in-app purchases, so be wary of that if handing your device over to a little one.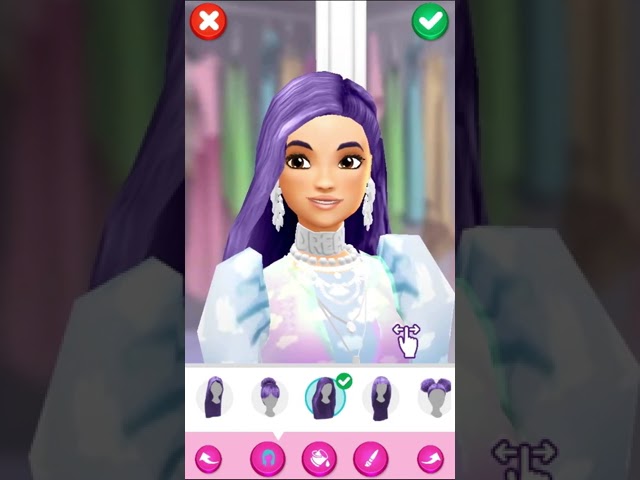 Barbie Fashion Closet
Every gal needs a good pal, and in Barbie Fashion Closet, the iconic blondie is joined by her friends Nikki, Rene, Teresa, and more, all ready to model your cute, fashionable looks. In this Barbie game, dress up is your key focus, as you deck out these fashionistas in trendy outfits, gorgeous hairdos, and flawless make-up. When you're happy with your ensembles, you can even enter photoshoot mode, striking poses and snapping shots to show off the fun fashion influencer you were born to be.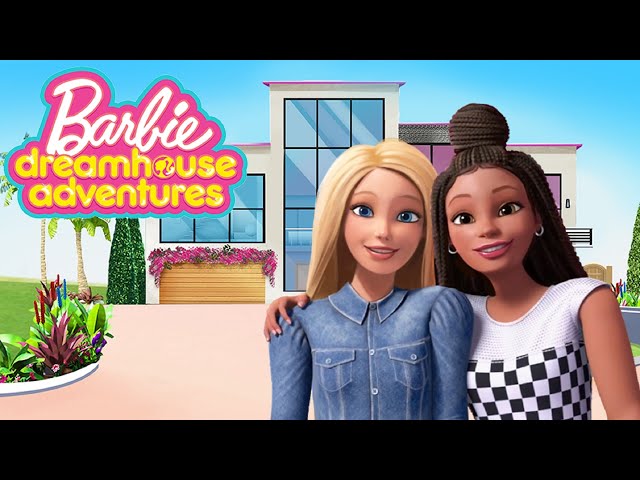 Barbie Dreamhouse Adventures
When talking about Barbie games, Dreamhouse has to make an appearance. The Dreamhouse has been a staple in Barbie's world for a long time, with heaps of playsets and stories revolving around it. Now, you can create your very own Barbie Dreamhouse experience. Design rooms, hang out with a host of awesome friends and adorable pets, and take part in a bunch of fun activities from makeovers to pool parties. Anything is possible!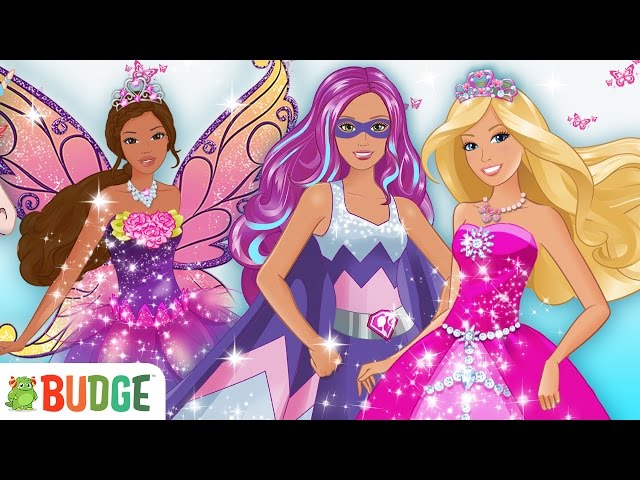 Barbie Magical Fashion
Like Fashion Closet, in this Barbie game, dress up is your main focus. But this time you can transform into anything you want – a princess, a fairy, a mermaid, a hero, or even a combination of all four. With a variety of glamorous hairstyles, makeup, clothes, accessories, and even some beautiful animals to doll up, Barbie Magical Fashion allows you to unleash your creativity as you dream big with Barbie.
Games like Barbie on mobile
If you've gotten through all the Barbie games on mobile listed above and are still looking for more fashionable fun, there are plenty of other titles available on mobile. Here are a few of our top picks.
Vlinder Story: Dress Up games
Of course, when you think of Barbie games, dress up is usually one of the first things that comes to mind. Luckily, there are heaps of awesome dress up games available for free on mobile, and one of the best-rated is Vlinder Story.
With striking, stylised characters to makeover, a variety of gorgeous dresses waiting for you, glamorous make-up styles to choose from, and a selection of beautiful backdrops for your fashion idol to pose against, Vlinder Story is a relaxing dress up game and avatar creator where your only goal is to unleash your inner fashionista.
Dog Town
If you're less fashion-focused and more interested in adorable pet games like Barbie and Her Sisters: Puppy Rescue, then Dog Town is the perfect game for you. Raise and care for a selection of the cutest puppies around, as you feed them, train them, and decorate rooms for them.
There's a massive variety of different breeds to collect, from sweet little sausage dogs and playful Pomeranians, to gorgeous great Danes and dutiful Dobermans. Every dog has their own unique character and behaviour, with personality traits like 'sleepy' and 'jumpy', and with new breeds and traits coming in the future, this is a great pick for dog-lovers everywhere.
Horse Riding Tales – Wild Pony
One of the most popular series of Barbie games is Barbie: Horse Adventures. Sadly, we've not seen a new entry in this series since 2008, and none of the titles have come to mobile or Switch. Luckily, Horse Riding Tales on Android and iOS makes for a brilliant stand-in.
In Horse Riding Tales you start off as a simple stable hand, gradually climbing the ranks on your way to becoming a dressage and horse racing superstar. Explore the beautiful equestrian town of Meadowcroft, full of luscious, rolling fields and vast, open plains, as you tame and ride gorgeous horses, enter competitions, solve mysteries, and even connect with other horse-lovers around the world through the game's online features.
Barbie games on Switch
Despite there being a huge catalogue of Barbie games that were previously released on Nintendo systems like the DS and the 3DS in the past, many of them are no longer available on the eShop, and none of the developers has ported them over to the Switch yet.
But don't worry, if you're a fan of everyone's favourite fashionista and looking for something fun to play, there are lots of great titles that make up for the lack of Barbie games on Switch. Whether you're looking for fashionable fun or to try your hand at one of Barbie's many amazing careers, there are plenty of picks to keep you busy.
L.O.L Surprise! Movie Night and L.O.L Surprise! Remix: We Rule the World
Like Barbie games, the L.O.L Surprise! games are based on a toy series, though with a very different aesthetic. These large-eyed gals may look young due to their adorable, baby-faces, but that doesn't stop them from becoming top models and movie stars in these fun Switch titles. Both offer fun-filled 3D adventures in vivid, L.O.L Surprise-themed worlds, with plenty of fun minigames, customisation options, and more for you to enjoy.
L.O.L Surprise! Remix: We Rule the World is the first console game based on the franchise. You start from scratch, moving into a new home that is entirely yours to customise and furnish. Attend events, complete a variety of mini-games and quests, and interact with your favourite characters, as you earn in-game items and glitter tokens to purchase new furniture to decorate your home, outfits to doll up your dolls, and even records that play a variety of fun L.O.L Surprise! songs.
L.O.L Surprise! Movie Night has you embark on a new adventure as an aspiring movie star, glamming it up with the latest fashion and strutting your stuff on the red carpet. Practice your lines, take part in photoshoots, explore movie sets, and engage in fun minigames in your quest to become the best actress in L.O.L. Ville.
My Riding Stables – Life with Horses
If you're a fan of the beloved Barbie Horse Adventures, Barbie: Race & Ride, or Barbie Riding Club titles, or you simply want to take the reigns in an exciting equestrian adventure, My Riding Stables – Life with Horses is a great choice for you.
Hop into the saddle and trot along to the stud farm by the old mill, as you renovate your own riding school and tend to your horses. Breed adorable foals with over 100 possible combinations, take long, relaxing rides and thrilling races out in the beautiful countryside, and pamper your horses with curry combs, massages, showers, and more, as you help your dream business grow. And, if you gallop through this perfect pony paradise and are chomping at the bit for more, you can check out the sequel, My Riding Stables 2: A New Adventure.
My Universe series
If you're hoping to follow in Barbie's fashionable footsteps and try your hand at any of the jobs on her impressive resume, the My Universe series has plenty of great options for you. Do you want to become a vet, taking care of cute animals and nursing them back to health? Then My Universe – Pet Clinic Cats & Dogs is for you.
Always wanted to take a shot at being a surgeon or doctor working in a busy hospital? Check out My Universe – Doctors & Nurses. How about becoming a popular fashion designer, running your own boutique and creating a unique fashion brand from scratch? My Universe – Fashion Boutique is perfect for you.
The My Universe games are brilliant simulation titles that allow you to explore a huge range of careers and roles, and there truly is something for everyone. If you get stuck into these titles, you'll end up with a CV as long as Barbie's in no time.
And that's it for our Barbie games guide – hopefully we'll see even more titles featuring this awesome, iconic gal in the future, and if we do, we'll be sure to add them here. In the meantime, head over to our lists of the best mobile games and the best Switch games for a wider variety of titles to explore.