Genshin Impact's Aloy is a very unique five-star character, and the only one we've seen make the journey into Teyvat from a different game world. This cryo bow-wielding beauty hails from the colossally popular Horizon Zero Dawn and Forbidden West, and is here to share her sharp-shooting techniques with you. In our Genshin Aloy build guide, we go over her kit, the best artifacts, how to get her, and more.
If you're brand new to the title, we recommend you check out our Genshin Impact tier list to find out which character is best, and our Genshin Impact codes guide to get some freebies. You can also find something new to play by taking a gander at our list of the best gacha games available now on iOS and Android.
How do we best build Genshin Impact's Aloy? Read on to find out.
What's the best Genshin Impact Aloy build?
Best weapon
Thundering Pulse
Weapon substitutes
Prototype Crescent
Best artifact set
Blizzard Strayer
Main stats
Sands – Energy recharge
Goblet – Cryo damage bonus
Circlet – Attack
Sub stats
Elemental mastery, energy recharge, attack, crit rate, crit damage
Classed as one of Genshin's rarest characters, Aloy is a five-star cryo bow wielder who was given out to players for free as part of a crossover with Horizon Zero Dawn. Unfortunately, she's no longer available and is probably sitting collecting dust in many players' accounts.
However, while many underestimate her, she does have her uses. Her skill infuses her normal attacks with cryo, and she deals quick, wide-spanning AoE damage with her burst. Her bust has a low cooldown and energy requirement, and her skill generates plenty of cryo particles, making her a great quickswap unit that can battery other cryo characters.
Aloy doesn't have any constellations, the long cooldown on her skill means her cryo application is pretty inconsistent, and that energy regeneration isn't as steady as it at first seems. Regardless, if you've got her, there's nothing stopping you from flaunting her – she fits well in those aforementioned cryo-fuelled quickswap teams, and a well-built Aloy is a rare gem for you to show off. In this guide, we'll be focusing on the best quickswap build for Aloy.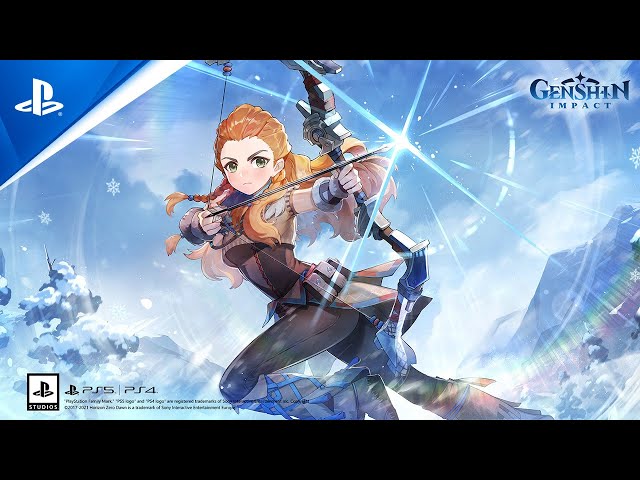 Can you still get Aloy in Genshin Impact?
As mentioned above, unfortunately, the event that rewarded new players with a copy of Aloy in the mail is now over. It ran for a year but came to an end in 2022.
Considering she doesn't have constellations and hasn't had a banner since her release, we think it's unlikely that she'll ever come back, especially since she didn't appear in Genshin to coincide with Horizon: Zero Dawn Forbidden West's release.
What are the best Genshin Impact Aloy weapons?
Like many characters, the best weapon for Aloy depends on how you want to use her. In quickswap teams, Polar Star is the best choice as Aloy can easily build two stacks during the first rotation. Alternatively, if you're looking for a four-star option, Stringless at refinement rank five gives her a nice increase to both her skill and burst damage.
Weapon
Effect
How to get
Thundering Pulse (five-star)
Bonus effect: Increases crit damage
Skill: Rule by Thunder:
This increases attack by 20% and grants the Thunder Emblem. At stacks 1/2/3, normal attack damage further increases by 12/24/40%. Each stack has an individual duration gained by:
• Normal attacks with elemental damage
• Casting an elemental skill
• Having less than 100% energy
Weapon banner (alongside Yoimiya)
Polar Star (five-star)
Bonus effect: Increases crit rate
Skill: increases elemental skill and elemental burst damage by 12%. After a normal attack, charged attack, elemental skill, or elemental burst hits an opponent, you gain one stack of Ashen Nightstar for 12 seconds. When 1/2/3/4 stacks of Ashen Nightstar are present, your attack increases by 10/20/30/48%. The stack of Ashen Nightstar created by the normal attack, charged attack, elemental skill, or elemental burst calculates independently of others
Weapon banner (alongside Childe)
Rust (four-star)
Bonus effect: Increases attack
Skill: Increases normal attack damage by 40% while decreasing charged attack damage by 10%
All banners
Stringless (four-star)
Base stat: Increases elemental mastery
Skill: Increases elemental skill and elemental burst damage by 24%
All banners
What are the best Genshin Impact Aloy artifacts?
Generally, the best artifact set for Aloy is Emblem of Severed Fate, especially in melt-focused teams. It's a resin-efficient and universal set that's easy to farm and provides her with a nice boost to her elemental burst damage and energy recharge. Alternatively, you can use Blizzard Strayer, offering a significant increase to her cryo damage.
Artifact set
Effect
How to obtain
Blizzard Strayer
Two equipped: Cryo damage bonus
Four equipped:

Increases crit rate by 20% when attacking an enemy affected by cryo. If the enemies freeze, crit rate increases by an additional 20%

Peak of Vindagnyr domain
Emblem of Severed Fate
Two equipped: Energy recharge
Four equipped: Increases elemental burst damage by 25% of energy recharge. Obtain a maximum of 75% bonus damage in this way
Momiji-Dyed Court domain
Noblesse Oblige
Two equipped: Elemental burst damage
Four equipped: After using an elemental burst, all teammates get 20% attack. This lasts 12 seconds and does not stack
Clear Pool and Mountain Cavern domain
Artifact stat recommendations
Aloy doesn't need any specific stats, so her builds come with relative ease. It is best to aim for attack and crit stats, along with a cryo damage bonus piece.
Main stats:
Sands: Attack
Goblet: Cryo damage bonus
Circlet: Crit rate or crit damage
Sub-stats:
Crit rate
Crit damage
Attack
What are the best Genshin Impact Aloy team comps?
For those of you that have an Aloy in your account, you're best using her as a cryo DPS or sub-DPS with an anemo and hydro character to enable plenty of freezing.
What are Genshin Impact Aloy's abilities?
Aloy brings a kit reminiscent of her abilities in Horizon to Genshin Impact, infused with a frosty feeling:
Active skills:
Skill
Effect
Normal attack: Rapid fire
Normal: Hit the enemy with up to four consecutive bow shots
Charged: Perform a precisely aimed shot that deals additional damage
Plunging: Shoot a number of arrows in mid-air, before landing with a mighty strike to the ground, causing AoE damage
Elemental skill: Frozen wilds
Deals cryo damage as Aloy throws a freeze bomb. Upon exploding it splits into many smaller bombs that also inflict freeze upon foes.
Elemental burst: Prophecies of dawn
After throwing a cyro power cell in the air, Aloy shoots it with an arrow to cause AoE cryo damage.
Passive skills:
| | |
| --- | --- |
| Skill | Description |
| Combat Override (unlocked at ascension one) | After receiving the coil effect from freezing wilds, Aloy gets a 16% increase in damage, while nearby allies receive a boost of 8%. |
| Strong Strike (unlocked at ascension four) | When in the rushing ice state, Aloy's cryo damage increases by 3.5% every second up to a maximum of 35%. |
| Easy Does It (unlocked automatically) | Animals that drop fowl, raw meat, or chilled meat will not startle when party members approach them. |
What are Genshin Impact Aloy's constellations?
Unlike other Genshin Impact characters, Aloy doesn't have any constellations due to her being a crossover event character. She can only get upgrades through levels and gear alone.
What are Genshin Impact Aloy's ascension materials?
Aloy still ascends through levels as all other Genshin units and thankfully doesn't need anything particularly special to do that. Here are the materials you'll need to get her up to level 90.
| | | |
| --- | --- | --- |
| Required level | Mora | Materials |
| 20 | 20,000 | One shivada jade sliver, three crystal marrow, three spectral husks |
| 40 | 40,000 | Three shivada jade fragments, two crystalline blooms, 10 crystal marrow, 15 spectral husks |
| 50 | 60,000 | Six shivada jade fragments, four crystalline blooms, 20 crystal marrow, 12 spectral hearts |
| 60 | 80,000 | Three shivada jade chunks, eight crystalline blooms, 30 crystal marrow, 18 spectral hearts |
| 70 | 100,000 | Six shivada jade chunks, 12 crystalline blooms, 45 crystal marrow, 12 spectral Nucleus |
| 80 | 120,000 | Six shivada jade gemstones, 20 crystalline blooms, 60 crystal marrow, 24 spectral nucleus |
What are Genshin Impact Aloy's talent materials?
Aloy's talents require freedom books, drops from specter enemies, and La Signora's weekly boss fight drops.
| | | |
| --- | --- | --- |
| Talent level | Mora | Materials |
| Two | 12,500 | Six spectral husks, three teachings of freedom |
| Three | 17,500 | Three spectral hearts, two guides to freedom |
| Four | 25,000 | Four spectral hearts, four guides to freedom |
| Five | 30,000 | Six spectral hearts, six guides to freedom |
| Six | 37,500 | Nine spectral hearts, nine guides to freedom |
| Seven | 120,000 | Four spectral nucleus, four philosophies of freedom, one molten moment |
| Eight | 260,000 | Six spectral nucleus, six philosophies of freedom, one molten moment |
| Nine | 450,000 | Nine spectral nucleus, 12 philosophies of freedom, two molten moments |
| Ten | 700,000 | 12 spectral nucleus, 16 philosophies of freedom, two molten moments, one crown of insight |
And that's all we've got on Genshin Impact's Aloy for now. If you want to learn about other Hoyoverse games, check out our Honkai Star Rail tier list – we also have a list of all the Honkai Star Rail codes so you can grab some freebies in a space adventure, too!