In Genshin Impact, Jean is the ever-serious Acting Grand Master of the Knights of Favonius of Mondstadt, and is also known as the Dandelion Knight. She wields a sword and harnesses the power of the wind to be a proficient DPS or support character, depending on your preference.
In our Genshin Impact Jean guide, we'll provide options for both a DPS and support build so you can choose which path you'd prefer to take. You can even swap out weapons and artifacts at your leisure to make sure Jean is useful in almost any situation.
We've even put together a list that includes all of the Genshin Impact codes and a Genshin Impact tier list so you can choose which other characters you would like to join Jean on your adventure. If you're interested in trying out other anemo characters, take a look at our Genshin Impact Venti and Genshin Impact Xiao guides.
How do I get the new Jean skin?
You can pick up the new Genshin Impact skin by heading over to the in-game shop on June 9.
The best Genshin Impact Jean build
Jean performs slightly better as a DPS character rather than support, but she is fairly proficient in both areas. We recommend pairing her up with Venti for slower stamina depletion.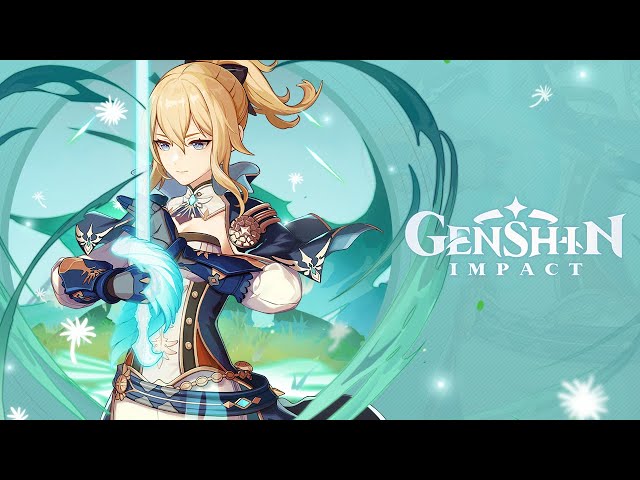 Which weapon should you use?
If you want to use Jean as a DPS character, go ahead and use the Aquila Favonia for a boosted attack. For those of you who prefer support, the Skyward Blade improves Jean's elemental burst ability to help her with healing
| | |
| --- | --- |
| Weapon | Effect |
| Aquila Favonia | Attack is increased by 20%. When you take damage, the soul of the Falcon of the West awakens to regenerate HP equal to 100% of Jean's attack and deal 200% of attack power as AoE damage. This effect can only trigger once every 15 seconds |
| Skyward Blade | Critical rate is increased by 4%. Upon using an elemental burst, movement and attack speed is increased by 10%, and the damage of normal and charged attacks by 20% for 12 seconds |
Which artifact set should you use?
The Gladiator's Finale set improves attack and works well for a DPS build. For a support Jean, we recommend equipping two items from the Viridescent Venerer set and two from Gladiator's Finale.
Artifact set
Effect

Gladiator's Finale

Two equipped: Attack increased by 18%

Four equipped: If the wielder of this artifact set uses a sword, claymore, or polearm, their normal attack damage is increased by 35%

Viridescent Venerer

Two equipped: 15% anemo damage bonus

Four equipped: Swirl damage is increased by 60%. Your opponent's elemental resistance to the element infused in the swirl is decreased by 40% for ten seconds
What are Jean's skills?
Active skills:
Skill
Effect

Favonius Bladework

Performs up to five strikes

Favonius Bladework (charged)

Consumes stamina to launch enemies into the air

Favonius Bladework (plunging)

Deals AoE damage on impact

Gale Blade (press)

Launches enemies and deals AoE anemo damage

Gale Blade (hold)

Consumes stamina to pull enemies towards Jean

Dandelion Breeze

Launches surrounding enemies and deals AoE damage while regenerating HP for all party members. A dandelion field

continuously regenerates HP for one ally and gives them the Anemo attribute.

It also deals Anemo damage to enemies entering or exiting the battlefield
Passive skills:
| | |
| --- | --- |
| Skill | Effect |
| Wind Companion (unlocked at ascension one) | Normal attacks have a 50% chance to regenerate HP equal to 15% of Jean's attack for all party members |
| Let the Wind Lead (unlocked at ascension four) | Regenerates 20% of Dandelion Breeze's energy cost |
| Continuous Improvement (unlocked automatically) | When you cook a perfect dish with restorative effects, there is a 12% chance to obtain double the product |
What are Jean's constellations?
You can level up Jean's constellations by using the Stella Fortuna you obtain when receiving a duplicate Jean while making a wish.
| | |
| --- | --- |
| Constellation | Effect |
| Spiraling Tempest | The pulling speed of Gale Blade is increased after holding for more than one second, damage dealt is also boosted by 40% |
| People's Aegis | When Jean picks up an elemental orb or particle, all party members have their movement and attack speed increased by 15% for 15 seconds |
| When the West Wind Arises | Increases the level of Dandelion Breeze by three |
| Lands of Dandelion | All enemies within the dandelion field have their anemo resistance decreased by 40%. |
| Outbursting Gust | Increases the level of Gale Blade by three |
| Lion's Fang, Fair Protector of Mondstadt | Incoming damage is decreased by 35% within the dandelion field. Upon leaving the field, this effect lasts for three attacks or ten seconds |
What does it cost to ascend Jean?
You're going to need a lot of Dandelion Seeds in order to ascend Jean all the way, so make sure you save any you find along the way!
| | | |
| --- | --- | --- |
| Required level | Mora | Materials |
| 20 | 20,000 | One Vayuda Turquoise Sliver, three Dandelion Seeds, three Damaged Masks |
| 40 | 40,000 | Three Vayuda Turquoise Fragment, two Hurricane Seeds, ten Dandelion Seeds, 15 Damaged Masks |
| 50 | 60,000 | Six Vayuda Turquoise Fragment, four Hurricane Seeds, 20 Dandelion Seeds, 12 Stained Masks |
| 60 | 80,000 | Three Vayuda Turquoise Chunk, eight Hurricane Seeds, 30 Dandelion Seeds, 18 Stained Masks |
| 70 | 100,000 | Six Vayuda Turquoise Chunk, 12 Hurricane Seeds, 45 Dandelion Seeds, 12 Ominous Masks |
| 80 | 120,000 | Six Vayuda Turquoise Gemstone, 20 Hurricane Seeds, 60 Dandelion Seeds, 24 Ominous Masks |
That's everything you need to know in order to master Genshin Impact's Jean. If you're on the lookout for more games like this, take a look at our list of the best mobile RPGs for iOS and Android.