If you want to find the best games like Starfield on Switch and mobile, then hop in our spaceship. We're going for a ride. Bethesda's epic space RPG is a huge hit with fans, and while it sadly can't quite squeeze onto handheld devices, there are plenty of intergalactic adventures waiting for budding space explorers. Meanwhile, if you just want a great RPG, a couple of leftfield picks might scratch that itch.
Before we hop into our guide spaceship and fly away to the amazing planet known as Knowledge-404, be sure to check out the rest of the out-of-this-world content we have waiting in the wings. Be sure to check out our articles covering the best horror games on Switch and mobile, the best Switch RPGs, the best tactics games, and the best Switch adventure games. Whatever console you have or genre you love, we've got you covered.
The best games like Starfield on Switch and mobile
Starlink: Battle for Atlas – Switch
Honestly, while the name alone is pretty similar, it might surprise you to learn just how much common ground there is between Starfield and Ubisoft's open-solar system RPG Starlink. An action RPG taking place from the view of your cockpit, you explore a series of planets and the space in between in this epic adventure.
Developer Ubisoft Toronto managed to squeeze in one absolutely massive game here, and somehow, it still looks very clean on Switch. Missions see you exploring strange, different planets, taking part in space dogfights, and rescuing folks stuck on barren worlds. It might seem like an afterthought, but the Star Fox content is also really well done and arguably the best Star Fox game fans have had in quite some time.
Now, when Ubisoft released the title, it also included a lot of toys-to-life gubbins, and most of that is ultimately superfluous. We highly recommend picking up the digital deluxe version of this title, as it includes all the additional weapons from the beginning. Ubisoft even worked alongside Nintendo to include Star Fox characters, and there's even some fantastic Star Fox-specific DLC featuring Wolf and his motley crew. Wait for a sale, and pick up this surprisingly satisfying space adventure.
No Man's Sky – Switch
Move over Hercules, No Man's Sky is the definition of zero-to-hero, as the incredibly ambitious title upset quite a few fans at launch, only to stage one of the greatest comebacks in the history of gaming. A procedurally generated galaxy where you can explore every single world, the concept of No Man's Sky is terrifying on its own, and additional updates have only added more.
The fine folks at Hello Games apparently spent years tinkering away at a Switch port, without a true idea of whether they could pull it off. Well, here we are, and one of the biggest games to ever exist is now available to buy and play on a handheld you can whip on the bus or while waiting at the post office.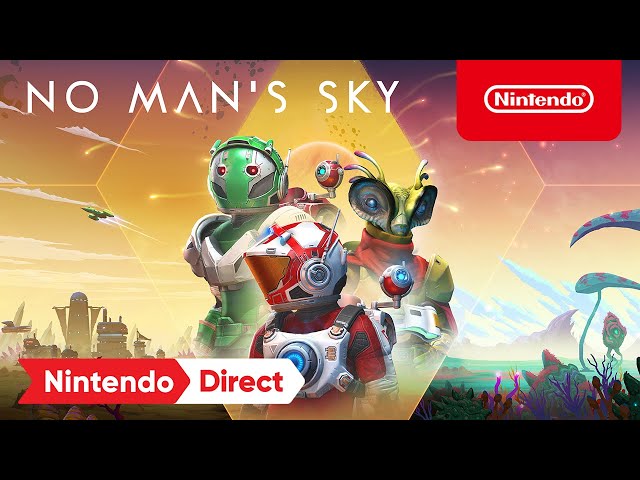 You don't just simply meander through the abyss of space, as those aforementioned updates include gameplay such as base building, mechs, and all of the content from the following updates: Living Ship, Exo Mech, Expeditions, Companions, Beyond, and Resolution. No Man's Sky is an awe-inspiring achievement anywhere you play it, and years of diligent updates and improvements have honed it into the incredible sci-fi game fans always dreamed of.
Skyrim – Switch
Alright, no, this isn't a space game, but hold on. Bethesda is the studio responsible for Starfield, and you may have heard of its other little underground hit, an RPG called Skyrim. A seminal video game that is available on almost every piece of technology more powerful than a toaster, thankfully the Switch port is no slouch, and now even features the updates from the Skyrim: Anniversary Edition.
Explore a huge fantasy world, unlock powerful spells, and interact with a series of different races as you attempt to save this world. Skyrim offers a huge amount of freedom for fans to explore, something that Bethesda has expanded exponentially with its space-based successor, Starfield. However, Skyrim has so much charm and some of the best side quests in gaming.
It looks cracking on Switch, and this port even features some unique Legend of Zelda content, including some armor much like Link's, and a Master Sword to find and use. The Anniversary Edition updates add graphical improvements, fishing minigames, as well as three official add-ons: Dawnguard, Hearthfire, and Dragonborn.
If you do dive in, be sure to check out our guides covering Skyrim races, Skyrim potion recipes, and the Skyrim thieves guild.
Star Wars: Knight of the Old Republic 1 & 2 – Switch and mobile
Well, it's hard to talk about RPG games set in space without talking about one of the best Star Wars games ever made. An expansive choice-driven RPG set years before the story you know and love, fans praise both Knight of the Old Republic games as incredible games in their own right, that luckily also happens to be set in a galaxy far, far, away.
While they're not the newest games, the Switch ports do look lovely, with clean textures and a nice sharp upgrade where needed. Both games also run great on Switch, and it's fantastic to have these classics on the go. You can even play them on mobile if you don't have a Switch, and the turn-based gameplay works great on mobile devices.
You can read our Star Wars: Knights of the Old Republic Switch review and our Star Wars: Knight of the Old Republic 2 mobile review for more.
Honkai Star Rail – mobile
Alright, we might be pushing things a bit here, but Honkai Star Rail is set in space, and it's also a fantastic RPG. So, we think that makes it a good fit. Hoyoverse developed Honkai Star Rail, alongside its other title you might know called Genshin Impact. The company brings that pedigree here, creating a gorgeous mobile title with enough content to keep you playing for years to come.
You play as the Honkai Star Rail trailblazer, and must take part in thrilling turn-based battles to defeat enemies across the universe. You can customize your character, loadout, and explore several different planets. It's got a lot in common with Genshin Impact, but the change in setting adds a lot to the gameplay, and hoo boy, it looks absolutely gorgeous.
When you set off on a grand Honkai Star Rail adventure, be sure to take our guides with you. We've got articles covering Honkai Star Rail codes, Honkai Star Rail banners, and our Honkai Star Rail tier list.
FTL: Faster than Light – mobile
They say don't judge a book by its cover, and FTL is a great example of this. The unassuming top-down management sim hides some incredibly in-depth gameplay, as you balance many different intricate systems to keep a spaceship intact against incoming fire and the harsh reality of space.
The game is a perfect fit for mobile and iPad as well, as the game demands complex mouse and keyboard controls on Steam, but these translate very well to touch-screen as you can manage the many departments of your ship at the tap of your finger. With hypnotic visuals and a great soundtrack, put on some headphones and enjoy a cozy afternoon with this engrossing space-based management sim.
There you have it, folks, that's our list of the best games like Starfield on Switch and mobile for now. If there's a game you'd love to see on the list, be sure to let us know on the Pocket Tactics Facebook page. In the meantime, why not find even more great games to play with our guide to the best Switch racing games next?