In Genshin Impact, Xiangling is known for being the head chef at the Wanmin Restaurant in Liyue. She loves to cook spicy foods and regularly experiments with unique ingredients in order to make surprising new dishes. However, sometimes her use of obscure food items leads to less than desirable results.
This four-star, polearm-wielding chef works well when used in a sub DPS role. With help from our Genshin Impact Xiangling guide, you'll soon know which weapons and artifacts to use in order to increase her damage output considerably. We'll also fill you in on which items you should keep in order to ascend her as soon as possible.
If you're new to the huge open world of Teyvat, we recommend checking out our Genshin Impact codes list for some extra freebies to help get you started. Once you've used up all your primogems wishing for a few more characters, head on over to our Genshin Impact tier list to find out where each of them rank!
The best Genshin Impact Xiangling build
Xiangling is best suited to a sub DPS role. We recommend pairing her up with an electro main DPS character, like Genshin Impact's Keqing, in order to trigger the overload elemental reaction.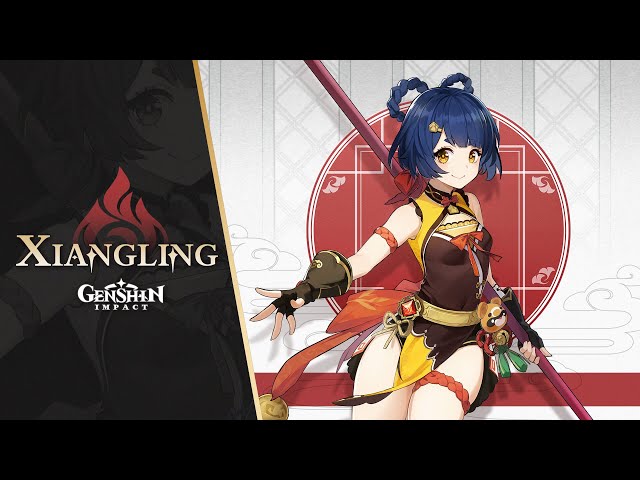 Which weapon should you use?
Our top pick for Xiangling's weapon is the Skyward Spine. However, as this is a five-star weapon, you need to be pretty lucky to obtain it from a wish. You may receive the Favonius Lance first, and this polearm is a suitable substitute.
| | |
| --- | --- |
| Weapon | Effect |
| Skyward Spine | Crit rate is increased by 8% and normal attack speed by 12%. Also, normal and charged attacks have a 50% chance to trigger a vacuum blade that deals 40% of Xiangling's attack as damage in a small AoE. This can only occur once every two seconds |
| Favonius Lance | Critical hits have a 60% chance to generate elemental particles. These regenerate six energy for Xiangling. Can only occur once every 12 seconds |
Which artifact set should you use?
We recommend equipping two items from each of the artifact sets below to receive a healthy boost to Xiangling's pyro damage and attack.
Artifact set
Effect

Crimson Witch of Flames

Two equipped: Pyro damage increased by 15%
Four equipped:

Increases overload and burning damage by 40%. Increases vaporize and melt damage by 15%. Elemental skills increase the two-piece set effect by 50% for ten seconds

Gladiator's Finale

Two equipped: Attack is increased by 18%
Four equipped:

If the wielder of this artifact set uses a sword, claymore, or polearm, their normal attack damage is increased by 35%
What are Xiangling's skills?
Active skills:
| | |
| --- | --- |
| Skill | Effect |
| Dough-Fu | Performs up to five spear strikes |
| Dough-Fu (charged) | Consumes stamina to lunge forward and deal damage along the way |
| Dough-Fu (plunging) | Deals AoE damage on impact with the ground |
| Guoba Attack | Summons Guoba the panda, who deals AoE pyro damage |
| Pyronado | Summons a Pyronado to deal AoE damage that moves with her |
Passive skills:
| | |
| --- | --- |
| Skill | Effect |
| Crossfire | Increases Guoba's attack range by 20% |
| Beware, It's Super Hot! | Guoba's attacks leave a chilli, which, when picked up, increases attack by 10% |
| Chef de Cuisine | When pulling off a perfect cook on an attack-increasing dish, Xiangling has a 12% chance to double the product |
What are Xiangling's constellations?
Here's every bonus you'll receive when leveling up Xiangling's constellations!
| | |
| --- | --- |
| Constellation | Effect |
| Crispy Outside, Tender Inside | Enemies hit by Guoba's AoE will have their pyro resistance reduced by 15% for six seconds |
| Oil Meets Fire | The final hit in a normal attack sequence will apply the implode status for two seconds. When the duration ends, an explosion will deal 75% of Xiangling's attack as AoE pyro damage |
| Deepfry | Increases the level of Pyronado by three |
| Slowbake | Increases the duration of Pyronado by 40% |
| Guoba Mad | Increases the level of Guoba Attack by three |
| Condensed Pyronado | All party members receive a 15% pyro damage boost for the duration of Pyronado |
What does it cost to ascend Xiangling?
Each time you ascend Xiangling, she receives an increase to her elemental mastery.
| | | |
| --- | --- | --- |
| Required level | Mora | Materials |
| 20 | 20,000 | One Agnidus Agate Sliver, three Jueyun Chili, three Slime Condensate |
| 40 | 40,000 | Three Agnidus Agate Fragment, two Everflame Seed, ten Jueyun Chili, 15 Slime Condensate |
| 50 | 60,000 | Six Agnidus Agate Fragment, four Everflame Seed, 20 Jueyun Chili, 12 Slime Secretions |
| 60 | 80,000 | Three Agnidus Agate Chunk, eight Everflame Seed, 30 Jueyun Chili, 18 Slime Secretions |
| 70 | 100,000 | Six Agnidus Agate Chunk, 12 Everflame Seed, 45 Jueyun Chili, 12 Slime Concentrate |
| 80 | 120,000 | Six Agnidus Agate Gemstone, 20 Everflame Seed, 60 Jueyun Chili, 24 Slime Concentrate |
Need some help with other pyro characters? Take a look at our Genshin Impact Hu Tao and Genshin Impact Diluc guides for extra assistance.