Genshin Impact's Lantern Rite is a beautiful, annual festival, where the people of Liyue celebrate the beginning of a new year – and guess what? You're invited! With heaps of fun events and minigames to enjoy, and even more awesome goodies up for grabs, there's plenty to be excited about. This year, the Genshin Lantern Rite event is called 'Exquisite Night Chimes' and is full of fresh, festive fun. You can grab yourself a four-star Genshin Impact character, and a gorgeous free Genshin Impact skin. See you in Liyue!
To keep up to date with everything else going on in Teyvat, be sure to check out our Genshin Impact events and Genshin Impact leaks guides. We've also got our list of all the latest Genshin Impact codes to help you on your way.
Genshin Impact Lantern Rite 2023
What are the Genshin Impact Lantern Rite 2023 dates?
This year, the Genshin Impact Lantern Rite Festival, also known as the Exquisite Night Chimes event, runs from January 19. It is likely that the event 'shop' will remain open for a while even after the games have concluded – this is where we can invite a free four-star unit to our team.
To get full context for the story, the game recommends that you complete the Liyue Archon quests and Yelan's story quest before unlocking Lantern Rite – though there is a quick start option if you're not bothered about spoilers.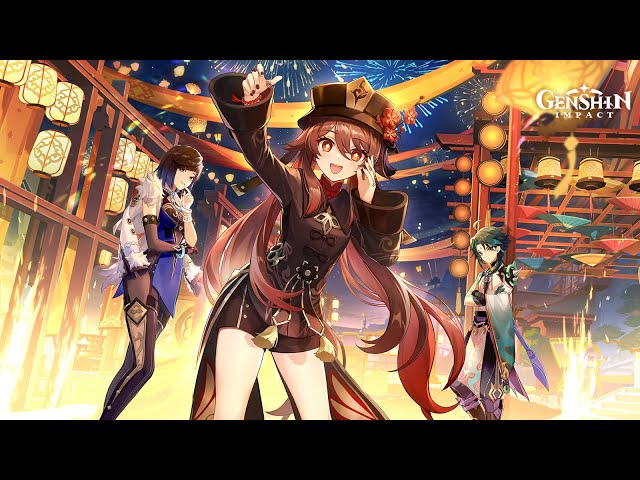 What are the Genshin Impact Lantern Rite 2023 events?
Lantern Rite is jam-packed with things to do in Liyue. Named 'The Exquisite Night Chimes', the event lasts for a good portion of version 3.4, giving us plenty of time to reap the rewards.
Radiant Sparks
First up is a racing game called Radiant Sparks, where you can take part in the fireworks display in Liyue Harbor. These events require the Traveler to float through the air catching coins, and using boosts as they go. They're timed, but due to the hefty amount of boosts, you'll be flying through it in no time.
Paper Theatre
The second part of the festivities revolves around a Paper Theatre performance. This sweet little puzzle game sees you rearranging silhouettes to help the main character in the story reach his goals. It's pretty simple fun for now, but if it gets any trickier, we'll be sure to add some pointers here!
Vigilance at Sea
There's also a fresh wave rider challenge found aboard The Crux, which you can take part in either alone or with friends. Start the gameplay mode to find yourself afloat in one of several maps, each with its own unique caveats, such as treacherous whirlpools and explosive lanterns. Make use of the handy boosts as you dodge obstacles and collect as many coins as you can within the time limit. There are quite a few rewards available for gaining certain scores, too.
Behind the Scenes
Last but certainly not least is a combat challenge, where Travelers are sent out to deal with pesky Hilichurls and Slimes trying to wreak havoc during the event. After completing a short quest, you must head to different locations marked on your map and dispatch groups of enemies, before opening the chest to unleash the fireworks. From there, you ride the wind currents to the next location.
Completing these minigames, or hitting certain milestones such as a specific number of coins in the Waverider minigame, earns you both rewards and Festive Fever points. When you gain enough Festive Fever points, you earn even more rewards and gain the opportunity to invite a free four-star character.
Snag yourself a free Genshin Impact character with Fortuitous Invitation
Amazing news, this year's Lantern Rite is again giving us the chance to get a free, four-star Liyue character of our choice. And the best part? The newly released YaoYao is one of the options!
You can invite the free four-star of your choice through the Fortuitous Invitation event, after earning 800 Festive Fever by completing Lantern Rite challenges and minigames. Here are the free characters you can choose from:
If you're wondering which free Genshin Impact character you should choose, it depends on which ones you've already got, and who you use.
If you don't have them, we recommend picking Yun Jin, Xingqiu, or Beidou. Yun Jin is a solid pick as she's brilliant for buffing normal attacks with her burst. Both Xingqiu and Beidou offer some great off-field damage and potential for elemental reactions. Yanfei is another great choice, especially if you already have a few of her constellations – she gains a shield and some serious power with her later cons!
You can also look at our Genshin Impact tier list to see which characters are performing best, and make your decision based on that.
Second Blooming and Lisa's new skin
Like Ningguang receiving a skin last year, this time, Mondstadt's standout scholar Genshin Impact's Lisa has fresh, new threads – and these ones link back to her days studying in the reputable Sumeru Akademiya. You can earn this through the upcoming Second Blooming event. We'll be sure to update this guide as soon as we have more info on that event but, in the meantime, be sure to keep an eye on our Genshin Impact events guide.
And, to make it even better, Lisa isn't the only one getting a beautiful Genshin Impact skin this update. For a limited time only, you can purchase the stunning Genshin Impact Ayaka skin from the in-game store for a discounted price of 1350 Genesis Crystals. Once the event ends, the skin's price increases to 1680, so be sure to snap it up now if you intend on buying it.
Genshin Impact login events during the Lantern Rite festival
The Lantern Rite brings with it another login event called May Fortune Find you. If you log in for seven days throughout the duration of the Lantern Rite Festival, you can claim a variety of goodies from the events overview page in-game. Here are all the May Fortune Find You rewards.
Day one – one intertwined fate
Day two – 80k mora
Day three – two intertwined fates
Day four – 18 mystic enhancement ore
Day five – two intertwined fate
Day six – eight hero's wit
Day seven – five intertwined fates
On top of this, there are some extra Lantern Rite gifts coming up, which include Mora, Mystic Enhancement ore, talent books, and XP material – and Hoyoverse has also hinted that we may be getting a couple more treats in the mail to celebrate this season.
And that's it for our Genshin Impact Lantern Rite guide – we hope you enjoy the Fleeting Colors in Flight event and all the festivities going on in Liyue Harbour at the moment. If you're looking for another escape outside the world of Teyvat, be sure to check out our best mobile RPGs to find a new adventure today.