Yanfei is a four-star Genshin Impact character who wields a catalyst and harnesses the power of pyro. We first got to hear about her and Eula during the Genshin Impact update 1.5 special programme on April 16, 2021.
If you want to keep up to date with all the latest news on Genshin Impact's Yanfei, make sure you bookmark this page. We will fill you in on everything you need to know about her skills and ascension materials, and update this guide if there are any changes to her best weapons or artifacts.
For those of you who need some extra primogems for the next Genshin Impact banner, take a look at our Genshin Impact codes list. For those of you looking for other strong characters, we have guides that include our recommended builds for Genshin Impact's Diluc, Genshin Impact's Xinyan, and Genshin Impact's Bennett.
When is the next Yanfei banner?
Use your primogems on the Farewell of Snezhnaya banner for a chance to receive Yanfei, Genshin Impact's Chongyun, Genshin Impact's Tartaglia, or Genshin Impact's Ningguang.
What is the best Yanfei build?
Yanfei truly excels when being used in a main DPS role. We recommend using her in a team with Genshin Impact's Albedo to increase the damage of elemental reactions. Use her with Genshin Impact's Ganyu to trigger melt with ease.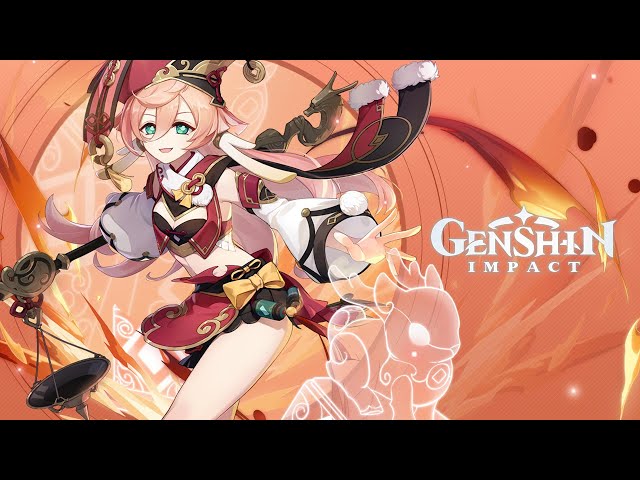 Which weapon should you use?
The Lost Prayer to the Sacred Winds is our catalyst of choice of Yanfei. However, the Skyward Atlas is also a suitable pick if you have one gathering dust in your inventory.
| | |
| --- | --- |
| Weapon | Effect |
| Lost Prayer to the Sacred Winds | Increases movement speed by 10%. When in battle, Yanfei gains an 8% elemental damage bonus every four seconds. This lasts until she falls or leaves combat. |
| Skyward Atlas | Increases elemental damage by 12%. Normal attacks have a 50% chance to earn the favour of the clouds, the clouds seek out nearby enemies to attack for 15 seconds, dealing 160% attack damage. This can only happen once every 30 seconds |
Which artifact set should you use?
We highly recommend using a full set of the Crimson Witch of Flames artifacts to get a healthy pyro damage bonus.
Artifact set
Effect
Crimson Witch of Flames
Two equipped: Increases pyro damage by 15%
Four equipped: Increases overloaded and burning damage by 40% and vaporize and melt damage by 15%. When an elemental skill is used, the two-piece set effect is increased by 50% for ten seconds
Wanderer's Troupe
Two equipped: Increases elemental mastery by 80
Four equipped: Increases charged attack damage by 35%
What are Yanfei's skills?
Active skills:
Skill
Effect
Seal of Approval
Yanfei shoots fireballs that deal up to three counts of pyro damage. On hit, Yanfei receives a Scarlet Seal, she can have a maximum of three. The seals decrease her stamina consumption
Seal of Approval (charged)
Consumes stamina and all Scarlet Seals to deal AoE pyro damage
Seal of Approval (plunging)
Yanfei plunged toward the ground, dealing AoE pyro damage on impact
Signed Edict
Deals AoE pyro damage and grants Yanfei the maximum number of Scarlet Seals
Done Deal
Deals AoE pyro damage, grants Yanfei the maximum number of Scarlet Seals, and applies Brilliance to her.
Brilliance periodically grants Yanfei a Scarlet Seal and increases the damage of her charged attack
Passive skills:
| | |
| --- | --- |
| Skill | Effect |
| Proviso | When a Scarlet Seal is consumed by using a charged attack, Yanfei's pyro damage is increased by 5% for six seconds |
| Blazing Eye | When a charged attack deals a critical hit, Yanfei will deal extra AoE pyro damage that's equal to 80% of her attack |
| Encyclopedic Expertise | The mini-map will show the location of nearby resources that are unique to Liyue |
What are Yanfei's constellations?
Constellation
Effect
The Law Knows No Kindness
Each existing Scarlet Seal additionally reduces the stamina cost of charged attacks by 10% and increase resistance against interruption when released.
Right of Final Interpretation
Increases Yanfei's charged attack critical hit rate by 20% against enemies with HP below 50%
Samadhi Fire-Forged
Increases the level of Signed Edict by three.
The maximum upgrade level is 15
Supreme Amnesty
Done Deal creates a shield that absorbs up to 45% of Yanfei's max HP for 15 seconds. The shield absorbs pyro damage 250% more effectively
Abiding Affidavit
Increases the level of Done Deal by three.
The maximum upgrade level is 15
Extra Clause
Increases the maximum number of Scarlet Seals by one
What are Yanfei's ascension materials?
You need a lot of Noctilous Jade in order to ascend Yanfei fully. You can purchase five from Shitou at Jade Mystery in Liyue every three days.
| | | |
| --- | --- | --- |
| Required level | Mora | Materials |
| 20 | 20,000 | One Agnidus Agate Sliver, three Noctilous Jade, three Treasure Hoarder Insignia |
| 40 | 40,000 | Three Agnidus Agate Fragment, two Juvenile Jade, ten Noctilous Jade, 15 Treasure Hoarder Insignia |
| 50 | 60,000 | Six Agnidus Agate Fragment, four Juvenile Jade, 20 Noctilous Jade, 12 Silver Raven Insignia |
| 60 | 80,000 | Three Agnidus Agate Chunk, eight Juvenile Jade, 30 Noctilous Jade, 18 Silver Raven Insignia |
| 70 | 100,000 | Six Agnidus Agate Chunk, 12 Juvenile Jade, 45 Noctilous Jade, 12 Golden Raven Insignia |
| 80 | 120,000 | Six Agnidus Agate Gemstone, 20 Juvenile Jade, 60 Noctilous Jade, 24 Golden Raven Insignia |
It can be tough working out which character is best, so check out our Genshin Impact tier list if you need some help.