Yanfei is a four-star Genshin Impact character who wields a catalyst and harnesses the power of pyro. We first got to hear about her and Eula during the Genshin Impact update 1.5 special programme on April 16, 2021.
If you want to keep up to date with all the latest news on Genshin Impact's Yanfei, make sure you bookmark this page. We will fill you in on everything you need to know about her skills and ascension materials, and update this guide if there are any changes to her best weapons or artifacts.
For those of you who need some extra primogems for the next Genshin Impact banner, take a look at our Genshin Impact codes list. For those of you looking for other strong characters, we have guides that include our recommended builds for Genshin Impact's Diluc, Genshin Impact's Xinyan, and Genshin Impact's Bennett.
Genshin Impact Yanfei guide
When's the next Genshin Impact Yanfei banner?
Genshin Impact's Yanfei is currently featured on the two concurrent banners in the first half of 2.7, alongside Genshin Impact's Xiao and Genshin Impact's Yelan.
Found out more about current and upcoming Genshin Impact banners right here on Pocket Tactics.
What is the best Yanfei build?
Yanfei primarily excels in an on-field DPS role, taking the lead in either a vaporize or overload team. She's a great option for early gameplay, and her ranged attacks have a handy reach. She also has decent reach and damage with her AoE, consistent hydro application, and plenty of F2P and resin-efficient options when it comes to weapons, artifacts, and team builds.
She does have some weaknesses, with her damage not really reaching high enough numbers to contend with other DPS (especially five-star units), and her reliance on heavy stamina consumption due to her charged attack. She also has a long charged attack animation which isn't easy to cancel and doesn't offer invincibility, leaving her vulnerable to incoming attacks. As she's also pretty squishy in most builds, you may find yourself relying on highly sought-after shield units to negate this damage.
However, with her cost-efficient building and her great pyro application, she truly is a wonderful unit to fill that fire slot on many F2P teams.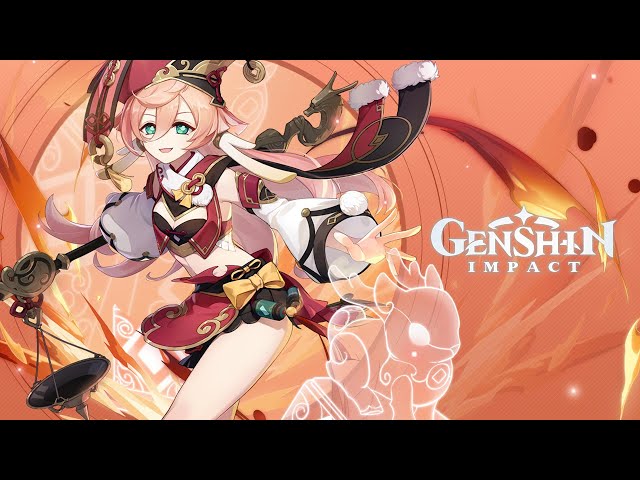 Which weapon should you use?
Vaporize Yanfei
The Lost Prayer to the Sacred Winds is our catalyst of choice for vaporize Yanfei, as it compliments the extended on-field time necessary to make the most of her rotations. The crit rate secondary stat, which isn't very common in catalysts, also works really well for her.
Alternatively, The Wisdeth is a great choice, especially as higher refinement ranks, as Yanfei is one of the few catalyst users capable of making full use of its buffs.
Weapon
Effect
How to obtain
Lost Prayer to the Sacred Winds
Bonus effect: +crit rate%
Skill: increases movement speed by 10%. When in battle, Yanfei gains an 8% elemental damage bonus every four seconds. This lasts until she falls or leaves combat.
Gacha
The Wisdith
Bonus effect: +crit damage%
Skill: when a character takes the field, they gain a random theme song for ten seconds. This can only occur once every 30 seconds. The songs are:
Recitative: attack is increased by 60%
Aria: all elemental damage is increased by 48%
Interlude: elemental mastery is increased by 240
Gacha
Kagura's Verity
Bonus effect: +crit damage%
Skill: when using her elemental skill, Yanfei gains the Kagura Dance effect, which increases her elemental skill damage to increase by 12% for 16 seconds, for a maximum of three stacks. She gains 12% bonus to all elemental damage when she possesses three stacks
Gacha
Skyward Atlas
Bonus effect: +attack%
Skill: increases elemental damage by 12%. Normal attacks have a 50% chance to earn the favour of the clouds, the clouds seek out nearby enemies to attack for 15 seconds, dealing 160% attack damage. This can only happen once every 30 seconds
Gacha
Overload Yanfei
Our top weapon picks for overload Yanfei are a bit different to that of Vaporize Yanfei, as your main priority for this role is increasing her elemental mastery as much as possible.
Sacrificial Fragments takes the top spot due to its high elemental mastery, despite its skill not being the most useful to her. Refinements don't change much, so you're fine at R1 for this one, meaning it's also a very affordable option.
Magic Guide comes in at second, as it offers the second highest elemental mastery of all the catalysts so far. Its attack doesn't do much for Yanfei, but with it being a three-star weapon, it's much cheaper to upgrade and refine than other weapons.
Weapon
Effect
How to obtain
Sacrificial Fragments
Bonus effect: +elemental mastery
Skill: after you damage an opponent with Yanfei's elemental skill, the skill has a 40% chance to end its own cooldown. This can only occur once every 30 seconds
Gacha
Magic Guide
Bonus effect: +elemental mastery
Skill: increases damage against enemies affected by hydro or electro by 12%
Gacha
Thrilling Tale of Dragon Slayers
Bonus effect: +HP%
Skill: when you switch characters, the new character taking the field has their attack increased by 24% for ten seconds. This effect can only occur once every 20 seconds
Gacha
Which artifact set should you use?
Regardless of whether you're using her in a vaporize or overload team, we highly recommend using a full set of the Crimson Witch of Flames artifacts to get a healthy pyro damage bonus. Shimenawa's Reminiscence and Wanderer's Troupe also offer some nice benefits depending on how you want to build your Yanfei.
Artifact set
Effect
Where to get
Crimson Witch of Flames
Two equipped: Increases pyro damage by 15%
Four equipped: Increases overloaded and burning damage by 40% and vaporize and melt damage by 15%. When an elemental skill is used, the two-piece set effect is increased by 50% for ten seconds
Hidden Palace of Zhou Formula domain on Bashui Plain, Wuwang Hill
Shimenawa's Reminiscence
Two equipped: attack +18%
Four equipped: when using an elemental skill with 15 or more energy, you lose 15 energy and gain 50% normal/charge/plunging attack damage for ten seconds. This effect won't trigger again during that duration
Momiji-Dyed Court domain on Yashiori Island in Inazuma
Wanderer's Troupe
Two equipped: Increases elemental mastery by 80
Four equipped: Increases charged attack damage by 35%
World bosses and weekly bosses, or the Wanderer's Troupe artifact strongbox
Alternate atrifacts
If you're struggling to get a full set of the artifacts listed above, you can use this set in the meantime.
Set
Effect
Martial Artist
Two equipped: normal attack and charged attack damage is increased by 15%
Four equipped: after using your elemental skill, your normal attack and charged attack damage is increased by 25% for eight seconds
When picking artifacts for Yanfei, you should prioritise the following stats.
Main stats:
Attack% for Sands of Eon
Pyro damage bonus for the Goblet of Eonothem
Crit rate or crit damage for the Circlet of Logos
Sub stats:
Attack%
Crit damage
Crit rate
To find out more about how artifacts work, check out our Genshin Impact artifacts guide.
What are Yanfei's skills?
Active skills:
Skill
Effect
Seal of Approval
Yanfei shoots fireballs that deal up to three counts of pyro damage. On hit, Yanfei receives a Scarlet Seal, she can have a maximum of three. The seals decrease her stamina consumption
Seal of Approval (charged)
Consumes stamina and all Scarlet Seals to deal AoE pyro damage
Seal of Approval (plunging)
Yanfei plunged toward the ground, dealing AoE pyro damage on impact
Signed Edict
Deals AoE pyro damage and grants Yanfei the maximum number of Scarlet Seals
Done Deal
Deals AoE pyro damage, grants Yanfei the maximum number of Scarlet Seals, and applies Brilliance to her.
Brilliance periodically grants Yanfei a Scarlet Seal and increases the damage of her charged attack
Passive skills:
| | |
| --- | --- |
| Skill | Effect |
| Proviso | When a Scarlet Seal is consumed by using a charged attack, Yanfei's pyro damage is increased by 5% for six seconds |
| Blazing Eye | When a charged attack deals a critical hit, Yanfei will deal extra AoE pyro damage that's equal to 80% of her attack |
| Encyclopedic Expertise | The mini-map will show the location of nearby resources that are unique to Liyue |
What are Yanfei's constellations?
Constellation
Effect
The Law Knows No Kindness
Each existing Scarlet Seal additionally reduces the stamina cost of charged attacks by 10% and increase resistance against interruption when released.
Right of Final Interpretation
Increases Yanfei's charged attack critical hit rate by 20% against enemies with HP below 50%
Samadhi Fire-Forged
Increases the level of Signed Edict by three.
The maximum upgrade level is 15
Supreme Amnesty
Done Deal creates a shield that absorbs up to 45% of Yanfei's max HP for 15 seconds. The shield absorbs pyro damage 250% more effectively
Abiding Affidavit
Increases the level of Done Deal by three.
The maximum upgrade level is 15
Extra Clause
Increases the maximum number of Scarlet Seals by one
What are Yanfei's ascension materials?
You need a lot of Noctilous Jade in order to ascend Yanfei fully. You can purchase five from Shitou at Jade Mystery in Liyue every three days.
| | | |
| --- | --- | --- |
| Required level | Mora | Materials |
| 20 | 20,000 | One Agnidus Agate Sliver, three Noctilous Jade, three Treasure Hoarder Insignia |
| 40 | 40,000 | Three Agnidus Agate Fragment, two Juvenile Jade, ten Noctilous Jade, 15 Treasure Hoarder Insignia |
| 50 | 60,000 | Six Agnidus Agate Fragment, four Juvenile Jade, 20 Noctilous Jade, 12 Silver Raven Insignia |
| 60 | 80,000 | Three Agnidus Agate Chunk, eight Juvenile Jade, 30 Noctilous Jade, 18 Silver Raven Insignia |
| 70 | 100,000 | Six Agnidus Agate Chunk, 12 Juvenile Jade, 45 Noctilous Jade, 12 Golden Raven Insignia |
| 80 | 120,000 | Six Agnidus Agate Gemstone, 20 Juvenile Jade, 60 Noctilous Jade, 24 Golden Raven Insignia |
What's the best Genshin Impact Yanfei team comp?
Naturally, when picking a team comp for Yanfei, the characters you should choose are reliant on whether you want a vaporize or overload team.
For vaporize teams, she synergises well with Genshin Impact's Xingqiu and Genshin Impact's Bennett. You can fill the spare slot with an anemo unit like Genshin Impact's Kazuha to shred resistance and reap the benefits of the Viridescent Venerer artifact set, Genshin Impact's Fischl for additional damage and overloads, or Genshin Impact's Zhongli to shield her, which helps negate her vulnerability during her long charged attack animations.
For overload teams, you should go with Genshin Impact's Fischl and Genshin Impact's Beidou. The fourth slot can once again be filled with Bennett, Xingqiu, or Zhongli, or you can go with Genshin Impact's Kokomi, all of which help her survivability without interfering with overload reactions.
It can be tough working out which character is best, so check out our Genshin Impact tier list if you need some help.