Genshin Impact's Diluc is a five-star pyro claymore wielder, born into the affluent Ragnvindr Clan. He's a former Knight of Favonius who now spends his days running the Dawn Winery. However, when the sun sets, he takes on the role of the legendary Darknight Hero, protecting Mondstadt's people.
In this Genshin Diluc build guide, we set out to help you harness the power of this fiery vigilante, giving you a run down on his role, skills, and constellations, as well as our recommendations for his best artifacts, weapons, and more.
If you need some help with other popular characters, take a look at our Genshin Impact Eula and Genshin Impact Yanfei guides. We've also got a handy Genshin Impact codes list to get you some free primogems, and a Genshin Impact tier list to help you build up a full and powerful party.
Genshin Impact Diluc
What's the best Genshin Diluc build?
Diluc is a powerful lad with an easy, high impact playstyle. With his combination of blunt and pyro damage, he's capable of taking out all non-elemental shields with relative ease while still having access to elemental reactions. He excels in a main DPS role and has great potential as long as you get yourself familiar with his kit, and can be swapped out after his ult without losing his pyro infusion.
He does rely on Genshin Impact's Bennett in order to truly excel, and has lower damage output than other pyro DPS characters. He also requires a lot of field time for his full combo, and it takes a bit of practice to get his rhythm pinned down.
However, when you get used to the cycle of burst, skill, normal attack, skill, normal attack, skill, and pair him up with the right team comp, he can rip through a lot of content with relative ease. Plus, he's really cool – who doesn't want to play a mixture of Batman and Danger Days era Gerard Way?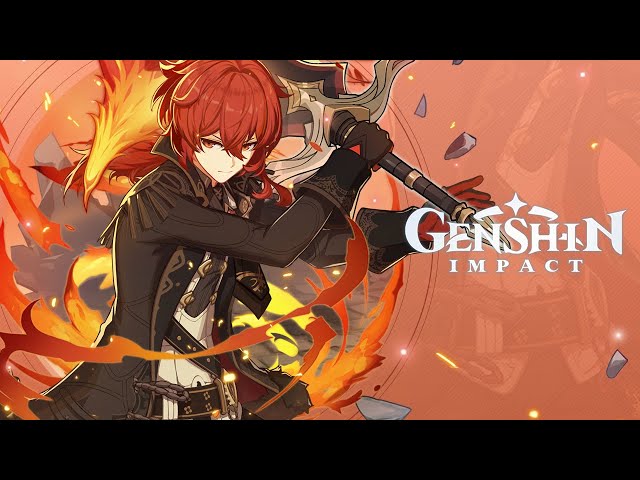 What's the best Genshin Diluc weapon?
Redhorn Stonethresher is an extremely powerful choice for Diluc, offering an amazing boost to his crit. However, it does bind Diluc to Bennett in order to make up for its low base attack.
Wolf's Gravestone is another great option, and is considered by most to be about as close to a 'signature weapon' that Diluc's gonna get. It trades some damage for a higher level of versatility and comfort, and is consistently strong across all team comps, even if you don't have Benny on Diluc's team.
When it comes to four-star options, Serpent Spine is easily the best option. At high refinement ranks it can go toe to toe with some five-star claymores. However, it does require Bennett to make up for its low base attack, and its passive can be tricky to keep up without a shielder.
Alternatively, Blackcliff Slasher and Prototype Archaic are both viable options at low refinement ranks. They won't knock your socks off, but they get the job done and they're F2P friendly.
Weapon
Effect

Redhorn Stonethresher

Base stat: crit damage
Skill: increases defence by 28%, and normal and charged attack damage by 40% of defence

Wolf's Gravestone

Base stat: attack
Skill: increases attack by 20%. Attacks against enemies with less than 30% HP increase all party members' attack by 40% for 12 seconds. This can only occur once every 30 seconds
Serpent Spine
Base stat: crit rate
Skill: every four seconds a character is on the field, they deal 6% more damage and take 3% more damage. This effect has a maximum of five stacks and is not reset if the character leaves the field, but is reduced by one stack when the character takes damage
Blackcliff Slasher
Base stat: crit damage
Skill: after defeating an opponent, attack increases by 12% for 20 seconds. This effect has a maximum of three stacks, and the duration of each stack is independent of the others

Prototype Archaic
Base stat: attack
Skill: on hit, normal or charged attacks have a 50% chance to deal an additional 240% attack damage to opponents with a small AoE
What are the best Genshin Diluc artifacts?
Crimson Witch of Flames was literally made with Diluc in mind, so it's no wonder that it's his best in slot. He's one of the few pyro characters that can actually reliably max its four-piece bonus, and it compliments his kit perfectly.
Alternatively, you can use two Crimson Witch of Flames with two Fladiator's Finale, though this option relies on very good substats to be viable. Only use if you're struggling to get a decent set of CWoF.
Artifact set
Effect

Crimson Witch of Flames

Two equipped: 15% pyro damage bonus
Four equipped:

Increases overload and burn damage by 40%. Increases vaporize and melt damage by 15%. Using an elemental skill increases two-piece set effects by 50% for ten seconds. Maximum three stacks

Gladiator's Finale

Two equipped: Increases attack by 18%
Four equipped:

If the wielder of this set uses a sword, claymore, or polearm, their normal attack damage is increased by 35%
Alternate artifact set
This set is a lot easier to get your hands on, go ahead and equip it until you get the sets above.
Artifact set
Effect
Berserker
Two equipped: increases critical rate by 12%
Four equipped: when Diluc's HP is below 70%, critical rate increases by an additional 24%
Artifact stat recommendations
Main stats
Sands – Attack% or elemental mastery
Goblet – pyro damage bonus
Circlet – crit damage or crit rate (try to maintain a 1:2 ratio overall)
Sub stats
Crit damage/crit rate
Elemental mastery
Attack%
What are Genshin Diluc's skills?
Active skills:
| | |
| --- | --- |
| Skill | Effect |
| Tempered Sword | Performs four strikes |
| Tempered Sword (charged) | Drains stamina to perform a further, more powerful slash |
| Tempered Sword (plunging) | Deals AoE damage on impact |
| Searing Onslaught | Deals fire damage in a forward slash. You can use it three times consecutively |
| Dawn | Knocks back enemies, summons a phoenix that deals massive AoE damage, and adds fire damage to Diluc's attacks |
Passive skills:
| | |
| --- | --- |
| Skill | Effect |
| Relentless (unlocked at ascension one) | Reduces the cost of Tempered Sword (charged) by 50% and increases its duration by three seconds |
| Blessing of Phoenix (unlocked at ascension four) | Dawn's fire damage effect is 20% more powerful and lasts four seconds longer |
| Tradition of the Dawn Knight (unlocked automatically) | Refunds 15% of the ore cost when crafting claymores |
What are Genshin Diluc's constellations?
Although Diluc is extremely powerful without any constellations at all, powering them up to level six will make him an unstoppable powerhouse.
Constellation
Effect

Conviction

15% more damage is dealt to enemies with HP above 50%

Searing Ember

When Diluc takes damage, his base attack is increased by 10% and his attack speed by 5%. This lasts for ten seconds.

Can stack up to three times and can only occur once every 1.5 seconds

Steel and Fire

Increases the level of Searing Onslaught by three

Flowing Flame

Within two seconds of using Searing Onslaught, casting the skill again in a combo deals 40% additional damage. This effect lasts for the next two seconds

Phoenix, Harbinger of Dawn

Increases the level of Dawn by three

Flaming Sword, Nemesis of Dark

After casting Searing Onslaught, the next two normal attacks used within six seconds will get a 30% increase in damage and attack speed. Searing Onslaught will not interrupt the normal attack combo
What are Genshin Diluc's ascension materials?
Ascension can be an expensive task, so make sure you keep hold of the items below to save time down the line.
| | | |
| --- | --- | --- |
| Required level | Mora | Materials |
| 20 | 20,000 | One Agnidus Agate Sliver, three Small Lamp Grass, three Recruit's Insignia |
| 40 | 40,000 | Three Agnidus Agate Fragment, two Everflame Seed, ten Small Lamp Grass, 15 Recruit's Insignia |
| 50 | 60,000 | Six Agnidus Agate Fragment, four Everflame Seed, 20 Small Lamp Grass, 12 Sergeant's Insignia |
| 60 | 80,000 | Three Agnidus Agate Chunk, eight Everflame Seed, 30 Small Lamp Grass, 18 Sergeant's Insignia |
| 70 | 100,000 | Six Agnidus Agate Chunk, 12 Everflame Seed, 45 Small Lamp Grass, 12 Lieutenant's Insignia |
| 80 | 120,000 | Six Agnidus Agate Gemstone, 20 Everflame Seed, 60 Small Lamp Grass, 24 Lieutenant's Insignia |
There you have it– everything you need to know about creating a solid Genshin Impact Diluc build. If you've mastered Genshin Impact already and are looking for something else to play, make sure you check out our list of the best gacha games for iOS and Android.