As Cavalry Captain of the Knights of Favonius, Kaeya is highly respected by the people of Mondstadt. In Genshin Impact, he's known for being extremely charming, to the point where he can persuade dangerous criminals to give him the information he needs in order to arrest them, or set them free.
This four-star cryo character is easily obtained by completing quests at the start of the game, and although he isn't the strongest character, Genshin Impact's Kaeya can be an asset early on. Our guide will assist you in finding the best weapons and artifacts, as well as outline what each and every one of his skills does.
If you need some extra primogems to wish for new characters, take a look at our Genshin Impact codes list. We can also help you master other popular characters, so take a look at our Genshin Impact Traveler and Genshin Impact Eula guides for our recommended builds and a rundown on their skills.
The best Genshin Impact Kaeya build
Kaeya is best suited to a sub DPS, but unfortunately doesn't excel in this role. We recommend using him in a team with Genshin Impact's Tartaglia, as together they can keep freezing enemies with cryo reactions.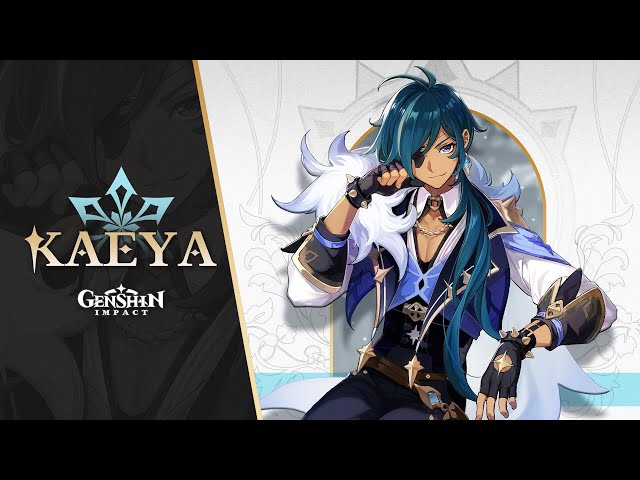 Which weapon should you use?
The Skyward Blade is the best choice of weapon for Kaeya. However, if you're having trouble acquiring it, the three-star Skyrider Sword is a suitable replacement.
| | |
| --- | --- |
| Weapon | Effect |
| Skyward Blade | Critical hit rate is increased by 4%. Kaeya gains Skypiercing Might when an elemental burst is used. This increases movement and attack speed by 10% and boosts the damage of normal and charged attacks by 20% for 12 seconds |
| Skyrider Sword | Elemental bursts provide a 12% increase in attack and movement speed for 15 seconds |
Which artifact set should you use?
We recommend using two items from each of the sets below to get a boost to your cryo and elemental burst damage.
Artifact set
Effect

Blizzard Strayer

Two equipped: 15% cryo damage bonus
Four equipped:

Crit rate is increased by 20% when attacking an enemy affected by cryo. If the enemy is frozen, crit rate is increased by an additional 20%

Noblesse Oblige

Two equipped: Elemental burst damage is increased by 20%
Four equipped:

Elemental bursts increase all party members' attack by 20% for 12 seconds
What are Kaeya's skills?
Active skills:
| | |
| --- | --- |
| Skill | Effect |
| Ceremonial Bladework | Perform five strikes |
| Ceremonial Bladework (charged) | Consume stamina to unleash two fast sword swings |
| Ceremonial Bladework (plunging) | Plunge from mid-air to deal AoE damage on impact with the ground |
| Frostgnaw | Deals AoE cryo damage |
| Glacial Waltz | Summon three icicles that follow Kaeya, dealing cryo damage to enemies |
Passive skills:
| | |
| --- | --- |
| Skill | Effect |
| Cold-Blooded Strike | Frostgnaw also regenerates HP to Kaeya equal to 15% of his attack |
| Heart of the Abyss | Enemies frozen by Frostgnaw will produce elemental particles |
| Hidden Strength | Decreases sprinting stamina by 20% for the party |
What are Kaeya's constellations?
You can level up Kaeya's constellations when you receive him as a duplicate when making a wish. Here's every bonus you receive as you level up.
Constellation
Effect

Excellent Blood

Normal and charged attacks critical hit rate against enemies affected by cryo is increased by 15%

Never-Ending Performance

When Glacial Waltz defeats an enemy, its duration is increased by 2.5 seconds for a maximum of 15 seconds

Dance of Frost

Increases the level of Frostgnaw by three

Frozen Kiss

The following effects are triggered automatically when Kaeya's HP falls below 20%:

a shield is created that absorbs damage equal to 30% of Kaeya's Max HP and lasts for 20 seconds

The shield absorbs cryo damage with 250% efficiency
This can only occur once every 60 seconds

Frostbiting Embrace

Increases the level of Glacial Waltz by three

Glacial Whirlwind

An additional icicle is summoned when Glacial Waltz is used. It will also regenerate 15 energy when cast
What does it cost to ascend Kaeya?
Here's how much mora and what items you need to fully ascend Kaeya.
| | | |
| --- | --- | --- |
| Required level | Mora | Materials |
| 20 | 20,000 | One Shivada Jade Sliver, three Calla Lily, three Treasure Hoarder Insignia |
| 40 | 40,000 | Three Shivada Jade Fragment, two Hoarfrost Core, ten Calla Lily, 15 Treasure Hoarder Insignia |
| 50 | 60,000 | Six Shivada Jade Fragment, four Hoarfrost Core, 20 Calla Lily, 12 Silver Raven Insignia |
| 60 | 80,000 | Three Shivada Jade Chunk, eight Hoarfrost Core, 30 Calla Lily, 18 Silver Raven Insignia |
| 70 | 100,000 | Six Shivada Jade Chunk, 12 Hoarfrost Core, 45 Calla Lily, 12 Golden Raven Insignia |
| 80 | 120,000 | Six Shivada Jade Gemstone, 20 Hoarfrost Core, 60 Calla Lily, 24 Golden Raven Insignia |
If you want to know more about future characters, take a look at our Genshin Impact update guide.