There are many reasons why Genshin Impact is so popular. It features an expansive world full of tasks and quests, while also being beautiful to look at. However, what good is a world without interesting characters? Pretty, but bland, is the simple answer. Mihoyo is forever adding new faces, and the fresh, cryo character Shenhe is a chillingly beautiful addition to the cast.
If this mysterious character intrigues you like us, our Genshin Impact Shenhe guide is a must-read. This frosty beauty has been stealing fans' hearts since she was announced. She's a stunning, cryo-wielding adepti disciple with a heart-wrenching story and plenty of power in those delicate hands. To help you harness her great potential, we'll go into her skills, build, weapons, artifacts, and more.
Shenhe was released alongside Genshin Impact Yun Jin, another fresh geo addition following the introduction of Genshin Impact Itto and Genshin Impact Gorou. You can also check out our Genshin Impact tier list to see how these boys size up, and head over to our Genshin Impact codes list to grab some great freebies.
What is the Genshin Impact Shenhe release date and banner?
The Genshin Impact Shenhe release date is upon us! She came out alongside 'The Transcendent One Returns' banner on January 5, so you can grab her right now. Find out more about the Genshin Impact Shenhe banner in our Genshin Impact next banner guide.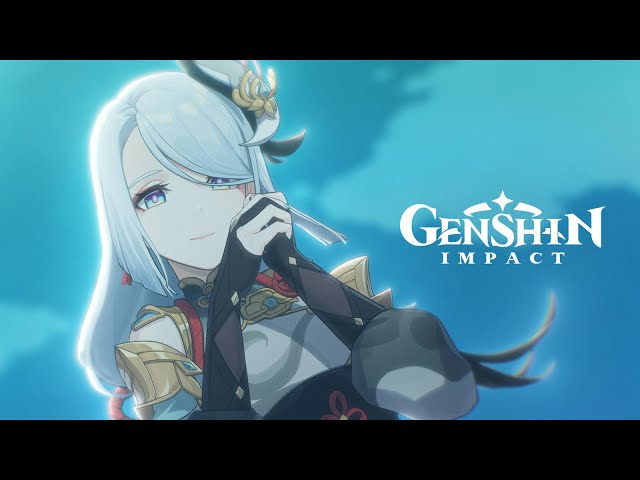 What is the best Genshin Impact Shenhe build?
Shenhe is a cryo polearm wielder, with both support and sub DPS capabilities, who can both buff her own and her teammate's cryo damage. She can also debuff enemies with her elemental burst, giving your DPS character the perfect opportunity to smash through enemy defences.
Depending on your team comp, you can also use Shenhe as a main DPS, granted you have another hydro and a cryo character in the side-lines. Teaming her up with Genshin Impact's Ganyu, Genshin Impact's Mona, Genshin Impact's Jean, Genshin Impact's Eula, or Genshin Impact's Diona is a great plan.
What is Genshin Impact Shenhe's best weapon?
We're still playing around with Shenhe's weapons right now, but these are the ones we think best compliment her at the moment.
As most of these are gacha, they can be a little hard to obtain for F2P players, so we've also included the Dragonspine Spear which can be forged in-game and will synergise well with Shenhe's cryo damage bonuses.
Weapon
Effect (level one)
How to obtain

Skyward Spine

Increases energy recharge by 8%
Black Wing:

increases critical rate by 8% and increases normal attack speed by 12%. Additionally, normal and charged attack hits on enemies have a 50% chance to trigger a vacuum blade that deals 40% of attack as damage in a small AoE. This effect can occur no more than once every two seconds

Gacha

Primordial Jade-Winged Spear

Increases critical rate by 4.8%


Eagle Spear of Justice:

on hit, increases Shenhe's attack by 3.2% for six seconds, for a maximum of seven stacks. This effect can only occur once every 0.3 seconds. While in possession of the maximum possible stacks, Shenhe's damage dealt is increased by 12%

Gacha

Lithic Spear

Increases attack by 6%


Lithic Axiom: Unity:

for every character in the party who hails from Liyue, Shenhe gains a 7% attack increase and a 3% crit rate increase. This effect stacks up to four times

Gacha

Calamity Queller

Increases attack


Extinguishing Precept:

Shenhe gains a 12% elemental damage bonus, and obtains Consummation for 20 seconds after using her elemental skill, causing her attack to increase by 3.2% per second. This attack increase has a maximum of six stacks. When Shenhe is not on the field, Consummation's attack increase is doubled

Gacha

Dragonspine Spear

Physical damage bonus increases by 15%.


Frost Burial:

hitting an enemy with normal and charged attacks has a 60% chance of forming and dropping an Everfrost Icicle above them, dealing 80% AoE attack damage. Enemies affected by cryo are dealt 200% attack damage. Can only occur once every ten seconds

Forge in Festering Fangs Quest, Forge via the Blacksmith
What are Genshin Impact Shenhe's best artifacts?
As with any Genshin character, you can equip Shenhe with up to five artifacts. Blizzard Strayer is a great pick, as it boosts her cryo and critical damage to dizzying heights, but the other two sets offer some brilliant stats for her too.
Feel free to mix sets of two artifacts, or a full set to make the most of your desired benefits. For example, the in-game trial equips Shenhe with two Gladiator's Finale and two Shimenawa's Resistances to dramatically increase her attack.
Artifact
Effect
How to obtain

Blizzard Strayer

Two pieces equipped: increases cryo damage bonus by 15%
Four pieces equipped: when Shenhe attacks an enemy affected by cryo, her crit rate is increased by 20%. If the enemy is frozen, her crit rate is increased by an additional 20%

Peak of Vindagnyr domain on Dragonspine in Mondstadt

Gladiator's Finale

Two pieces equipped: increases attack by 18%
Four pieces equipped: increases Shenhe's normal attack damage by 35%

Weekly bosses, world bosses, Domain Reliquaries from Spiral Abyss, and Artifact Strongbox: Gladiator's Finale

Shimenawa's Reminiscence

Two pieces equipped: increases attack by 18%
Four pieces equipped: when casting her elemental skill, if Shenhe has 15 or more energy, she loses 15 energy and her normal/charged/plunging attack damage is increased by 50% for ten seconds. This effect will not trigger again during that duration

Momiji-Dyed Court domain on Yashori Island in Inazuma
Alternate Artifacts
If you're struggling to snag a full set of the artifacts above, you can use these in the meantime. They can be found easily on your travels around Teyvat.
Artifact
Effect
The Exile
Two pieces equipped: increases energy recharge by 20%
Four pieces equipped: using an elemental burst regenerates two energy for all party members (excluding the wearer) every two seconds for six seconds. This effect cannot stack.
What are Genshin Impact Shenhe's abilities?
Here's a look at all of Genshin Impact Shenhe's talents and abilities. Her talent level up materials are teachings of prosperity, guide to prosperity, and philosophies of prosperity, which you can get from the Taishan Mansion domain, you can gather nectar from whopperflowers, and hellfire butterflies from La Signora.
Active talents:
Talents
Effect

Dawnstar Piercer (normal attack)

Performs up to five consecutive spear strikes

Dawnstar Piercer (charged attack)

Consumes a certain amount of stamina to lunge forward, dealing damage to opponents along the way

Dawnstar Piercer (plunging attack)

Plunges from mid-air to strike the ground below, damaging opponents along the path and dealing AoE damage upon impact

Spring Spirit Summoning

Grants all nearby party members the Icy Quill effect and deals cryo damage in different ways based on whether it is pressed or held.


Press:

rushes forward together with Talisman Spirit, dealing cryo damage to opponents along the path


Hold:

commands the Talisman Spirit to deal AoE cryo damage


Icy Quill:

when normal, charged, and plunging attacks, elemental skills, and elemental bursts deal cryo damage to opponents, the damage dealt is increased based on Shenhe's current attack. The Icy Quill's effects will be cleared once its duration ends or after being triggered a certain number of times. When held rather than pressed, the Icy Quill's effect lasts longer and can be triggered more times. When one cryo damage instance strikes multiple opponents, the effect is triggered multiple times based on the number of opponents hit. The number of times the effect is triggered is calculated independently for each party member with Icy Quill

Divine Maiden's Deliverance

Unleashes the power of the Talisman Spirit, allowing it to roam free in this plane, dealing AoE cryo damage. The Talisman Spirit then creates a field that decreases the cryo resistance and physical resistance of opponents within it. It also deals periodic cryo damage to opponents within the field
Passive talents:
Talents
Effect

Deific Embrace

An active character within the field created by Divine Maiden's Deliverance gains a 15% cryo damage bonus

Spirit Communion Seal

After Shenhe uses Spring Spirit Summoning, she will grant all nearby party members the following effects:


Press:

elemental skill and elemental burst damage increased by 15% for ten seconds


Hold:

normal, charged, and plunging attack damage increased by 15% for 15 seconds

Precise Comings and Goings

Gains 25% more rewards when dispatched on a Liyue Expedition for 20 hours
What are Genshin Impact Shenhe's constellations?
Here are all the bonuses you can get from levelling up Shenhe's constellations. You can only ascend these by pulling her on her gacha banner more than once, so good luck!
| | |
| --- | --- |
| Constellation | Effect |
| Clarity of Heart | Spring Spirit Summoning can be used one more time |
| Centered Spirit | Divine Maiden's Deliverance lasts for six seconds longer. Active characters within the skill's field deal 15% increased cryo crit damage |
| Seclusion | Increases the level of Spring Spirit Summoning by three. Maximum upgrade level 15 |
| Insight | When characters under the effect of Icy Quill applied by Shenhe trigger its damage bonus effects, Shenhe will gain a Skyfrost Mantra Stack. When Shenhe uses Spring Spirit Summoning, she will consume all stacks of Skyfrost Mantra, increasing the damage of that Spring Spirit Summoning by 5% for each stack consumed. Max 50 stacks, stacks last for 60 seconds |
| Divine Attainment | Increases the level of Divine Maiden's Deliverance by three. The maximum upgrade level is 15 |
| Mystical Abandon | When characters trigger Icy Quill's effects using normal and charged attack damage, it does not count towards the Trigger Quota |
What are Genshin Impact Shenhe's ascension materials?
Shenhe needs the following materials to ascend and increase her level cap. You can farm the nectar from whopperflowers, and find qingxin flowers around the mountains in Liyue. For the dragonheir's fins, you'll need to go against the new Bathysmal Vishap bosses on Enkanomiya.
| | | |
| --- | --- | --- |
| Level | Mora | |
| 20 | 20,000 | One shivada jade sliver, three qingxin flowers, three whopperflower nectar |
| 40 | 40,000 | Three shivada jade fragments, two dragonheir's false fin, ten qingxin flowers, 15 whopperflower nectar |
| 50 | 60,000 | Six shivada jade fragments, four dragonheir's false fin, 20 qingxin flowers, 12 shimmering nectar |
| 60 | 80,000 | Three Shivada jade chunks, eight dragonheir's false fin, 30 qingxin flowers, 18 shimmering nectar |
| 70 | 100,000 | Six shivada jade chunks, 12 dragonheir's false fin, 45 qingxin flowers, 12 energy nectar |
| 80 | 120,000 | Six shivada jade gemstones, 20 dragonheir's false fin, 60 qingxin flowers, 24 energy nectar |
And that's everything you need to know about Genshin Impact's Shenhe. If you need a break from the world of Teyvat, check out our picks for the best mobile RPGs to find your next adventure.