Keqing appeals to many Genshin Impact players due to her extremely high single-target DPS, and also because of her cute cat-girl looks. We recommend using Keqing as your main DPS and pairing her up with sub DPS characters like Ganyu and Xingqiu, with Bennett as support. Her passive skill also makes her an asset for Liyue exhibitions, so she is valuable outside of battle as well.
For those of you who have just obtained the electro, sword-wielding hero from a wish we've crafted a Genshin Impact Keqing build guide that includes information on skills, weapons, artifacts, and much more to help you master the character quickly.
If you're on the lookout for more content like this, make sure you check out our Genshin Impact codes list for some freebies and Genshin Impact tier list to make sure you have the best team possible. We can also help you out with other characters, take a look at our Genshin Impact Lisa and Genshin Impact Xiao guides.
The best Genshin Impact Keqing build
Keqing's charged attack is the strongest single-target DPS move in the game, making her an extremely valuable main DPS. When paired with a character that can trigger superconductor and a support character that can help boost damage, Keqing is formidable in battle.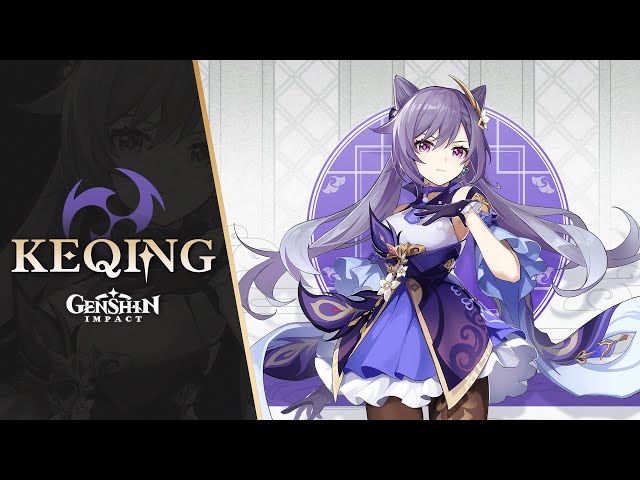 Which weapon should you use?
We recommend using a weapon that boosts crit rate or physical damage. Both weapons listed below are suitable choices.
| | |
| --- | --- |
| Weapon | Effect |
| The Black Sword | Increases the damage dealt by normal and charged attacks by 20%. Regenerates 60% of attack as HP when normal and charged attacks are critical hits, this can occur once every five seconds |
| Lion's Roar | Increases damage against enemies affected by pyro or electro by 20% |
Which artifact set should you use?
When choosing an artifact set, we recommend using either two Gladiator's Finale and two Thundering Fury, or a full Thundersoother set. Here are the effects to make your choice easier.
Artifact set
Effect

Gladiator's Finale

Two equipped:

attack +18%

Thundering Fury

Two equipped:

15% electro damage bonus

Thundersoother

Four equipped:

electro resistance increased by 40%. Damage against enemies affected by electro increased by 35%.
What are Keqing's skills?
Active skills:
| | |
| --- | --- |
| Skill | Effect |
| Yunlai Swordsmanship | Perform up to five strikes |
| Yunlai Swordsmanship (charged) | Performs two powerful strikes |
| Yunlai Swordsmanship (plunging) | Deals AoE damage on impact |
| Stellar Restoration (press) | Deals electro AoE in a small area by tossing a Lightning Stiletto |
| Stellar Restoration (hold) | Hold to adjust the direction of the attack |
| Starward Sword | Deals AoE electro damage, then further electro strikes |
Passive skills:
| | |
| --- | --- |
| Skill | Effect |
| Thundering Penance (unlocked at ascension one) | Within five seconds of using Stellar Resoration a second time, normal and charged attacks do electro damage |
| Aristocratic Dignity (unlocked at ascension four) | Starward Sword increases Keqing's critical rate and energy recharge by 15% |
| Land's Overseer (unlocked automatically) | Liyue expeditions take 25% less time |
What are Keqing's constellations?
To level up Keqing's constellations you must receive her as a duplicate when making a wish, this can be tedious, but the bonuses she receives are worth it.
| | |
| --- | --- |
| Constellation | Effect |
| Thundering Might | Recasting Stellar Restoration while a Lightning Stiletto is active causes Keqing to deal 50% of her attack as AoE electro damage |
| Keen Extraction | When Keqing's normal and charged attack's hit enemies affected by electro, they have a 50% chance of producing an Elemental Particle |
| Forseen Reformation | Increases the level of Starward Sword by three |
| Attunement | For ten seconds after Keqing triggers an electro elemental reaction, her attack is increased by 25% |
| Beckoning Stars | Increase the level of Stellar Restoration by three |
| Tenacious Star | When initiating a normal attack, charged attack, elemental skill or elemental burst, Keqing gains a 6% electro damage boost for eight seconds |
What does it cost to ascend Keqing?
Ascending Keqing greatly increases her crit damage, so we recommend gathering the ascension materials and leveling her up as soon as possible.
| | | |
| --- | --- | --- |
| Required level | Mora | Materials |
| 20 | 20,000 | One Vajrada Amethyst Sliver, three Cor Lapis, three Whopperflower Nectar |
| 40 | 40,000 | Three Vajrada Amethyst Fragment, two Lightning Prism, ten Cor Lapis, 15 Whopperflower Nectar |
| 50 | 60,000 | Six Vajrada Amethyst Fragment, four Lightning Prism, 20 Cor Lapis, 12 Shimmering Nectar |
| 60 | 80,000 | Three Vajrada Amethyst Chunk, eight Lightning Prism, 30 Cor Lapis, 18 Shimmering Nectar |
| 70 | 100,000 | Six Vajrada Amethyst Chunk, 12 Lightning Prism, 45 Cor Lapis, 12 Energy Nectar |
| 80 | 120,000 | Six Vajrada Amethyst Gemstone, 20 Lightning Prism, 60 Cor Lapis, 24 Energy Nectar |
There you have it, everything you need to know for a great Genshin Impact Keqing build. If you're looking for more games like this, take a look at our best gacha games list.