Our Genshin Impact Fischl guide will help you master the electro bow-wielding character and provide details on suitable weapons and artifacts for her to use. We've also put together a list that includes every item you need in order to ascend Genshin Fischl all the way to the top, as well as a guide to each of her constellations.
If you're on the lookout for other powerful characters, head on over our Genshin Impact tier list, and for some extra primogems, we've got a handy Genshin Impact codes guide. We can also help out with other popular characters. Here's everything you need to know about Genshin Impact's Xiao and Genshin Impact's Hu Tao.
Genshin Impact Fischl
What's the Genshin Fischl build?
Fischl is an amazing sub-DPS and battery, capable of providing plenty of energy particles to even non-electro characters. Her companion Oz acts as a super handy turret for constant electro application, and as such she excels at triggering elemental reactions, even from off-field.
She has high attack speed and both her skill and burst remain active when you swap to a different character. Her one downside is that she requires multiple constellations to truly shine, but as a four-star character that appears in the Paimon's bargains shop, she's not too difficult to obtain.
While Fischl can slot into a main DPS role, our recommendations here are based exclusively on using her as a sub-DPS as that is the role we feel she excels in the most.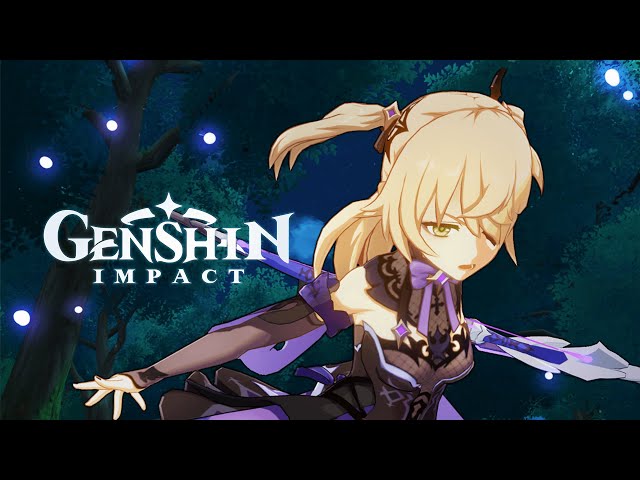 What is the best Genshin Fischl weapon?
Currently, the best weapon for Fischl is Aqua Simulacra, due to its skill increasing Oz's damage even when she's off the field, which perfectly compliments her quick rotation playstyle.
Stringless is also a great four-star, more affordable option, increasing Fischl's elemental mastery to buff her elemental reactions, and boosting her skill and burst damage.
Weapon
Effect

Aqua Simulacra

Bonus stat: crit damage +19.2%
Skill: increases HP by 16%. When there are opponents nearby, Fischl's damage is increased by 20%. This effect takes effect whether the character is on-field or not

Thundering Pulse

Bonus stat: Crit damage +14.4%
Skill: increases ATK by 20~40% and grants the might of the Thunder Emblem. At stack levels 1/2/3, the Thunder Emblem increases Normal Attack DMG by 12/24/40~24/48/80%. Fischl will obtain 1 stack of Thunder Emblem in each of the following scenarios: Normal Attack deals DMG (stack lasts 5s), casting Elemental Skill (stack lasts 10s); Energy is less than 100% (stack disappears when Energy is full). Each stack's duration is calculated independently.

Skyward Harp

Bonus stat: Crit rate +4.8%
Skill: increases CRIT DMG by 20~40%. Hits have a 60~100% chance to inflict a small AoE attack, dealing 125% Physical ATK DMG. Can only occur once every 4~2s.

The Stringless

Bonus stat: elemental mastery +36
Skill: increases elemental skill and burst damage by 24%

Mouun's Moon

Bonus stat: Attack +6%
Skill: for every point of the entire party's combined maximum Energy capacity, the Elemental Burst DMG of Fischl is increased by 0.12~0.24%. A maximum of 40~80% increased Elemental Burst DMG can be achieved this way.

What are the best Genshin Fischl artifacts?
Thundering Fury is a good choice for Fischl, as it increases her electro damage and the impact of her elemental reactions. You can also mix two Thundering Fury with two Gambler or two Gladiator's Finale to reap the benefits of the two-equipped buffs.
Artifact set
Effect

Thundering Fury

Two equipped: Electro damage increased by 15%
Four equipped:

Increases damage caused by overload, electro-charged, and superconduct by 40%. Triggering these effects also decreases elemental skill cooldown by one second. This can only occur once every 0.8 seconds

Gladiator's Finale

Two equipped: Attack increased by 18%
Four equipped:

If the wielder of this artifact set uses a sword, claymore, or polearm, their normal attack damage is increased by 35%

Gambler

Two equipped: increases elemental skill damage by 20%
Four equipped: defeating an enemy has a 100% chance to remove Fischl's elemental skill cooldown. Can only occur once every 15 seconds
Artifact stat recommendations
Main stats
Sands – Attack% or elemental mastery
Goblet – electro damage bonus
Circlet – crit rate or crit damage (try to maintain a 2:1 ratio)
Sub-stats
Crit rate/crit damage
Attack%
Elemental mastery
What are Genshin Fischl's skills?
Active skills:
| | |
| --- | --- |
| Skill | Effect |
| Bolts of Downfall | Performs five shots |
| Bolts of Downfall (charged) | Performs a powerful aimed shot. When fully charged, the arrow will deal electro damage |
| Bolts of Downfall (plunging) | Deals AoE damage on impact |
| Nightrider (press) | Summons Oz to deal AoE electro damage. For the skill's duration, Oz will continuously attack enemies |
| Nightrider (hold) | Hold to adjust the summon location of Oz. Press again during the ability's duration to summon Oz to Fischl's side |
| Midnight Phantasmagoria | Fischl takes on Oz's form, increasing her movement speed and striking nearby enemies with lightning. Oz remains on the battlefield when this ends |
Passive skills:
| | |
| --- | --- |
| Skill | Effect |
| Stellar Predator (Unlocked at ascension one) | Hit Oz with a fully charged Bolts of Downfall and he will deal AoE damage equal to 152.7% of the arrow's damage |
| Lightning Smite (Unlocked at ascension four) | If an electro elemental reaction happens when Oz is present, the enemy will receive electro damage equal to 80% of Fischl's attack |
| Mein Housgarten (Unlocked automatically) | Expeditions in Mondstadt take 25% less time |
What are Genshin Fischl's constellations?
You can level up Fischl's constellations after receiving her as a duplicate when making a wish. Here's every bonus you receive when activating them.
| | |
| --- | --- |
| Constellation | Effect |
| Gaze of the Deep | Even when Oz is not present in combat, he still watches over you. When Fischl attacks an enemy, Oz will fire a joint attack, that deals 22% of her attack damage |
| Devourer of All-Sins | Nightrider deals an additional 200% attack as damage and its AoE is increased by 50% |
| Wings of Nightmare | Increases the level of Nightrider by three |
| Her Pilgrimage of Bleak | Midnight Phatasmagoria deals 222% of attack as AoE electro damage. When the skill ends, Fischl will regenerate 20% of her HP |
| Against the Fleeing Light | Increases the level of Midnight Phantasmagoria by three |
| Evernight Raven | Increases the duration Oz is summoned by two seconds. He also attacks with the current character when present, dealing 30% of Fischl's attack as electro damage |
What are Genshin Fischl's ascension materials?
You need to save up a lot of Small Lamp Grass in order to ascend Fischl. Luckily, this is fairly easy to come by! Here's everything you need to collect for each rank.
| | | |
| --- | --- | --- |
| Required level | Mora | Materials |
| 20 | 20,000 | One Vajrada Amethyst Sliver, three Small Lamp Grass, three Firm Arrowhead |
| 40 | 40,000 | Three Vajrada Amethyst Fragment, two Lightning Prism, ten Small Lamp Grass, 15 Firm Arrowhead |
| 50 | 60,000 | Six Vajrada Amethyst Fragment, four Lightning Prism, 20 Small Lamp Grass, 12 Sharp Arrowhead |
| 60 | 80,000 | Three Vajrada Amethyst Chunk, eight Lightning Prism, 30 Small Lamp Grass, 18 Sharp Arrowhead |
| 70 | 100,000 | Six Vajrada Amethyst Chunk, 12 Lightning Prism, 45 Small Lamp Grass, 12 Weathered Arrowhead |
| 80 | 120,000 | Six Vajrada Amethyst Gemstone, 20 Lightning Prism, 60 Small Lamp Grass, 24 Weathered Arrowhead |
What are Genshin Fischl's talent level up materials?
If you want to level all of Fischl's talents up to ten you'll need to fight a lot of Hilichurl Shooters, but that's a perfect excuse to show off your aiming skills
| | | |
| --- | --- | --- |
| Level | Mora | Materials |
| Two | 12,500 | Six Firm Arrowhead, three Teachings of Ballad |
| Three | 17,500 | Three Sharp Arrowhead, two Guide to Ballad |
| Four | 25,000 | Four Sharp Arrowhead, four Guide to Ballad |
| Five | 30,000 | Six Sharp Arrowhead, six Guide to Ballad |
| Six | 37,500 | Nine Sharp Arrowhead, nine Guide to Ballad |
| Seven | 120,000 | Four Weathered Arrowhead, four Philosophies of Ballad, one Spirit Locket of Boreas |
| Eight | 260,000 | Six Weathered Arrowhead, six Philosophies of Ballad, one Spirit Locket of Boreas |
| Nine | 450,000 | Nine Weathered Arrowhead, 12 Philosophies of Ballad, two Spirit Locket of Boreas |
| Ten | 700,000 | 12 Weathered Arrowhead, 16 Philosophies of Ballad, two Spirit Locket of Boreas, one Crown of Insight |
Genshin Impact Fischl skin
Fischl is getting a gorgeous new Genshin Impact skin which you can obtain for free through the Resonating Visions event in version 2.8. Find out more in our Genshin Impact events guide.
For more info on what's going on in Teyvat, check out our Genshin Impact next banner guide and Genshin Impact update guide.