Are you having trouble keeping on top of the Honkai Star Rail update schedule? Wanna know what the current update is introducing and what the next update is set to bring? Well, sit back and relax, dear passenger, as PT Pom-Pom is here to play as your personal travel guide, filling you in on all the latest content, characters, and more coming in the next HSR update.
If you need a bit more help on your astral adventure, check out our Honkai Star Rail tier list, Honkai Star Rail characters, and Honkai Star Rail banner guides. We've also got a super handy list of all the latest Honkai Star Rail codes, as well as details on all the current and upcoming Honkai Star Rail events.
When is the next Honkai Star Rail update?
The Honkai Star Rail 1.4 update release date is Wednesday, October 11. Before that, the game went into maintenance for roughly five hours starting August 29 at 15:00 PST / 18:00 EST / 23:00 BST, or August 30 at 6:00 UTC+8.
If you reach Trailblaze level 4 or higher by the time a maintenance period starts, you will receive a minimum of 300 stellar jade in your in-game mailbox as compensation after maintenance concludes.
Hoyoverse is yet to confirm the Honkai Star Rail 1.5 update release date, but we predict that it will land on Wednesday, November 22. Of course, we'll be sure to update this guide as soon as we know for sure.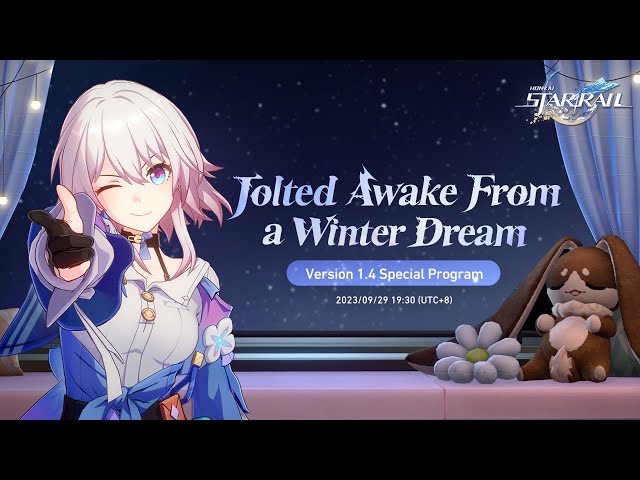 When is the next Honkai Star Rail livestream?
The Honkai Star Rail 1.4 livestream went live on Friday, September 29 at 4:30 PDT / 7:30 EDT / 12:30 BST / 19:30 UTC+8 on the official Honkai Star Rail Twitch and Youtube channels.
Who are the new characters on the Honkai Star Rail update 1.4 banners?
Hoyoverse has announced that the first Honkai Star Rail 1.4 banner features the new five-star character, Honkai Star Rail's Jingliu. The second phase features the first concurrent banner, with Honkai Star Rail's Topaz making her debut alongside Honkai Star Rail Seele's rerun. The new four-star, Honkai Star Rail Guinaifen also appears on Seele and Topaz's banner.
In addition to the new characters featured in the 1.4 update, there's also the Brilliant Fixation banners that run alongside them featuring their signature Honkai Star Rail light cones. Check out our Honkai Star Rail banners guide to keep up to date with all current and upcoming banners.
Is there a new area in Honkai Star Rail update 1.4?
It doesn't look like we're off to a new planet just yet, but there's plenty of new stuff to explore in Jarilo-VI, as well as some extra content in the Xianzhou Luofu.
Are there any new quests in Honkai Star Rail 1.4?
Version 1.4 sees the Trailblaze Continuance missions, Future Market. There's plenty more content, too, including a companion mission for the new Jingliu.
What are the Honkai Star Rail 1.4 events?
As always, there are a bunch of exciting Honkai Star Rail events in version 1.4, including the exciting Atherium Wars tournament, plus some fresh developments to the Honkai Star Rail Simulated Universe.
That's all we've got on the current Honkai Star Rail update for now, but keep your eyes peeled as we'll be updating this guide with fresh information in the future. In the meantime, be sure to check out our list of the best games like Genshin Impact for more worlds to explore.