Are you having trouble keeping on top of the Honkai Star Rail update schedule? Wanna know what the current update is introducing and what the next update is set to bring? Well, sit back and relax, dear passenger, as PT Pom-Pom is here to play as your personal travel guide, filling you in on all the latest content, characters, and more coming in the next HSR update.
If you need a bit more help on your astral adventure, check out our Honkai Star Rail tier list, Honkai Star Rail characters, and Honkai Star Rail banner guides. We've also got a super handy list of all the latest Honkai Star Rail codes, as well as details on all the current and upcoming Honkai Star Rail events.
Will there be a Honkai Star Rail livestream?
With the massive popularity of the Genshin Impact update livestreams, it's a fair question to ask whether Honkai Star Rail will get the same treatment.
Well, on March 17, we got some official insight on this matter, as Hoyoverse announced the first Honkai Star Rail livestream, the Boarding Preparation Special Program, which went live on Friday March 24, 2023, at 19:30 UTC+8 / 4:30 PST / 7:30 EST / 11:30 GMT, on the official Honkai Star Rail Twitch and Youtube channels. During the livestream, Hoyoverse's Dawei and Bamboo highlight the various features and events we can expect come the Honkai Star Rail release date.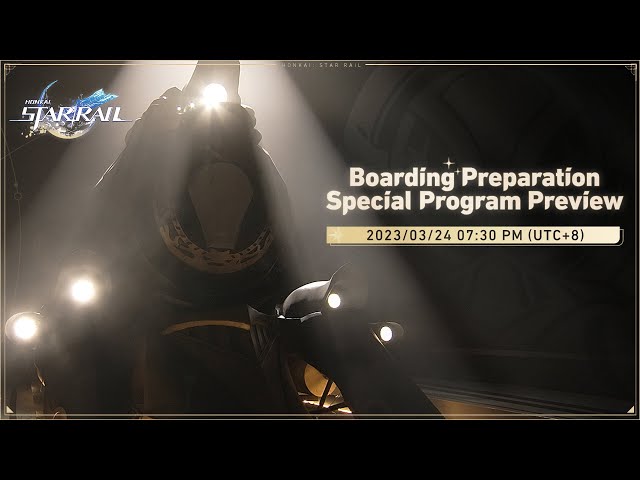 When is the next Honkai Star Rail update?
Now that the beta is over, our next 'update' will be the Honkai Star Rail release date itself! However, we're sure plenty of exciting updates will offer more changes in the future. If Honkai follows a similar pattern to the Genshin Impact update schedule, we should expect Honkai Star Rail 1.1 around six weeks after the release date, but we'll be sure to update this guide as soon as we have more solid information.
Who are the new characters in the latest Honkai Star Rail update?
The final closed beta introduced us to several new characters that we hadn't met during our last trailblazing adventure. They are:
We think it's unlikely we'll meet anyone else in 1.0, though we may hear a little more about the elusive Honkai Star Rail's Fu Xuan.
During the livestream, Hoyoverse also announced that Honkai Star Rail Seele and Honkai Star Rail Jing Yuan will feature on the version 1.0 banners. Check out our Honkai Star Rail banner guide to find out more.
Is there a new region in the latest Honkai Star Rail update?
The final beta ushered in the addition of a new world – the Xianzhou Luofu – where we can continue our journey after completing the main story quests on Jarilo-VI. During the livestream, we saw even more footage of this stunning world, leading us to believe it will be available in version 1.1.
The Xianzhou Luofu is a beautiful, advanced warship, where we get to meet a whole host of interesting characters including Tingyun, Jing Yuan, Yanqing, and more.
That's all we've got on the current Honkai Star Rail update for now, but keep your eyes peeled as we'll be updating this guide with fresh information in the future. In the meantime, be sure to check out our list of the best games like Genshin Impact for more worlds to explore.