Great news for those of you who love going to Freddy Fazebear's pizzeria, as there's a FNAF movie on the way, and it promises to be full of jumpscares and spooks, as is the tradition with this franchise. Since we can't wait, we just had to put together this guide, where we look at a possible FNAF movie release date, trailer, cast, and more.
Should you want to know more about the animatronics that are the reason for the success of the franchise, our FNAF characters, FNAF Chica, and FNAF Foxy guides are a great read. Or, to discover some other terrifying toys, our Poppy Playtime characters, Poppy Playtime PJ Pug-a-Pillar, Poppy Playtime Poppy, Poppy Playtime Mommy Long Legs, Poppy Playtime Huggy Wuggy, and Poppy Playtime Kissy Missy articles are a great read.
Anyway, onto everything you need to know about the FNAF movie.
FNAF movie release date speculation
Filming for the Five Nights at Freddy's film begins later this year, so there's no FNAF movie release date yet. However, if we were to hazard a guess, we'd say it's likely to be the end of 2023 or the first half of 2024.
Who is part of the FNAF movie cast?
So far, the confirmed FNAF movie cast members are:
Matthew Lillard as William Afton
Josh Hutcherson as Mike Schmidt
Mary Stuart Masterson as an unnamed villain
Piper Rubio as Abby Schmidt
What animatronics are in the FNAF movie?
We can't say for certain which animatronics are due to appear, but Freddy is bound to. Howeveer, here's a list of possible characters:
Is there a FNAF movie trailer?
Given filming is still ongoing, no, there's no FNAF movie trailer yet. However, if you want to get a feel for what the teaser clip may look like, concept trailer YouTube channel SLUURP has put one together: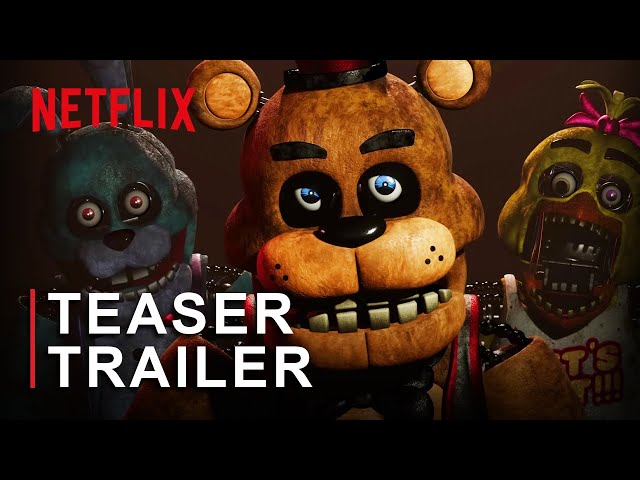 Who is the FNAF movie production company?
Blumhouse is the production company for the FNAF movie, and that fills us with joy when you look at its pedigree in the horror genre, with films such as:
The Purge (multiple films)
Insidious (multiple films)
Happy Death Day (multiple films)
Freaky
The Invisible Man
Halloween (as well as Halloween Kills and Halloween ends)
Split
Get Out
The Exorcist
And many more.
There you have it, everything we currently know about the FNAF movie. If you need a spooky fix right now, you should head over to our sister site, The Digital Fix, who has lists of the best horror movies, best horror series, best slasher movies, best horror anime, and best Netflix horror movies. Or, if it's a videogame fix that you're after, our best Switch horror games and best mobile horror games guides can help you.
Should you be after a spooky experinece without toys, give our Dead by Daylight characters and Dead by Daylight killers guides a read. We even have a Dead by Daylight codes guide to help you out, no matter which role you take on.