While most of Fontaine is swept up in the spectacle of the court, there are other characters in the shadows like Genshin Impact's Clorinde, commonly referred to as Captain R. We briefly caught sight of her in a recent trailer, and meet her in Fontaine, so here's what we know about the character so far.
For more information on the upcoming Genshin Impact Fontaine region, check out some of the other characters like Genshin Impact's Charlotte, Genshin Impact's Neuvillette, and Genshin Impact's Wriothesley.
Now to dive into our Genshin Impact Clorinde guide.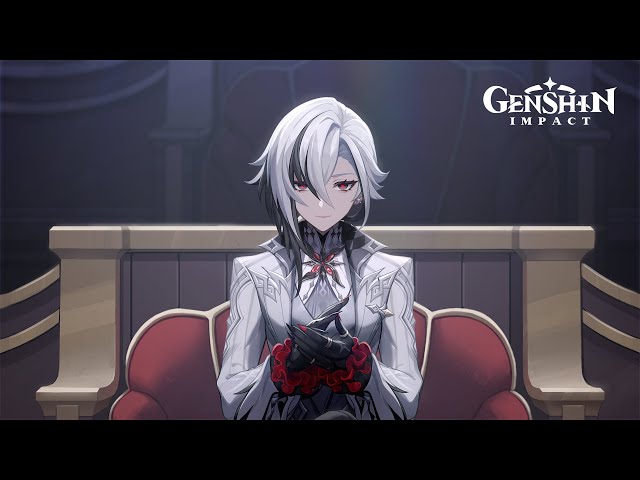 Who is Genshin Impact's Clorinde?
Clorinde is a tall female character with dark blue hair and a bycocket hat. We know that Clorinde uses the electro element – if you pause the trailer at the right time, you can spot her vision around her neck. She primarily uses a sword in the game, though she shoots a pistol as well so this may feature in her skill or ultimate, similar to Genshin Impact's Mika with a crossbow.
We meet her very early in our Fontaine adventure, where she appears alongside Focalors – perhaps as a bodyguard of sorts. She is a Champion Duelist and is revered across the region for it.
Clorinde's voice actors are Crystal Lee and Yui Ishikawa.
What do we know about Genshin Impact Clorinde's build?
In the Version 4.0 special program, Clorinde made a quick appearance, wielding an Iron Sting – a sword. She is also an electro user as her vision is clearly visible on her person, plus the sword imbues with electro energy during her first appearance.
While it may be too early to suggest specifics, if you really want to get ahead and start preparing for Clorinde, we can suggest a good set of Thundering Fury artifacts. We see her using an Iron Sting, however, there are many better sword options out there.
Are Genshin Impact's Captain R and Clorinde the same character?
Judging by leaked artwork and the model we've now seen in the trailer, the character dubbed 'Captain R' in the leaks is the same as Clorinde.
Genshin Impact's Clorinde release date speculation
We believe Clorinde will release in one of the 4.0 patches of Genshin Impact, during the Fontaine region's updates. There's no confirmation of exactly when or whether Clorinde is a four- or five-star just yet.
For you fellow Hoyo fans, here are the latest Honkai Star Rail codes so you can pull a shiny, new Honkai Star Rail Luocha or Honkai Star Rail Yukong. Or, add them to the pile to save up for Honkai Star Rail's Blade.