Genshin Impact's Thoma arrived in Teyvat as a playable character alongside the Moment of Bloom banner in November 2021. This handsome character has a pyro vision and wields a polearm. He's known as a fixer, and originally made his debut during the Inazuma storyline.
Our Genshin Impact Thoma guide will attempt to shed some light on the character. You can learn all about his banner, ascension materials, skills, and our recommended build, we'll update this guide with information on the polearm-wielding pyro character as soon as we manage to get our hands on it.
If you're curious about other characters, make sure you check out our Genshin Impact Hu Tao, Genshin Impact Diona, and Genshin Impact Sayu guides. We also have articles that outline exactly what you can expect from the upcoming Genshin Impact update and the next Genshin Impact banner.
WHAT IS THE BEST THOMA BUILD?
Thoma is best suited to a support or sub DPS role, so use him in whichever position you require. We recommend using him in a team with Genshin Impact's Tartaglia when using Thoma as a support character.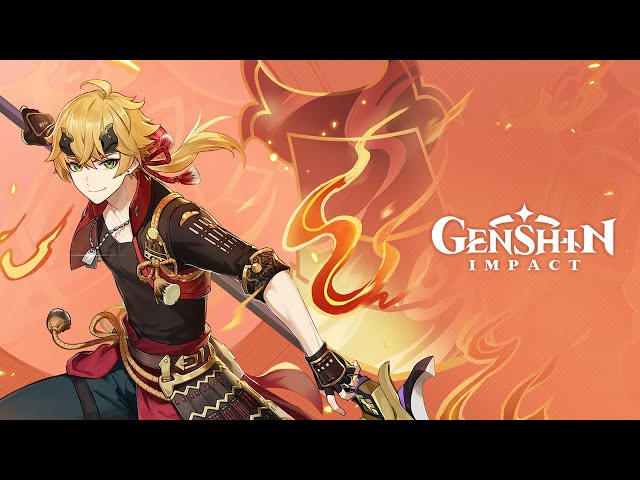 Upcoming characters: find out more about the next Genshin Impact banner
Which weapon should you use?
The Staff of Homa is our favourite weapon for Thoma, regardless of whether you play him as a support or sub DPS character. If you don't have the Staff of Home, feel free to use The Catch polearm.
| | |
| --- | --- |
| Weapon | Effect |
| Staff of Homa | HP increases by 20%. Thoma receives an attack bonus based on 0.8% of his max HP. When Thoma's HP is less than 50%, the attack bonus is increased by an additional 1% of his max HP |
| The Catch | Increases elemental burst damage by 16% and elemental burst critical rate by 6% |
Which artifact set should you use?
Our preferred Thoma build has him equipped with four items from the Emblem of Severed Fate. However, if you don't have four pieces, feel free to equip two items from the sets below.
Artifact set
Effect
Emblem of Severed Fate
Two equipped: energy recharge increases by 20%
Four equipped: elemental burst damage increases by 25% of Thoma's energy recharge. A maximum of 75% bonus damage can be obtained in this way
Tenacity of the Millelith
Two equipped: HP increases by 20%
Four equipped: when an elemental skill hits an enemy, the attack of nearby party members is increased by 20% and their shield strength is increased by 30% for three seconds. This can be triggered once every 0.5 seconds. It can still be triggered even when Thoma is not on the field
Genshin Impact Thoma skills
Active skills:
Skill
Effect
Swiftshatter Spear
Perform up to four consecutive spear strikes
Swiftshatter Spear (charged)
Consume stamina to lunge forward, dealing damage to enemies along the way
Swiftshatter Spear (plunging)
Thoma plunges from mid-air to strike the ground, damaging enemies and dealing AoE damage
Blazing Blessing
Thoma launches forward with his polearm and delivers a flying kick that deals AoE pyro damage, while also summoning a Blazing Barrier. When Thoma casts Blazing Blessing, his elemental skill applies pyro to himself.
Blazing Barrier: pyro damage is absorbed 250% more effectively. When a new Blazing Barrier is obtained, the remaining absorption of an existing barrier stacks, and the duration is refreshed
Crimson Ooyoroi
Thoma spins his polearm, dealing AoE pyro damage and weaving himself into a Scorching Ooyoroi.
Scorching Ooyoroi: While Scorching Ooyoroi is in effect, the active character's normal attacks trigger Fiery Collapse, this deals AoE pyro damage and summons a Blazing Barrier. Fiery Collapse can be triggered once every one second. Except for the amount of damage they can absorb, the Blazing Barriers created in this way are identical to those created by Blazing Blessing. If Thoma falls, the effects of Scorching Ooyoroi are cleared
Passive skills:
| | |
| --- | --- |
| Skill | Effect |
| Imbricated Armor | When you obtain or refresh a Blazing Barrier, your shield strength will increase by 5% for six seconds. You can trigger this once every 0.35 seconds |
| Flaming Assault | Damage dealt by Crimson Ooyoroi's Fiery Collapse is increased by 2.2% of Thoma's Max HP |
| Snap and Swing | When you successfully fish in Inazuma, Thoma's help grants a 20% chance of scoring a double catch |
What are Thoma's constellations?
You need to use one Stella Fortuna for each constellation you activate. You obtain these when you receive a duplicate Thoma from a wish.
| | |
| --- | --- |
| Constellation | Effect |
| A Comrade's Duty | When a character other than Thoma that's protected by his Blazing Barrier is attacked, Thoma's Blazing Blessing and Crimson Ooyoroi cooldown is decreased by three seconds. This can be triggered once every 20 seconds |
| A Subordinate's Skills | Crimson Ooyoroi's duration is increased by three seconds |
| Fortified Resolve | Increases the level of Blazing Blessing by three |
| Long-Term Planning | After using Crimson Ooyoroi, 15 energy is restored to Thoma |
| Raging Wildfire | Increases the level of Crimson Ooyoroi by three |
| Burning Heart | When a Blazing Barrier is obtained or refreshed, the damage dealt by all party members' normal, charged, and plunging attacks is increased by 15% for six seconds |
What does it cost to ascend Thoma?
Here's everything you need in order to fully ascend Thoma.
| | | |
| --- | --- | --- |
| Required level | Mora | Materials |
| 20 | 20,000 | One Agnidus Agate Sliver, three Treasure Hoarder Insignia, three Fluorescent Fungus |
| 40 | 40,000 | Three Agnidus Agate Fragment, 15 Treasure Hoarder Insignia, two Smoldering Pearl, Ten Fluorescent Fungus |
| 50 | 60,000 | Six Agnidus Agate Fragment, 12 Silver Raven Insignia, four Smoldering Pearl, 20 Fluorescent Fungus |
| 60 | 80,000 | Three Agnidus Agate Chunk, 18 Silver Raven Insignia, eight Smoldering Pearl, 30 Fluorescent Fungus |
| 70 | 100,000 | Six Agnidus Agate Chunk, 12 Golden Raven Insignia, 12 Smoldering Pearl, 45 Fluorescent Fungus |
| 80 | 120,000 | Six Agnidus Agate Gemstone, 24 Golden Raven Insignia, 20 Smoldering Pearl, 60 Fluorescent Fungus |
If you want to learn which characters are best, feel free to check out our Genshin Impact tier list.