Ah, Traveler, we meet again! Genshin Impact's Venti is a free-spirited bard from Mondstadt who loves nothing more than singing a tune and sipping on a glass of dandelion wine. He also happens to be Barbatos, the Anemo Archon. Luckily, with the wind on your side you can do just about anything, so let's dive into the best Genshin Venti build, including his skills, artifacts, weapons, and more.
If you need help with builds for other characters, take a look at our Genshin Impact Klee and Genshin Impact Xiao guides. For more content like this, head on over to our Genshin Impact tier list to see where your favourite character ranks, as well as our Genshin Impact codes list for some handy in-game goodies.
Genshin Impact Venti
What's the best Genshin Venti build?
Venti is a five-star anemo bow wielder with powerful grouping and crowd control abilities that allow him to support and enable his allies, even when off the field. He's energy efficient, has high elemental application with his swirls, and requires very little field time. Venti is also super flexible, and can slot into just about any team.
Unfortunately, Venti's pull is a bit unreliable and sometimes outright ineffective against heavier enemies, making it hard for him to compete against fellow anemo boy, Genshin Impact's Kazuha. However, he's still a very valuable character, and his flexibility, unique kit, and range will never fail to blow you away.
Generally, you can build Venti in two ways. Elemental mastery Venti focuses on swirl damage and elemental interactions, whereas crit Venti focuses on dealing anemo damage through his talents.
As crit Venti is a bit more reliant on getting constellations for him, in this guide we'll be focusing on elemental mastery Venti. If you'd prefer try out the crit build, check out the super detailed Keqingmains guide.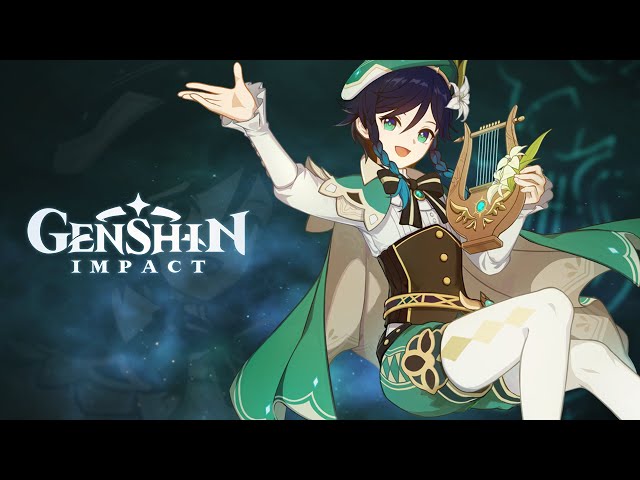 What's the best Genshin Venti weapon?
Elegy for the End is our top pick for Venti, offering a great buff and enough energy recharge to make building his artifacts much easier. It can be a little tricky to make the most of its skill due to its cooldown not aligning with Venti's burst but, overall, it's still the best option for overall team damage.
Alternatively, The Stringless at R5 is a super strong competitor. Its passive skill contributes to Venti's skill and burst damage, and its valuable elemental mastery base stat is perfect for boosting his swirl damage.
Weapon
Effect
Elegy for the End
Base stat: energy recharge
Skill: increases elemental mastery by 60. When the equipping character hits an enemy with an elemental skill or elemental burst, they gain a Sigil of Remembrance. You can trigger this effect once every 0.2 seconds, even if the character is not on the field. When you possess four sigils, all of them are consumed and all nearby party members obtain the Millenial Movement: Farewell Song effect for 12 seconds, which increases elemental mastery by 100 and attack by 20%. Once this effect triggers, you don't gain any new sigils for 20 seconds. Buffs of the same type do not stack

The Stringless

Base stat: elemental mastery
Skill: increases elemental skill and elemental burst damage by 24%
What are the best Genshin Impact Venti artifacts?
Without a doubt, Viridescent Venerer is the best set for Venti. It offers him a substantial boost to his personal damage, while also boosting the damage of his teammates.
However, if you've got another anemo unit holding a four-piece set of Viridescent Venerer, you can give Venti a full set of Gilded Dreams. This is a situational option that binds you to having that other VV holder alongside him, but offers some substantial damage in the right team comps. We generally recommend sticking with VV for the sake of team flexibility, though.
Artifact set
Effect

Viridescent Venerer

Two equipped: 15% anemo damage bonus
Four equipped:

Increases swirl damage by 60%. Decreases the opponent's elemental resistance to the swirl element by 40% for ten seconds

Gilded Dreams
Two equipped: elemental mastery +80
Four equipped: within eight seconds of triggering an elemental reaction, the equipping character obtains buffs based on the elemental type of the other party members. Attack increases by 14% for each party member whose elemental type is the same as the equipping character, and elemental mastery increases by 50 for every party member with a different elemental type. Each of these buffs count up to three characters. This effect can trigger once every eight seconds. The equipping character can still trigger this effect when not on the field
Alternate artifact set
If you're having trouble tracking down the sets mentioned above, go ahead and equip this easy to find set.
Artifact set
Effect
The Exile
Two equipped: increases energy recharge by 20%
Four equipped: elemental bursts regenerate two energy for all party members (excluding the wearer) every two seconds for six seconds. This effect cannot stack
Artifact stat recommendations
Main stats
Goblet – elemental mastery
Sands – elemental mastery (you can swap this out for an energy recharge sands if necessary, as long as you have an elemental mastery weapon equipped)
Circlet – elemental mastery
Sub-stats
Energy recharge
Elemental mastery
Attack%
Crit rate/crit damage (try to maintain a 1:2 ratio)
What are Genshin Venti's skills?
Active skills:
| | |
| --- | --- |
| Skill | Effect |
| Divine Archery | Performs six shots |
| Divine Archery (charged) | Performs a more precise and powerful shot |
| Divine Archery (plunging) | Deals AoE damage on impact |
| Skyward Sonnet (press) | Deals AoE anemo damage and launches enemies into the air |
| Skyward Sonnet (hold) | Deals AoE anemo damage and launches enemies into the air. After using the hold version of this ability, Venti will ride the wind into the air |
| Wind's Grand Ode | Pulls enemies together and deals AoE damage |
Passive skills:
| | |
| --- | --- |
| Skill | Effect |
| Embrace of Winds (unlocked at ascension one) | Holding Skyward Sonnet causes it to last for 20 seconds |
| Stormeye (unlocked at ascension four) | Wind's Grand Ode regenerates 15 energy |
| Windrider (unlocked automatically) | Decreases stamina consumption for the party by 30% |
What are Genshin Venti's constellations?
Leveling up constellations can be tedious as you need to receive lots of duplicate Venti from wishes. Although the process is annoying, the buffs gained are worth it.
Constellation
Effect

Splitting Gale

Two additional arrows are fired per aimed shot, each dealing 33% of the original arrow's damage

Breeze of Reminiscence

Skyward Sonnet decreases enemy anemo resistance by 12% for ten seconds.

Enemies launched into the air by Skyward Sonnet receive an additional 12% anemo and physical resistance decrease while airborne

Ode to Thousand Winds

Increases the level of Wind's Grand Ode by three

Hurricane of Freedom

When Venti picks up an elemental orb or particle, he'll receive a 25% anemo damage bonus for ten seconds

Concierto dal Cielo

Increases the level of Skyward Sonnet by three

Storm of Defiance

Targets that take damage from Wind's Grand Ode have their anemo resistance decreased by 20%.
What are Genshin Venti's ascension materials?
You'll need to save up a lot of mora and gather some rare items in order to ascend Venti. Here's everything you need to collect.
| | | |
| --- | --- | --- |
| Required level | Mora | Materials |
| 20 | 20,000 | One Vayuda Turquoise Sliver, three Cecilia, three Slime Condensate |
| 40 | 40,000 | Three Vayuda Turquoise Fragment, two Hurricane Seeds, ten Cecilia, 15 Slime Condensate |
| 50 | 60,000 | Six Vayuda Turquoise Fragment, four Hurricane Seeds, 20 Cecilia, 12 Slime Secretions |
| 60 | 80,000 | Three Vayuda Turquoise Chunk, eight Hurricane Seeds, 30 Cecilia, 18 Slime Secretions |
| 70 | 100,000 | Six Vayuda Turquoise Chunk, 12 Hurricane Seeds, 45 Cecilia, 12 Slime Concentrate |
| 80 | 120,000 | Six Vayuda Turquoise Gemstone, 20 Hurricane Seeds, 60 Cecilia, 24 Slime Concentrate |
How tall is Genshin's Venti?
Despite being an age-old archon, it's estimated that Venti of Genshin Impact's height is 5'5″, or 165cm. That makes him the second shortest male character in the game, second only to Genshin Impact's Xiao.
There you have it! Everything you need to know in order to master Venti Genshin Impact. If you're looking for something new to play, take a look at our list of the best gacha games.