Genshin Impact's Barbara is a self-proclaimed idol who is loved by every citizen in Mondstadt. This four-star hydro character can provide some decent heals and is best placed in a support role. Our Genshin Barbara build features all of her skills, constellations, best weapons and artifacts, and more, so you can make the most of this adorable little optimist.
For those of you who are in need of some extra primogems, head on over to our Genshin Impact codes guide, then, after making a wish, check out our Genshin Impact tier list to see where your newly obtained character ranks. We can also help you with other popular characters, take a look at our Genshin Impact Ningguang and Genshin Impact Hu Tao guides.
Genshin Impact Barbara
How do I get the Genshin Barbara skin?
You can pick up the new Genshin Impact skin for Barbara by taking part in the Echoing Tales event. We don't know too much about the event just yet, but we will update this page with details as soon as we have them.
What's The best Genshin Barbara build?
Barbara is best suited to a support role as she can dish out some pretty impressive heals and automatically revive characters at constellation level six. We recommend using her in a team with another hydro character, such as Genshin Impact's Mona, to take advantage of hydro elemental resonance, which increases healing by 30%.
Alternatively, since the arrival of Sumeru and the dendro element, players have found Barbara to be pulling some amazing damage when combined with Genshin Impact's Collei and either Genshin Impact's Tighnari or the dendro Genshin Impact Traveler. This is due to the way her elemental skill's ring treats entities, and the way the game treats the dendro seed pods created by the bloom reaction. Currently, it looks like this may be a bug, but it's still worth playing around with and may just give her a new lease of life in the fresh region!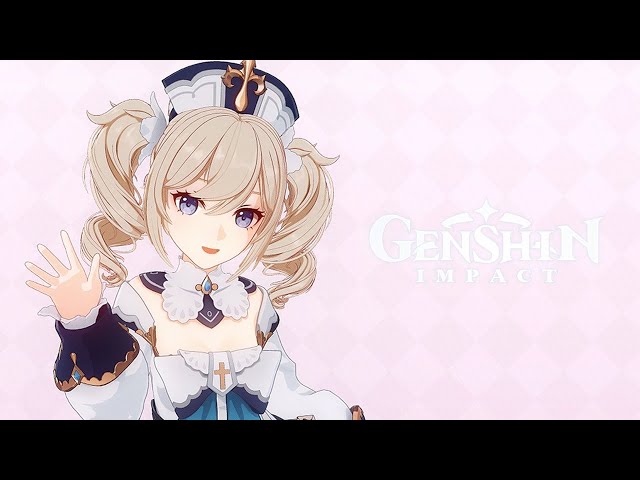 What's the best Genshin Barbara weapon?
Our preferred choice of catalyst is the Thrilling Tales of Dragon Slayers. If you do choose this weapon, we recommend switching Barbara in and out of combat every 20 seconds to take full advantage of the attack bonus. We do recommend you try to get this weapon to refinement rank five if possible.
Prototype Amber is also a great choice, as it's craftable which makes it very affordable for F2P players. Its energy refund and team heals scale well with refinements.
Alternatively, you can pick Everlasting Moonglow. Its passive isn't very useful for an off-field Barbara, but it works as a stat stick, increasing her HP% and healing bonus.
| | | |
| --- | --- | --- |
| Weapon | Effect | How to get |
| Thrilling Tales of Dragon Slayers | After switching characters, the new character on the field has their attack increased by 24% for ten seconds. This can only occur once every 20 seconds | Gacha |
| Prototype Amber | Elemental bursts regenerate four energy every two seconds for six seconds. All party members also regenerate 4% HP every two seconds for the duration of the effect | Craft via Blacksmith |
| Everlasting Moonglow | Increases healing bonus by 10%, and normal attack damage by 1% of Barbara's max HP. For 12 seconds after using her elemental burst, any of Barbara's normal attacks that hit opponents restore 0.6 of her energy | Gacha |
What are the best Genshin Barbara artifacts?
We highly recommend tracking down a full set of Maden Beloved artifacts in order to make Barbara the best healer she can be. If you're having trouble finding four of them, feel free to use a four-piece Instructor set in the meantime, as it helps with elemental reactions.
While a four-piece set of Ocean Hued Clam may seem appealing, her off field healing ticks are pretty low so it's not really worth while. Additionally, Barbara's healing is already not the best, and this set lowers it even further.
Artifact set
Effect
Where to get

Maiden Beloved

Two equipped: Healing effectiveness is increased by 15%
Four equipped:

Elemental skills and bursts increase healing received for all party members by 20% for ten seconds

Velley of Remembrance domain
Instructor
Two equipped: increases elemental mastery by 80
Four equipped: upon triggering an elemental reaction, increases all party members' elemental mastery by 120 for eight seconds
World and weekly boss drops
Artifact stat recommendations
Energy is not required, as you should only use Barbara's burst as a last resort. As such, you should focus on HP to increase her healing.
What are Genshin Barbara's skills?
Active skills:
Skill
Effect

Whisper of Water

Performs four hydro attacks

Whisper of Water (charged)

Consumes stamina to deal AoE hydro damage

Whisper of Water (plunging)

Deals AoE hydro damage upon impact with the ground

Let the Show Begin

Summons a Melody Loop that deals AoE hydro damage and afflicts the wet status. As long as the Melody Loop is active:

Normal attacks will heal all party members and nearby allies, this scales with Barbara's max HP

Charged attacks generate four times the amount of healing

A certain amount of the current character's HP will be healed at regular intervals

The wet status will be applied to the character and any enemies that come in contact with them

Shining Miracle

Heals all party members for a large amount of HP
Passive skills:
| | |
| --- | --- |
| Skill | Effect |
| Glorious Season | Melody Loop also reduces party member's stamina consumption by 12% |
| Encore | Melody Loop lasts a second longer each time a character gains an elemental orb or particle |
| With My Whole Heart | Perfect cooking has a 12% chance to double the product |
What are Genshin Barbara's constellations?
Here's every bonus you receive when ascending Barbara.
| | |
| --- | --- |
| Constellation | Effect |
| Gleeful Songs | One energy is regenerated every ten seconds |
| Vitality Burst | The cooldown of Let the Show Begin is decreased by 15%. The current character gains a 15% hydro damage bonus while the skill is active |
| Star of Tomorrow | Increases the level of Shining Miracle by three |
| Attentiveness be My Power | Barbara's charged attacks regenerate one energy. A maximum of five energy can be regenerated by any one charged attack |
| The Purest Companionship | Increases the level of Let the Show Begin by three |
| Dedicating Everything to You | When Barbara is not in play, and the character in use falls, they will be automatically revived with 100% HP. This can only occur once every 15 minutes |
What are Genshin Barbara's Ascension materials?
A lot of Philanemo Mushrooms are required to ascend Barbara. You can find these growing on walls and roofs around Mondstadt.
| | | |
| --- | --- | --- |
| Required level | Mora | Materials |
| 20 | 20,000 | One Varunada Lazurite Sliver, three Philanemo Mushroom, three Divining Scroll |
| 40 | 40,000 | Three Varunada Lazurite Fragment, two Cleansing Heart, ten Philanemo Mushroom, 15 Divining Scroll |
| 50 | 60,000 | Six Varunada Lazurite Fragment, four Cleansing Heart, 20 Philanemo Mushroom, 12 Sealed Scroll |
| 60 | 80,000 | Three Varunada Lazurite Chunk, eight Cleansing Heart, 30 Philanemo Mushroom, 18 Sealed Scroll |
| 70 | 100,000 | Six Varunada Lazurite Chunk, 12 Cleansing Heart, 45 Philanemo Mushroom, 12 Forbidden Curse Scroll |
| 80 | 120,000 | Six Varunada Lazurite Gemstone, 20 Cleansing Heart, 60 Philanemo Mushroom, 24 Forbidden Curse Scroll |
If you're looking for other titles like Genshin Impact, you can find some in our list of the best gacha games for iOS and Android.