Genshin Impact's Sumeru is a stunning nation consisting of vivid rainforests and scorching deserts. Worshiping the Dendro Archon Lesser Lord Kusanali, Sumeru is renowned as the centre of learning, and is home to the highly respected Sumeru Acedamiya. With heaps of new characters to meet, monsters to battle, and domains to explore, here's everything we've got on the vibrant nation of wisdom.
To get in the good books of all the Sumeru natives, head over to our Sumeru reputation guide. Or, to keep on top of everything happening in Teyvat, check out our Genshin Impact update, Genshin Impact events, and Genshin Impact next banner guides. You can also take a look at our Genshin Impact tier list to ensure your team is in tip-top shape.
Here's everything we've got on Genshin Impact's Sumeru so far.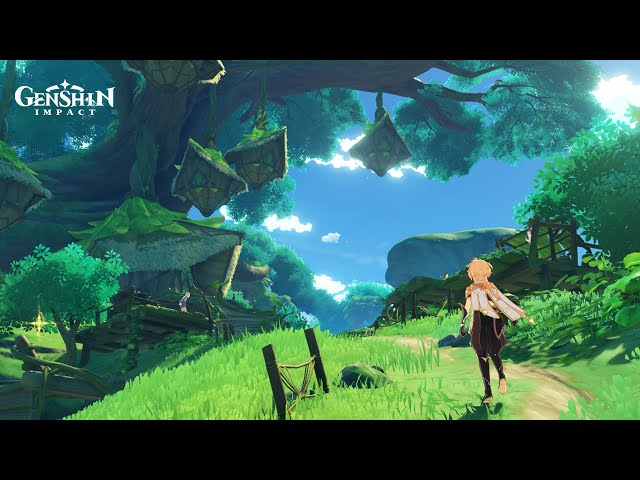 When is the Genshin Impact Sumeru release date?
It's already here! With the arrival of version 3.0, the Genshin Impact Sumeru release date is upon us, and we're free to explore this beautiful region.
As of version 3.1, we also got access to the second part of the region – the Sumeru desert, which expanded even further in version 3.4 and 3.6.
What is Genshin Impact's Sumeru?
Sumeru is one of the Seven Nations of Teyvat, first referenced in the Teyvat Chapter Storyline preview. It consists of vibrant, rich rainforests at its heart, beyond which lie vast deserts.
Sumeru is ruled by the dendro archon, Lesser Lord Kusanali, or the God of Wisdom. She's the youngest among the Seven, having taken the role of archon after the death of the God of the Woods during the Cataclysm, about 500 years before the events of the game. That may sound like quite some time ago, but when we consider Genshin Impact's Zhongli is 6,000 years old, it's a pretty small number.
Sumeru is known as the centre of knowledge and is home to the well-renowned Sumeru Academia, the leading school of arcane arts and historical records, and the most prestigious institute in all of Teyvat. You've likely bumped into a few Sumeru scholars while exploring Inazuma, and several characters including Genshin Impact's Lisa actually studied among their ranks.
How do I get to Sumeru in Genshin Impact?
Sumer is located to the West of Genshin Impact's Chasm. To get there, head to the Cinnibar Cliff teleport waypoint. Here, you find yourself at the entrance of a cave. Walk through to get to Sumeru's Gandharva Vale. If you track the new Archon quest, Paimon will give you a couple of hints to help you on your way, too.
What are the Genshin Impact Sumeru characters?
Naturally, Sumeru is bursting with new characters to meet. Here are the ones we've met so far.
What are the Genshin Impact Sumeru bosses?
Sumeru has several exciting new bosses to challenge. They are as follows.
Jadeplume Terrorshroom
Location: near the Vissudha Field teleport waypoint, the the north-west of the map
Exclusive drops: nagadus emeralds, majestic hooked beaks
Electro Regisvine
Location: Mawtiyima Forest, near the Lokapala Jungle teleport waypoint
Exclusive drops: vajrada amethysts, thunderclap fruitcore
Aeonblight Drake
Location: Ardravi Valley
Exclusive drops: varunada lazurite, perpetual caliber
Algorithm of Semi-Intransient Matrix of Overseer Network
Location: The Dune of Elusion, Sumeru
Exclusive drops: agnidus agate, light guiding tetrahedron
Setekh Wenut
Location: Wenut Tunnels in Desert of Hadramaveth, Sumeru
Exclusive drops: vayuda turquoise, pseudo-stamens
Dendro Hypostasis
Location: in a cave to the south of Dar al-Shifa in Sumeru's desert
Exclusive drops: nagadus emeralds, quelled creepers
Iniquitous Baptist
Location: in a cavern near the Gate of Zulqarnain (teleport to the waypoint to the southwest of Tunigi Hollow then head through the cave to the west)
Exclusive drops: elemental gemstones (depending on which elements the Iniquitous Baptist adopts during that battle), evergloom rings
Shouki no Kami (Scaramouche) weekly boss
Location: Chinvat Ravine in the Avidya Forest, Sumeru
Exclusive drops: mirror of mushin, daka's bell, and puppet strings boss materials, billets, dream solvent, and more
Guardian of Apep's Oasis weekly boss
Location: The Realm of Beginnings in Desert of Hadramaveth
Exclusive drops: worldspan fern, primordial greenbloom, and everamber boss materials, billets, dream solvent, and more
What are the Genshin Impact Sumeru domains?
There are a few new domains to explore in Sumeru, each of which offer weapon upgrade materials, talent level up materials, artifacts, and more. Here's all of the domains we've got access to so far.
Tower of Abject Pride
Location: Apam Woods
Drops: Talisman of the Forest weapon materials (Monday/Thursday/Sunday), Oasis Garden weapon materials (Tuesday/Firday/Sunday), Scorching Might weapon materials (Wednesday/Saturday/Sunday)
Spire of Solitary Enlightenment
Location: Gandha Hill in the Avidya Forest
Drops: Deepwood Memories and Gilded Dreams artifacts
City of Gold
Location: Eye of the Sands, Land of Lower Setekh, Great Red Sand
Drops: Desert Pavillion Chronicle and Flower of Paradise Lost artifacts
Steeple of Ignorance
Location: Chatrakam Cave, Lokapala Jungle
Drops: Admonition talent books (Monday/Thursday/Sunday), Ingenuity talent books (Tuesday/Friday/Sunday), Praxis talent books (Wednesday/Saturday)
There are also several one-time domains dotted around the map, each of which offer primogems, talent and character level up materials, and more when you first complete them.
That's everything we know about Genshin Impact's Sumeru for now. If you're looking for your next adventure, head over to our list of the best games like Genshin Impact to find something new to play.