Buckle up, for you're about to join us down the rabbit hole in our Poppy Playtime story explained guide. Like FNAF, the game that inspires it, Poppy Playtime has some convoluted lore that you may miss on your first time playing through the chapters – or even the second and third. There are a lot of facts to string together, along with some clever deduction and speculation.
If the story of Poppy Playtime doesn't interest you and you prefer to run from animatronics, our FNAF games guide is a great read. Mind you, if you do dive in, you might want to read our FNAF characters guide to see who has it out for you. Or, for an even deeper look at these individuals, check out our specific character articles, such as FNAF's Freddy, FNAF's Chica, FNAF's Roxy, FNAF's Foxy, FNAF's Bonnie, FNAF's Mike Schmidt, and more.
Anyway, it's time to put on our detective hats and uncover the events that transpire in the Poppy Playtime factory – here's the Poppy Playtime story explained.
The history of Playtime Co.
Poppy Playtime's Elliot Ludwig founded Playtime Co. in 1930, the same year that his marriage fell apart, resulting in divorce. It's fair to say that his dedication to his work and workaholic lifestyle contributed to his wife leaving him. However, the loss of his love didn't deter Ludwig from achieving his dream of bringing joy to children.
He worked tirelessly to create a line of toys that children love. In fact, he went the extra mile with the launch of Playcare, an on-site orphanage. Ludwig believed that all children should feel love and comfort. While this appears to be a humanitarian mission, we all know it has unfathomable consequences for children and employees alike.
Still, this seemed to be a great venture for a while, at least until the death of a family member in 1960. Though we have no concrete evidence of this, a popular conclusion is that it's his daughter – a loss of that magnitude certainly explains the drastic actions he takes further down the line. This could well be the catalyst for what we all know is to come.
The experiments
The pure intentions of Ludwig's company and its Playcare orphanage turned to dust with the loss of his loved one, for this is when the abhorrent experiments begin. Ludwig wanted to put people into the toys, and that led to some disastrous results. However, before we dive into the horrors, we need to point out that some experiments are consensual (not that this makes up for the way Playtime Co. tries to play god). In a couple of cases we actually know the people behind the toy, and we think we're likely to uncover more of them in later chapters.
Thomas Clarke
Thomas Clarke is a (rare) example of a consenting experiment. In 1991, he signed up to be a subject when he's diagnosed with lung cancer, and this resulted in him becoming Poppy Playtime's Bron.
Marie Payne
This is a heartbreaking story, as a kind and caring woman went through unceremonious torture and experimentation that ultimately turned her into Poppy Playtime's Mommy Long Legs. As we'll discuss in the Chapter 2 section, she harbors a lot of anger, resentment, and hostility, making her an incredibly dangerous individual to the Playtime Co. staff. However, as her transfer request indicates, she's not always been this way – in fact, she was known to be a very motherly being, loving and looking after the children in the game station.
A little extra tidbit is that her last name, Payne, sounds exactly like 'pain.' I wonder if this is an unfortunate coincidence or a foreboding omen of what's to become of her.
Makayla Hyssop
Makayla Hyssop was a test subject who turned into a Poppy Playtime Candy Cat toy. Unfortunately, Playcare had essentially become a breeding ground for experimentation by this point. Here, the children were required to complete three different tests (not that they're aware that's what they're doing). Through these tests, Playtime Co. employees could determine how successful an experiment may be.
Chapter 1: A Tight Squeeze
Poppy Playtime Chapter 1 sees a former Playtime Co. employee return to the abandoned factory after they receive a letter from staff that disappeared ten years ago. Not only do they get that letter in the post, but it also comes with a VHS tape that initially shows an old commercial for the titular doll, Poppy, but it cuts to some spliced-in footage of a graffiti flower on a wall. The letter tells the former employee to "find the flower," so off they set for the dilapidated factory.
It's a fateful decision that may prove fatal. Still, we have to be brave. We have to find out the truth. It's clear that the factory is abandoned, and it's obvious that something is seriously amiss. You might get the feeling that something is watching you, and you're most certainly right, as that giant Poppy Playtime Huggy Wuggy statue is the real deal, but he doesn't intend to do anything with you… yet.
Instead, you gain access to the factory itself and get to work. Throughout your time in Chapter 1, you can find numerous VHS tapes that help to shed some light on what happened at Playtime Co.
Why doesn't Huggy Wuggy attack you immediately?
Some question why Huggy pretends to be a statue and then disappears instead of attacking you straight out the gate. The simple answer is that this is a game, and it would be mighty short if the protagonist instantly dies. Plus, it's a horror videogame; there has to be some build-up. Still, this is a story-explained guide, so let's dissect Huggy's choice from a narrative point of view. Huggy Wuggy is part of a security system, and through warnings we uncover in the chapter, we discover that he springs into action if someone is in the factory from 8pm onward, or if an individual is in an employee-only area without authorization to be there.
From this, we can deduce that we likely entered the factory before 8pm, and as we weren't in a restricted area when we first saw him, he had no reason to attack us. By the time we're running for our lives from him in the closing moments of the chapter, we are in an employee-only section.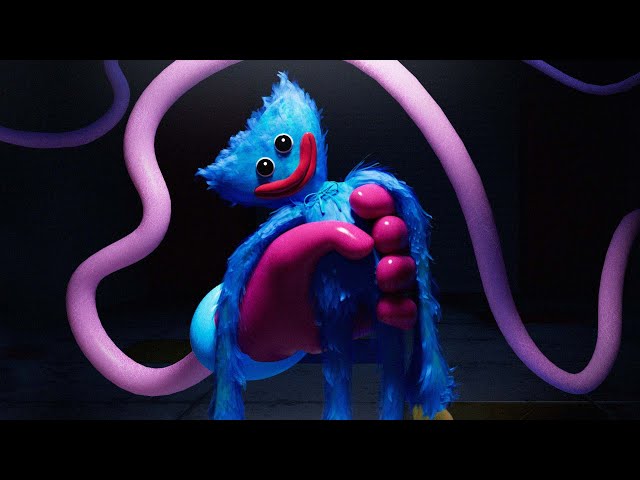 Chapter 2: Fly in a Web
After you free Poppy from her case in Chapter 1, you get to work on finding a way out of the factory. Shortly after trying to find a way out, Mommy Long Legs shows up to ruin your day, snatching Poppy while she's at it. She then sets you a challenge to complete three different games in exchange for the code to the train.
She gets gradually more unstable each time you escape death, going so far as to kill Poppy Playtime's Bunzo Bunny and the Mini Huggy Wuggys for their failure to kill you. It's unclear whether Poppy Playtime's Pj Pug-a-pillar receives the same fate, as Mommy appears to come straight after you, claiming that you, in her words, cheated in order to win the final game. Technically, yes, you cheat, but that's because the sweet, dear spaghetti lady rigged the game.
Soon enough, the chase is on as she takes it upon herself to kill you. However, things don't go her way as we turn the tables on her. In her final seconds, she screams "no, he'll make me part of him." 'He' refers to Poppy Playtime's Prototype. We know very little about him, but we suspect he may be Elliot Ludwig. Either way, a claw comes out from under a gate, dragging the deceased Mommy Long Legs away.
From her comments in the chapter, it's clear that Mommy Long Legs recognizes you, and given the experiments she was subjected to as Marie Payne, it's hardly surprising that she wants to kill any former Playtime Co. employees she sees. It certainly has us intrigued as to who we actually are. Did we take part in the heinous events that transpired in this wretched place?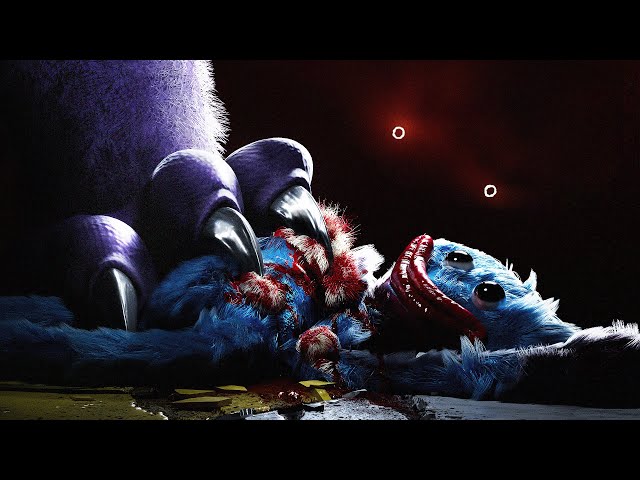 Chapter 3: Deep Sleep
Until Poppy Playtime Chapter 3 releases this Winter, we can't take a deep dive into the story. However, the teaser trailers and images offer a bit of a story. From what we can deduce, the primary antagonist of Deep Sleep is a cat that uses sleeping gas. If you want an in-depth look at the possibilities, check out our Poppy Playtime Chapter 3 theories article, where we dive into many things we mentioned above, such as Mommy Long Legs becoming part of the Prototype and the possibility of Elliot being the one all the toys fear.
With that, you now know the Poppy Playtime story so far. There are many Poppy Playtime characters out there, and with new ones due to arrive in Chapter 3, it's the perfect time to learn about Poppy Playtime's Boxy Boo, Poppy Playtime's Cat Bee, and Poppy Playtime's Daisy.